Editor's Note: A version of this article originally appeared in the weekly weather newsletter, the CNN Weather Brief, which is released every Monday. You can sign up here to receive them every week and during significant storms.
While the western US has been piling up snowfall over the past several weeks, it has been the complete opposite across the Northeast and New England.
We are more than halfway through meteorological winter, which runs from December through February, and cities such as New York, Philadelphia, Baltimore, and Washington, DC have yet to see measurable snow, defined as at least 0.1 inches.
And it's not just the coastal cities. Many locations across interior New England and the Northeast are seeing significantly below normal snowfall to date.
"With the exception of some areas downwind of Lakes Erie and Ontario, and very small areas of interior New England, the East is certainly in a snow drought with some locations that normally have snow, down by as much as one to more than three feet," the Weather Prediction Center Branch Chief Greg Carbin told CNN.
Buffalo, New York was inundated with several feet of heavy snowfall earlier this winter.
Carbin went on to explain there are two types of snow drought:
The first type is when there is an overall lack of winter precipitation, rain or snow, which contributes to drought conditions.

The second type is when overall precipitation amounts are near normal but instead of falling as snow, it falls mostly as rain.
"Along the I-95 corridor from DC to Boston, the latter type of snow drought has been measured so far this winter," Carbin said. "Precipitation amounts have been normal to slightly above normal, but it's generally been too warm for precipitation to fall in the form of snow."
The period between snow events is likely to increase as the climate warms, and it may be especially true for coastal Northeastern cities. As the Northeast temperatures warm, the rain-snow line shifts farther north, leading to more rainy winter day along the coast and less snow, according to the US National Climate Assessment.
And it's not just the Northeast, winter (December, January, February) is also the fastest-warming season for 75% of 238 US locations, according to Climate Central's data analysis.
By the numbers
319
Central Park in New York City has gone 319 days without measurable snow through Sunday, which currently ties for their third-longest streak. Central Park would have to be snowless through February 5, 2023, to break the record streak of 332 days set back in 2020.
316
Philadelphia, Baltimore, and Washington DC have all gone 316 days without measurable snow through Sunday, which rank 6th, 12th, and 19th respectively.
1973
Central Park is also approaching the latest date in the season for their first measurable snowfall since record keeping began in 1869.
"The current record is Jan. 29, 1973, which went on to become the least-snowy winter in NYC history, with just 2.8 inches total snow accumulation," Carbin said.
Where is the snow?
"The pattern has been fairly consistent with the typical La Nina pattern across the Northeastern US so far this winter," meaning the track of the storms and cold air have remained to the north and west of the Northeast, meteorologists at the National Weather Service office in New York City told CNN.
Watch: Meteorologist Jennifer Gray explains the effects of La Niña
La Niña, the counterpart of El Niño, is characterized by below-normal sea surface temperatures in the Pacific Ocean near the equator, a result of shifting wind patterns in the atmosphere, which has a direct effect on weather seen across the US in the winter.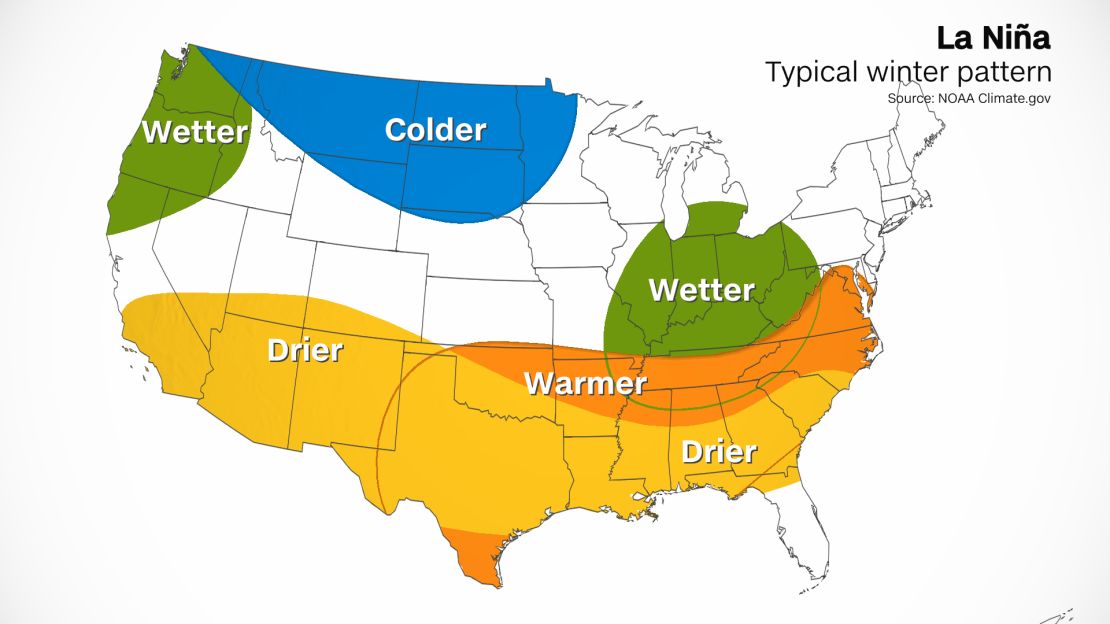 "There are of course variations in this pattern due to short term factors that are not predictable more than one to two weeks in advance, such as the arctic outbreak during Christmas," the weather service office in New York City said. "But these variations have been brief."
The most active weather and heaviest snowfall in recent weeks have been focused across the West and California, where more than 15 feet of snow have fallen across portions of the Sierras from December 26, 2022, through January 17, 2023.
"While the jet stream meanders and can occasionally quickly change to support snowstorms just about anywhere during the winter, this winter has been quite active across the West, with a weak but broad area of high pressure (and warmer than average temperatures) over the eastern 2/3rds of the contiguous United States," Carbin said.
There is a chance Central Park could see some light accumulating snow Wednesday but there is still some uncertainty in the forecast, the weather service office in New York City said.
If the city does not see snow this week, their streak will stay alive. After Wednesday, the weather service is currently forecasting dry conditions through January 29.
"We need to make up the whole seasonal snowfall since none has accumulated, which is 29.8 inches," the weather service office in New York City said. "The record storm total snowfall is 27.5 inches on January 22 to 24, 2016, so that is very close to our seasonal snowfall. All it may take is one storm to get us back on track."
While this scenario is certainly possible, it is not very likely. There have only been seven storms on record to dump 20 inches of snow or more across Central Park in recorded history, according to the weather service.
"February and March are months in which big snows have fallen in the cities of the Northeast, so there remains some hope for snow lovers," Carbin said. "Although, the later in the season you get started, the more likely you are to finish the season with lackluster snowfall."