Attorneys for the family of Tyre Nichols, a Black man who died after a traffic stop in Memphis, Tennessee, said video footage shows he suffered a "nonstop beating" at the hands of police.
"He was defenseless the entire time. He was a human piñata for those police officers. It was an unadulterated, unabashed, non-stop beating of this young boy for three minutes," attorney Antonio Romanucci said during a news conference Monday after Nichols' family and legal team viewed footage of his arrest this month, giving them an opportunity to see what happened before he was taken in critical condition to a hospital, where he died days later.
"What I saw on the video today was horrific," said Rodney Wells, Nichols' stepfather. "No father, mother should have to witness what I saw today."
The Memphis Police Department has terminated five police officers, all of whom are Black, after an administrative investigation found they violated department policies for use of force, duty to intervene and duty to render aid, the department said in a statement.
Memphis Police confirmed Monday on Twitter that police and city officials met with Nichols' family to let them view the video recordings, which Chief Cerelyn Davis indicated would be released publicly later.
"Transparency remains a priority in this incident, and a premature release could adversely impact the criminal investigation and the judicial process," she said. "We are working with the District Attorney's Office to determine the appropriate time to release video recordings publicly."
Officials are working to expedite their investigation so they can release the footage and make a decision on whether the officers involved will face charges, Shelby County District Attorney Steve Mulroy told "CNN This Morning" Tuesday.
"I know that people are very, very concerned about this. I think the incident has the potential to undermine confidence in the fairness of our police force and the criminal justice system," he said.
The January 10 death of Nichols, a 29-year-old Black man, follows a number of recent, high-profile cases involving police using excessive force toward members of the public, particularly young Black men.
"Yet again, we're seeing evidence of what happens to Black and brown people from simple traffic stops," attorney Benjamin Crump said at the family's news conference, comparing the footage to the 1991 beating of Rodney King by Los Angeles Police Department officers. "Simple traffic stops. You should not be killed because of a simple traffic stop."
"It is appalling. It is deplorable. It is heinous," Crump said of what he saw. "It is violent. It is troublesome on every level."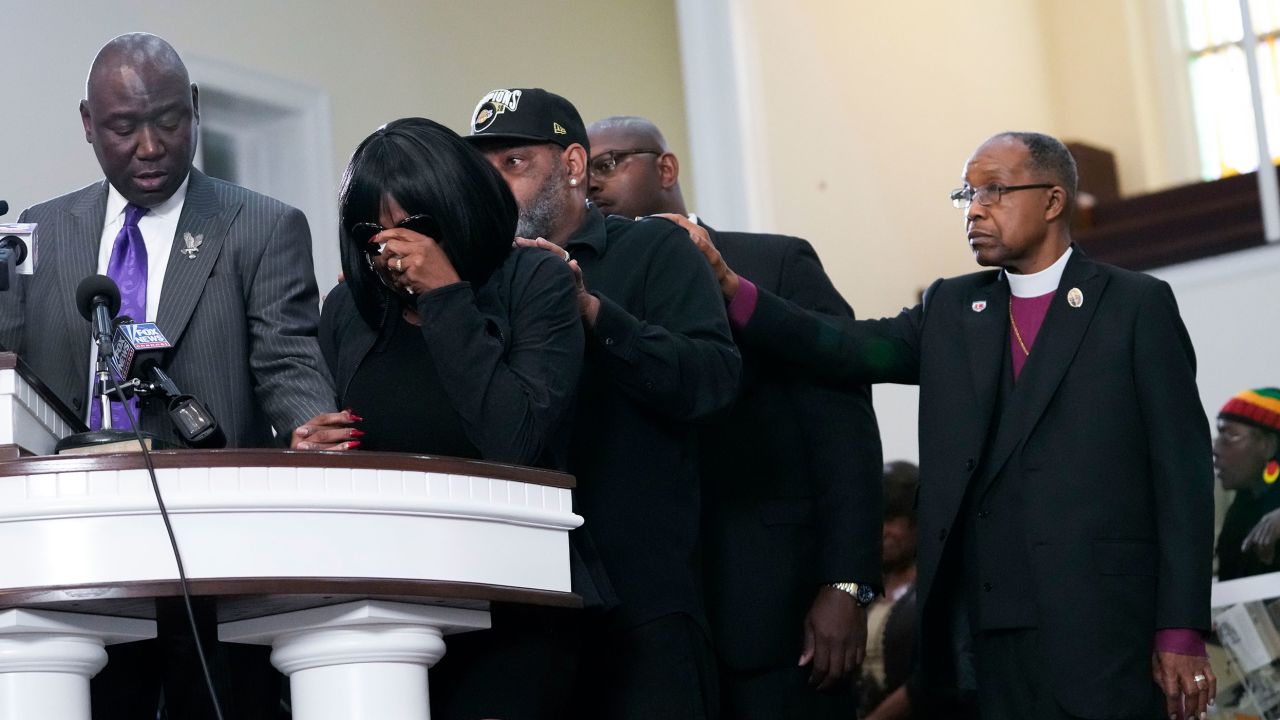 RowVaughn Wells, Nichols' mother, was unable to get through viewing the first minute of the footage, Crump said, after hearing Tyre ask, "What did I do?" At the end of the footage, Nichols can be heard calling for his mother three times, the attorney said.
Crump, who was joined by Nichols' mother, stepfather, grandmother and aunt, said the family described Nichols as "a good kid" who enjoyed skateboarding, photography and computers.
Wells was visibly upset throughout the news conference. She called her son a "beautiful soul" who loved her so much, he had her name tattooed on his arm. "Nobody's perfect, OK, nobody," Wells told reporters. "But he was damn near."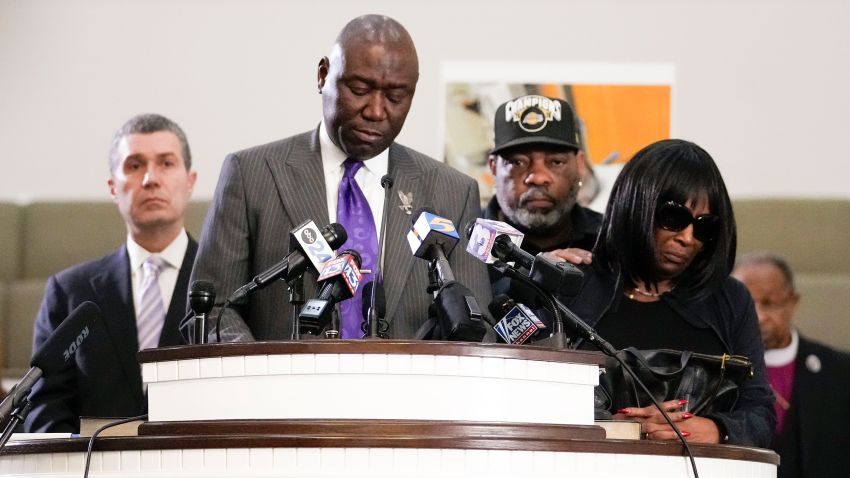 Tyre Nichols' family speaks out after seeing police footage of police beating
Five police officers terminated
Nichols' death came three days after the department said officers pulled over a motorist, identified as Nichols, for alleged reckless driving the previous day.
A confrontation followed, and "the suspect fled the scene on foot," police said in a statement on social media. Officers chased him, and another confrontation took place before the suspect was taken into custody, the statement said.
"Afterward, the suspect complained of having a shortness of breath, at which time an ambulance was called to the scene. The suspect was transported to St. Francis Hospital in critical condition," officials said.
Nichols died a few days later, according to the Tennessee Bureau of Investigation, which is investigating. The Department of Justice and the FBI have also opened a civil rights investigation.
Nichols fled from the police, his stepfather said, because he was afraid.
"Our son ran because he was scared for his life," Rodney Wells said Monday. "He did not run because he was trying to get rid of no drugs, no guns, no any of that. He ran because he was scared for his life. And when you see the video, you will see why he was scared for his life."
Details about Nichols' injuries and the cause of his death have not been released. CNN has reached out to the Shelby County coroner for comment.
In addition to the five officers, two members of the Memphis Fire Department who were part of Nichols' "initial patient care" were relieved of duty last week "while an internal investigation is being conducted," department Public Information Officer Qwanesha Ward told CNN's Nadia Romero. Ward did not give more details, saying she could not comment further because of the ongoing investigation.
Asked Tuesday what those fire department employees did or didn't do, Romanucci told CNN there were "limitations" on how much he could say.
He added, "During a period of time before the EMS services arrived on scene, fire is on scene. And they are there with Tyre and the police officers prior to EMS arriving."
Release of arrest footage to follow investigation
The Shelby County District Attorney's Office expects to release the video of Nichols' arrest either this week or next week, a spokesperson told CNN on Monday, about a week after city officials said video recorded by officers' body-worn cameras would be released publicly after the police department's internal investigation was completed and the family had a chance to review the recordings.
"(The video) should be made public, it's just a matter of when," Director of Communications Erica Williams said Monday. Williams declined to characterize the nature of the video. Asked if officials anticipated charges against officers involved in Nichols' arrest, Williams said, "charges, if any, could be announced later this week."
Officials have chosen not to release the footage yet in order to protect the integrity of the investigation, District Attorney Mulroy said Tuesday. Investigators don't want potential suspects or witnesses to see the videos and "tailor their statements" based on what they saw, but instead base their statements on their own independent recollections.
"We don't want to compromise the ongoing investigation," he said.
The Memphis Police Department last week identified the officers terminated as Tadarrius Bean, Demetrius Haley, Emmitt Martin III, Desmond Mills, Jr., and Justin Smith.
"The egregious nature of this incident is not a reflection of the good work that our officers perform, with integrity, every day," Chief Davis said at the time.
The Memphis Police Association, the union representing the officers, declined to comment on the terminations beyond saying that the city of Memphis and Nichols' family "deserve to know the complete account of the events leading up to his death and what may have contributed to it."
Asked Tuesday if the officers, no matter their race, could be influenced by poor department training or the actions of other officers, Mulroy said, "I think the answer to all those questions is yes."
"I think all of those things may be a factor," he said. "And it's my hope that this incident, as tragic as it is, might lead to a broader conversation about reform of our police department, including de-escalation training and things of that nature."
According to Crump, some of those former officers were part of MPD's "organized crime unit" and were in "unmarked cars." Nichols was tased, pepper sprayed and restrained, Crump said.
Nichols was 6 foot 3 and weighed about 140 pounds, according to the attorney. "They outweighed him," Crump said. "Why did they feel like they needed to use that kind of force?"
Nichols' stepfather said the family would not stop until they see the police officers involved charged.
"As I said from day one, justice for us is murder one. Anything short of that, we will not accept," Wells said.
But he called for any potential protesters to be peaceful. Violent protests were "not what Tyre wanted," he said, "and that's not going to bring him back."
Correction: This story has been updated to correct the spelling of RowVaughn Wells' first name. It has also been updated to clarify the Shelby County District Attorney's Office anticipates charges could be announced later this week.
CNN's Steve Almasy, Raja Razek and Theresa Waldrop contributed to this report.