Novak Djokovic was in imperious form once again as he cruised past Alex de Minaur in straight sets to reach the Australian Open quarterfinals.
The world No. 5 produced some stunning tennis throughout the match, winning 6-2 6-1 6-2 in just two hours and seven minutes as De Minaur had no answer to Djokovic's relentless, ruthless brilliance.
It looked as though this match might be a tough test for Djokovic after the first four games, but the 21-time grand slam champion rattled off an absurd stretch of winning 16 of 19 games to run away with the match.
Djokovic will now face the No. 5 seed Andrey Rublev for a place in the semifinals.
"I cannot say I'm sorry you haven't watched a longer match," Djokovic said to the crowd in his post-match interview. "I really wanted to win in straight sets. Obviously, you never know what's going to happen on the court. You have to deal with a lot of things on and off the court.
"The first four or five games were close, one break of serve in the first set. I started feeling more loose and free to go through the ball and be more aggressive. I felt he was a bit more nervous … that was my opportunity to capitalize.
"Things can change in a matter of moments, a matter of points. I played the best match of the year so far … I was feeling good in the first match, not so great in the second, so I don't take anything for granted, but I was happy with the way I moved today and the way I hit the ball."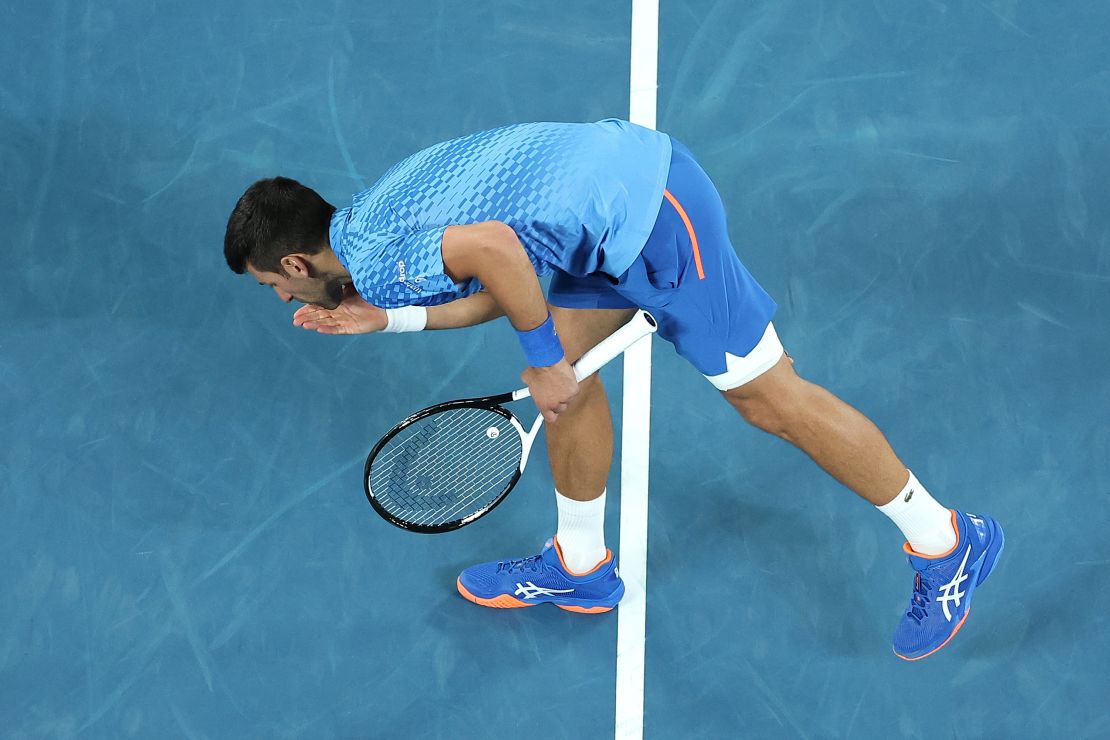 Djokovic masterclass
De Minaur hung in the opening set for the first four games, but with Djokovic hitting his groundstrokes with relentless depth and power, the breakthrough felt like only a matter of time.
Djokovic ratcheted up the intensity further still and soon pulled away from his opponent, taking the first set 6-2 after a run of four straight games.
The Australian crowd did their best to lift De Minaur, giving the home favorite a huge reception as the players made their way out for the second set.
Things didn't get any easier for De Minaur, however, as Djokovic held serve and then broke the Aussie immediately to extend his winning run to six games.
This was the first time these players had faced each other and De Minaur – if he wasn't already aware – was finding out just how brutal playing against Djokovic is on Rod Laver.
Despite that left hamstring still being heavily strapped, there were absolutely no signs of Djokovic being hindered physically as the 35-year-old began to put on a tennis masterclass.
There have been very few players – if any – over the course of Djokovic's illustrious career that have been able to hang with the Serb when he finds this kind of form.
The unforced errors were few and far between, with his shots – which recently seem to be packing more of a punch than ever – finding their spots with unerring accuracy.
Djokovic raced into a 4-0 lead in the second set after a run of eight straight games and, with De Minaur straining every sinew just to try and keep pace with his opponent during every rally, the result of this match already felt like a foregone conclusion.
De Minaur finally ended Djokovic's run of nine straight games, holding serve at 0-5 down in the second set to avoid a bagel. It will have been scant consolation for the 23-year-old, but he deserved enormous credit for continuing to battle for every point and never letting his intensity drop.
Unfortunately for De Minaur, there were no signs of Djokovic's intensity dropping either as he promptly opened up a 4-0 lead in the third set.
De Minaur continued to grind, however, and avoided a bagel in the third set with a hard-fought hold of serve to make the score 4-1.
The Australian crowd, recognizing the effort their man was still applying, roared with approval, with the noise more befitting of a set won rather than just a game. But it was only delaying the inevitable as Djokovic quickly closed out the final set 6-2.
Perhaps making Djokovic play another three matches before giving him a 10th Australian Open title seems like a futile task, with the Serb the overwhelming favorite given the stunning form he has shown so far in Melbourne.
In his post-match interview after coming through a five-set epic against Holger Rune, Rublev jokingly lamented that he had to beat Djokovic in order to reach a first grand slam semifinal.
The rest of the remaining players in the draw likely feel the same way at the prospect of having to face Djokovic to win the Australian Open.