Last August, as President Joe Biden left the White House for another weekend at home in Wilmington, Delaware, he told reporters he was bringing his President's Daily Brief – the highly classified intelligence memo that contains some of the US government's most closely held secrets.
"I have, in my home, a cabined-off space that is completely secure," Biden said before boarding Marine One. "I'm taking home with me today's PDB. It's locked. I have a person with me – military with me. I read it, I lock it back up, and give it to the military."
Biden was responding to a question about whether it was ever appropriate for a president to take top-secret documents home. Weeks earlier, the FBI had searched former President Donald Trump's Mar-a-Lago estate, uncovering hundreds of classified and top-secret documents.
"It depends on the document," Biden said. "And it depends on how secure the room is."
The security of Biden's house in Wilmington is now at the center of a special counsel investigation into his handling of classified material after documents with classification markings were found at two locations at the house: in the garage and an adjacent room. Neither of those areas seem to fit with Biden's description of a secure "cabined-off space" for classified materials.
Biden gave the go-ahead for his lawyers to conduct the search, according to people familiar with the matter, but wasn't present himself as they looked through various rooms, including his personal library.
That find followed an initial discovery in November of 10 classified documents, including US intelligence memos and briefing papers dating to the Obama administration, inside a closet at a former private office Biden kept in downtown Washington.
After a December search found a "small number" of records with classified markings in the garage, a third discovery was made at the Wilmington house in January, when Biden's legal team searched the rest of the property for documents. They found them, in a room adjacent to the garage.
"We found a handful of documents were filed in the wrong place," Biden explained Thursday during a tour of storm damage in California.
"I think you're going to find there's nothing there. I have no regrets," he went on, insisting the American people were focused elsewhere. "I'm following what the lawyers are telling me they want me to do. It's exactly what we're doing. There's no there there."
Though Biden insists the classified documents were in a "locked" garage, the full scope of who may have had access to them is a central question – not only for special counsel Robert Hur but House Republicans, who have put Biden's handling of classified material atop a lengthy list of investigative targets aimed at Biden and his administration.
"That would essentially be a crime scene, so to speak, after the appointment of a special counsel," Rep. James Comer, the newly minted Republican chairman of the House Oversight Committee, said Sunday on CNN's "State of the Union" about Biden's home in Delaware.
A working home
For years, Biden has conducted critical – and sometimes classified – business from his three-bedroom, four-bathroom white Colonial in the leafy outskirts of Wilmington, Delaware.
His decades as a senator, including stints as chairman of the Senate Foreign Relations Committee, all featured weekend train rides home from Washington. The tradition continued as vice president. A secure facility was built inside his lakefront property so Biden could handle classified material securely.
The gable-roofed Biden home, situated among large estates in the wealthiest area of Delaware, is far from easily accessible. It can't be seen from the road. And, while Biden was vice president and again as president, the premises have been tightly controlled by Secret Service.
But for years in between, security was reduced significantly at the Wilmington home.
In mid-2017, when Biden's time as a federal protectee ended, Secret Service agents who had been stationed at the house for years finally left. The secure facility Biden used to view classified materials as vice president was also eventually removed. It wasn't until March 2020, as Biden moved closer to becoming the presumptive Democratic presidential nominee, that Secret Service protection resumed.
Exactly when the classified documents first arrived in Biden's garage remains an open question. The government provided Biden 5,300 square feet of office space in downtown Washington for several months after his vice presidency. Biden's transition team vacated that space on July 21, 2017, according to a statement by the General Services Administration.
Congressional Republicans have demanded visitor logs of his home and even questioned whether Biden's son Hunter, who used the Wilmington address on a driver's license, may have had access to the documents when he was engaged in foreign business.
It's unclear how much time Hunter Biden spent at the Wilmington house in the months leading up to his father's campaign launch. According to Hunter's memoir, "Beautiful Things," the house was the site of a tearful family intervention over Hunter's drug addiction in 2019. In his book, Hunter writes that he got on a plane to California after the intervention and that he landed in LA in March 2019.
Both the White House counsel's office and the US Secret Service said Monday there are no visitors logs that track guests who come and go at Biden's home in Wilmington.
"Like every President across decades of modern history, his personal residence is personal," the White House counsel's office said in a statement Monday morning. "But upon taking office, President Biden restored the norm and tradition of keeping White House visitors logs, including publishing them regularly, after the previous administration ended them."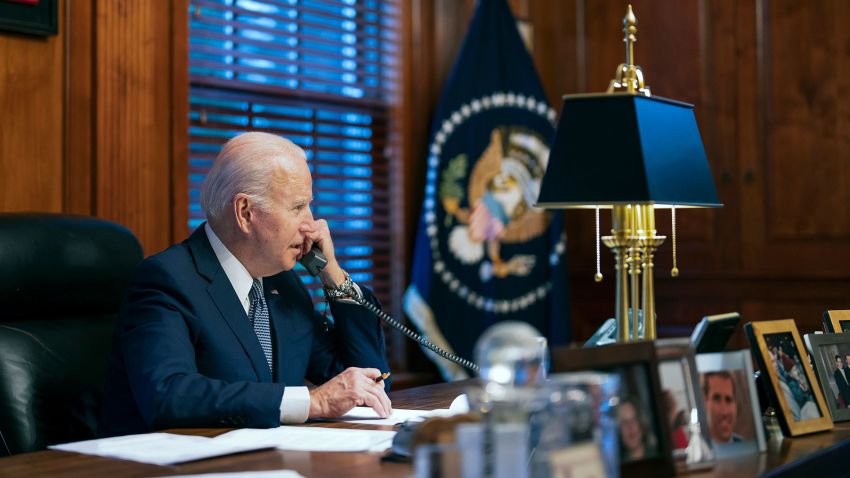 House Republicans demand info from White House on Biden docs
Biden and his wife Jill purchased the home's four-acre lot in 1996 for $350,000, according to property records from New Castle County. They built a 6,850-square foot home with three bedrooms and 4.5 bathrooms. Biden designed the house himself and even did the landscaping, including planting Leland Cypress trees that later nearly died in a drought.
The family moved in around Christmas 1998.
Inside the property, there's a pool, a library with Chesterfield sofas, and a sunroom overlooking a small man-made lake, which was constructed by one the area's wealthiest families, the du Ponts.
Biden's sister Val Biden Owens had a home nearby across the state line in Pennsylvania, and former Delaware Sen. Ted Kaufman, a close friend and one of Biden's longest-serving advisers, lived a few minutes away.
When Biden's eldest son Beau was battling brain cancer, Biden considered putting a second mortgage on the Wilmington home to help his son with expenses related to his treatment.
When Biden told then-President Barack Obama about the situation, Obama offered to lend him money instead, according to Biden's memoir, "Promise Me, Dad." According to Biden's retelling in the book, Obama said, "Don't do that. I'll give you the money. I have it. You can pay me back whenever."
Post-vice presidency
After his vice presidential term, Biden spent more time in Wilmington, which put him closer to his late son Beau's children. The Bidens also purchased a seaside escape in Rehoboth Beach, Delaware, the summer after leaving the White House, using part of an advance for Biden's planned book to buy the home.
But Biden split much of his time between Wilmington and a rented a mansion in McLean, the wealthy enclave in Northern Virginia that's home to many a former senator. The couple wanted to keep a base in the Washington area while Jill continued teaching at Northern Virginia Community College. Aides would often say Biden simply wanted to be wherever his wife was.
The proximity to the nation's capital allowed him to meet regularly with advisers as they charted out his political future and pop over to the Penn Biden Center think tank when meeting with lawmakers or foreign leaders. Being in the DC area also gave him easy access to his granddaughter Maisy's soccer games.
But the Wilmington house remained the center of family activities, and it was there that Biden's eldest granddaughter, Naomi Biden, called a family meeting where the grandkids urged their "Pop" to run for president a third time.
As Biden's presidential run got underway, he spent more time at the Wilmington home while off the campaign trail, eventually moving out of the McLean house several months into the campaign, sources said.
When the Covid-19 pandemic pushed Americans into isolation, Biden retreated to the Wilmington home. In March 2020, a small group of campaign aides carefully wore masks and gloves as they set up a makeshift studio in his basement where Biden could make zoom appearances and conduct interviews. That same month, Secret Service protection resumed as Biden inched closer to securing the Democratic nomination.
In person meetings with advisers were traded for conference calls with only a limited amount of staff coming to and from the house. Biden interviewed most of his possible running mates over video chat, eventually calling Kamala Harris, at the time a Democratic senator representing California, from his private library in the Wilmington residence to inform her she was his pick.
Months later, when election night stretched into election week, the Biden family, including Hunter, Ashley, their spouses and the grandchildren, hunkered down at the home watching election results. Hunter Biden recounted that when the race was called for Biden, "Mom and Dad were on a dock out on the pond, so we all ran to the porch and screamed at the top of our lungs, 'We won! We just won!'"
Back at the White House
When Biden was elected president, Secret Service ramped up its presence in Wilmington. Now, the two-lane road that feeds into his private driveway is monitored by officers and agents, and access to the home tightly controlled. Visitors are screened and surveillance is around-the-clock.
Biden has made 61 visits to Delaware since taking office and spent some or all of 196 days in Delaware during his presidency. This includes visits to his homes in Wilmington and in Rehoboth Beach. The Bidens are set to spend the upcoming weekend at their Rehoboth Beach home.
As President, Biden has made his Wilmington home a weekend White House. From there, he's phoned Russian President Vladimir Putin and breakfasted with West Virginia Democratic Sen. Joe Manchin.
People familiar with the president's working style say he conducts plenty of business from his home in Wilmington and that he always travels with a National Security Council aide.
He sometimes incorporates a trip to Delaware into his daily schedule. On a Friday in mid-December, he went there twice.
That afternoon, Biden appeared at an event at the Major Joseph R. "Beau" Biden III National Guard/Reserve Center in New Castle, Delaware, to speak about improving veterans' health care benefits and funding for veterans exposed to toxins during their time serving in the military. Biden then traveled back to the White House for a few hours, in part for a holiday party, before returning to Delaware that evening, motorcading to his residence in Wilmington – a 15-minute drive from the National Guard center where he delivered remarks earlier that day.
During that final weekend in Wilmington ahead of the Christmas holiday, Biden visited a shopping center, attended mass and visited the gravesite of his late wife Neilia and daughter Naomi to mark the 50th anniversary of their tragic deaths. By late Monday morning, the president returned to Washington.
The next day, as Biden prepared for a secretive visit from Ukrainian President Volodymyr Zelensky – his lawyers were at the house in Wilmington searching for classified materials. Hunting around the garage, they came across a "small number" of documents with classified markings, not far from where he stores in 1967 Stingray Corvette.