Burnout is real – and it's nothing to be ashamed of. That's the conclusion trailblazing New Zealand leader Jacinda Ardern seems to have reached after almost six brutal years in office.
The soon-to-be-former prime minister, who announced her resignation Thursday, said the decision to stand down came during a reflective summer in the southern hemisphere. And with an election looming this October, she saw no need to prolong her departure.
"I had hoped that I would find what I needed to carry on over that period. But unfortunately, I haven't, and I would be doing a disservice to New Zealand to continue," she said.
On Sunday her Labour Party caucus will vote for a new leader and if all goes to plan she'll be out of the job by February 7 – a rapid end to a stunning career for the former cashier at a fish and chip restaurant in the tiny New Zealand town of Morrinsville.
Ardern's controlled descent from the stratosphere of international politics – where she was admired by millions around the world for her progressive policies – is almost as fast as her dramatic rise to the premiership in 2017, just three months after being tapped to lead the Labour Party.
At the time, she was just 37, a relatively junior player on global stage, and one who could have easily been swept aside as a woman leading a remote country of around five million people.
Ardern made headlines for being young and virtually unknown, and then as the first leader in 30 years to have a baby, who she took to the United Nations General Assembly.
That child, Neve Te Aroha Ardern Gayford, is now 4 years old – and her mother is now more tired than ever after confronting multiple crises, including the worst terror attack in the country's history, a deadly volcanic explosion and a global pandemic that prompted unpopular lockdowns – all during her first term in office.
During her time in power, Ardern showed that it was possible to juggle a young family and a demanding role – and now she's leading by example to show that when the tank is empty and there's no more to give, it's also okay to opt out.
"I'm looking forward to spending time with my family once again," said Ardern. "Arguably, they're the ones that have sacrificed the most out of all of us."
Questions of why
On February 6, the personable leader would have been expected to be standing behind the BBQ flipping sausages during New Zealand's National Day, Waitangi Day, as she has done for the past four years. But this year, reports suggested the BBQ could be canceled because it was potentially too dangerous for the prime minister to be so exposed.
Some experts said sustained attacks on her character, threats against her life, and the prospect of worse to come in the months before a tough election likely contributed to Ardern's decision to get out.
"There have been people who have made some pretty vile threats against her," said Neale Jones, political commentator and Ardern's former Chief of Staff. "I think that something that's put pressure on, but I think she was quite clear that she just ran out of ran out of juice in the tank," he said.
"She was exhausted from doing a job that was probably more intense than any job a New Zealand prime minister has done since the Second World War."
In terms of Covid deaths, New Zealand suffered an enviably low toll, losing fewer than 2,500 lives, partly due to Ardern's quick action to close the country's borders as the coronavirus spread worldwide in March 2020.
But prolonged Covid lockdowns and mandates led to alarming scenes in the nation's capital Wellington last March when protesters camping for weeks outside the Parliament set fire to tents, mattresses and chairs. Then in October, Ardern's office was allegedly attacked while the prime minister was on a trip to Antarctica, adding to fears about her safety, according to local media.
According to New Zealand Police, 50 threats were made against Ardern in 2021 – up from 32 in 2020 and 18 in 2019. The threats related to vaccinations, Covid-19 and firearms, police said, though it was impossible to ascertain a motive for many as they included "simply offensive, obscene or threatening words."
Ardern made no mention of the threats during her resignation speech on Thursday, and stressed she wasn't leaving the role because it was "hard."
"Had that been the case, I probably would have departed two months into the job," she said.
Knowing when to go
Ardern may have been feted on the world stage for bringing humanity and empathy to the role, but at home the rising cost of living, housing shortages and economic anxiety had some wondering if her government could do more to ease their pain.
"There's been various expert working groups on tax and welfare that have made some quite bold recommendations that the Labour government haven't followed. And so a lot of people point to those as policy failings," said Lara Greaves, political scientist at the University of Auckland.
"A lot of the government's attention has been on the Covid response, not on trying to get the various policy platforms going ahead," she said.
But Ardern said she her decision had nothing to do with wanting to avoid an election loss come October. "I'm not leaving because I believe we can't win the election, but because I believe we can and will and we need a fresh set of shoulders for that challenge," she said.
It's not clear who the leadership will fall to – Ardern's assumed successor, Deputy Prime Minister Grant Robertson, has said he's not interested. It's not out of the question Ardern's successor could be a woman with Justice Minister Kiri Allan named as a potential contender.
Though Ardern was New Zealand's third woman prime minister – after Jenny Shipley and Helen Clark – gendered criticism was a constant presence during her time in power.
Clark said in a statement Thursday: "The pressures on prime ministers are always great, but in this era of social media, clickbait, and 24/7 media cycles, Jacinda has faced a level of hatred and vitriol which in my experience is unprecedented in our country."
Greaves, from the University of Auckland, said coverage of Ardern has long adopted a misogynistic tone. "So people will kind of make fun of her appearance like people do with politicians and criticize her in a quite gendered way," Greaves said.
In November, as Ardern stood beside Finnish Prime Minister Sanna Marin, a male reporter asked whether the leaders had met because they were "similar in age and, you know, got a lot of common stuff there."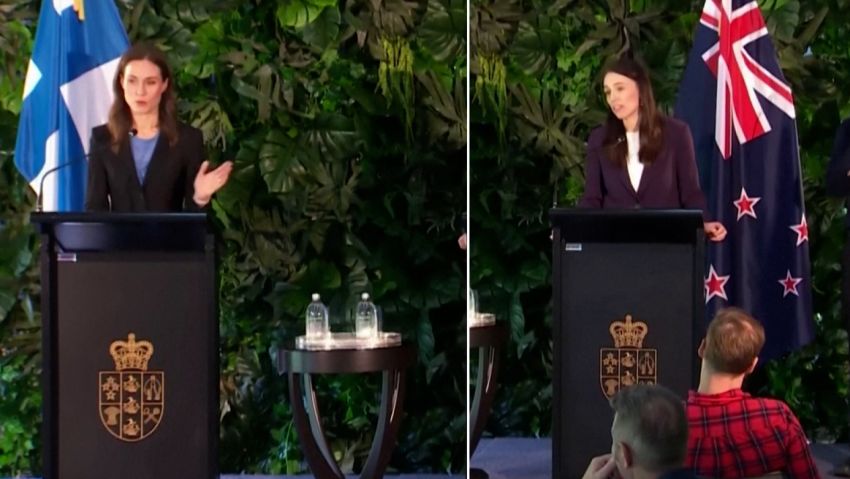 See the moment Jacinda Ardern fired back at reporter's question about gender
Ardern called him out on it, wondering if the same question would be asked of two male leaders.
"We of course have a higher proportion of men in politics. It's reality. But because two women meet, it's not simply because of their gender," she said.
And within hours of Ardern's resignation came the first demonstration that scrutiny of her leadership in the local press goes beyond what would be expected for a male equivalent – an article looking back at some of "her best looks and fashion moments."
Ardern also didn't mention misogyny in her resignation speech. In her customary manner, she appeared open and honest and allowed tears to well in her eyes as she announced she would not be seeking re-election.
"I know there will be much discussion in the aftermath of this decision as to what the so-called 'real reason was.' I can tell you that what I'm sharing today is it," she said.
"The only interesting angle that you will find is that after going on six years of some big challenges, I am human. Politicians are human," she said.
"We give all that we can for as long as we can, and then it's time. And for me, it's time."