As Massachusetts prosecutors build their case against Brian Walshe, they have laid out considerable evidence alleging the husband murdered his wife on New Year's Day and gruesomely disposed of her body.
Brian Walshe, 47, appeared in court Wednesday to be arraigned on charges of murder and illegally disinterring or moving a body. Walshe has been in jail since January 8, when he was arrested on a charge of misleading investigators searching for his wife, 39-year-old Ana Walshe.
He has pleaded not guilty to all three charges.
Prosecutors alleged in Quincy District Court on Wednesday that Brian Walshe killed his wife, with whom he shares three children, because he wanted to end their marriage. Their criminal complaint against the husband says he assaulted and beat Ana Walshe to death.
"Rather than divorce, it is believed that Brian Walshe dismembered Ana Walshe and discarded her body," prosecutor Lynn Beland said in court.
Beland presented an array of evidence that led to the charges against the husband, including discoveries of Ana Walshe's blood and personal items in local garbage, phone data showing Brian Walshe's movements, and his alleged Google searches related to dismembering and disposing of a body.
Investigators have been searching for Ana Walshe since her workplace reported her missing on January 4. Wednesday marks the first time prosecutors have said she is believed to be dead, though they did not say whether her body has been found.
Brian Walshe allegedly told police his wife left their home for a work trip to Washington, DC, around 6 a.m. New Year's Day. But Beland said there is no record of Ana taking such a trip and the wife's phone continued to ping in the area of the house until around 3 a.m. on January 2.
Brian Walshe's defense attorney Tracy Miner said in a statement Wednesday that she would not comment on the evidence and suggested prosecutors' case against her client appears weak. She said she has not been sent the evidence yet.
"In my experience, where, as here, the prosecution leaks so-called evidence to the press before they provide it to me, their case isn't that strong," she said. "When they have a strong case, they give me everything as soon as possible. We shall see what they have and what evidence is admissible in court, where the case will ultimately be decided."
Walshe is being held without bail and is next expected in court February 9.
Ana Walshe, a corporate real estate manager, would travel between the family's home in Cohasset, Massachusetts, and her job in Washington, DC, her former colleague Pamela Bardhi has told CNN. Bardhi described Ana as "a force to be reckoned with" and a "supermom" to her three sons between the ages of 2 and 6.
The couple's children are in the custody of the Massachusetts Department of Children and Families, a spokesperson said. Bhardi said "a flood of families" have offered to take the kids in so they can stay together.
Garbage bags containing blood, personal items
Prosecutors say Brian Walshe's phone data shows he traveled to several apartment complexes in different towns, where they accuse him of disposing of evidence in dumpsters.
Surveillance video from two of the complexes shows his Volvo and a figure fitting his description throwing bags into the dumpsters, Beland alleged.
The trash from these dumpsters was incinerated before investigators could sift through it.
However, investigators were able to track down trash the husband allegedly threw away at his mother's home in Swampscott, a town about an hour drive north of the Walshe's home.
Ten trash bags of evidence were found at a garbage collection station containing apparent blood stains, a hacksaw, hatchet, towels, rags, gloves, a heavily stained rug and a Tyvek suit – a near-total body covering often used to protect from contaminants or hazardous materials – Beland said.
In the bags, investigators also found Ana Walshe's Covid-19 vaccination card, a Prada purse she carried and part of a necklace consistent with one she can be seen wearing in photos, the prosecutor said.
The state crime lab tested some of the bloody items in the bags and found DNA from both Ana and Brian Walshe on a pair of slippers and the Tyvek suit. The wife's DNA was also found on some tissues, she said.
Additionally, a search of the couple's home uncovered blood stains and a bloody knife in the basement, prosecutors allege.
Blood was also found in Walshe's car, Beland said. Police observed a plastic liner in the back of his car the day Ana Walshe was reported missing, but the husband later told investigators he had thrown the liner away, the prosecutor said.
Gruesome Google searches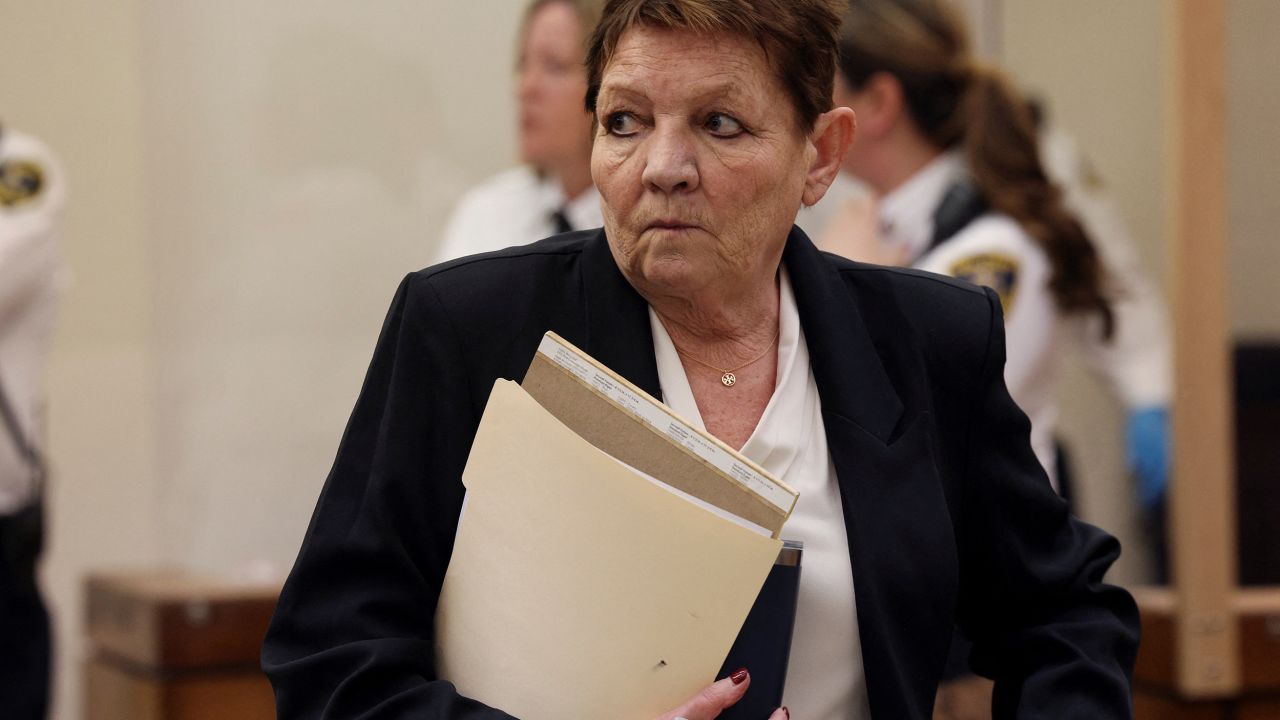 Brian Walshe's internet records show several grim Google searches about body decomposition, dismemberment and disposal of human remains, Beland alleged.
All but one of the searches was made on or after the day prosecutors allege Brian Walshe killed his wife, she said.
The husband appeared stoic as Beland read the searches aloud in court, only shaking his head once when the prosecutor said he had made some of the searches on his son's iPad.
The first, she said, was on December 27: What's the best state to divorce for a man?
Here are a few of the searches he allegedly made between January 1 and January 3:
How long before a body starts to smell?

What does formaldehyde do?

How long does DNA last?

Can identification be made on partial remains?

Dismemberment and the best ways to dispose of a body.

How to clean blood from wooden floor.

What happens when you put body parts in ammonia?

Is it better to put crime scene clothes away or wash them?

Hacksaw best tool to dismember.

Can you be charged with murder without a body?
"He basically lays out the questions for his plan in the Google searches, as prosecutors allege," CNN chief law enforcement and intelligence analyst John Miller said.
Prosecutors detail several purchases of cleaning supplies
Prosecutors also listed multiple items Brian Walshe allegedly bought that they believe are connected to his wife's killing.
At a Home Depot on January 2, prosecutors say he wore a face mask and rubber gloves as he purchased mops, brushes, tape, a Tyvek suit with boot covers, buckets, baking soda and a hatchet. Beland has previously said he spent about $450 at the store.
The husband also went to Home Goods that day and bought three rugs, Beland said.
Two days later, he allegedly went to Home Goods and TJ Maxx where he bought towels, bath mats and men's clothing, Beland said. He then went to Lowe's, where the prosecutor said he purchased squeegees and a trash can.
Meanwhile, Beland said, there was no activity on Ana Walshe's credit cards.
CNN's Eric Levenson, Jason Carroll, Celina Tebor and Amanda Watt contributed to this report.