David Crosby, a folk rock pioneer and one of the founding members of The Byrds and Crosby, Stills, Nash & Young, has died, his family announced Thursday.
He was 81.
"It is with great sadness after a long illness, that our beloved David (Croz) Crosby has passed away. He was lovingly surrounded by his wife and soulmate Jan and son Django," the Crosby family said in a statement, obtained by CNN through a family spokesperson. "Although he is no longer here with us, his humanity and kind soul will continue to guide and inspire us. His legacy will continue to live on through his legendary music"
Representatives for Crosby had no comment when reached by CNN.
Crosby was inducted into the Rock and Roll Hall of Fame with the Byrds in 1991 and again with Crosby, Stills & Nash in 1997, alongside Stephen Stills and Graham Nash.
"Peace, love, and harmony to all who knew David and those he touched," the statement added. "We will miss him dearly."
Beginnings and success
Crosby, a native Californian and son of Academy Award-winning cinematographer Floyd Crosby, initially moved to Los Angeles from Santa Barbara in 1960 with the intention of becoming an actor.
Music called his name, however, and in 1963, he formed the rock group The Byrds with Roger McGuinn and Gene Clark.
The band was nominated for a best new artist Grammy in 1965. 
Among other hits, The Byrds released the 1965 song "Turn! Turn! Turn!" which was made popular again in the mid-'90s thanks to the 1994 feature film "Forrest Gump."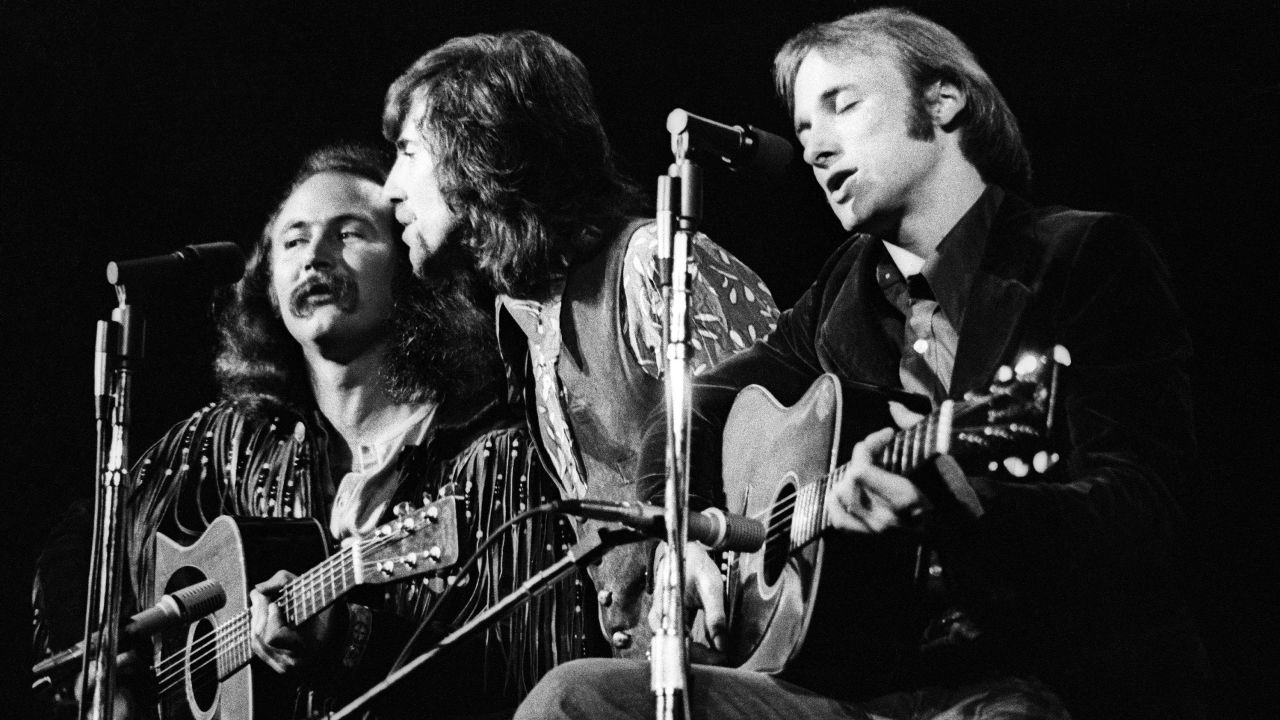 Crosby went on to win the best new artist Grammy trophy as part of Crosby, Stills & Nash in 1970.
Crosby, Stills & Nash played Woodstock 1969. It was only their second live performance together, which helped catapult them to mainstream success.
That band's first album, 1969's "Crosby, Stills & Nash," was an immediate success, featuring hits "Marrakesh Express" and "Suite: Judy Blue Eyes."
In 1970, with the addition of Neil Young, the group became known as Crosby, Stills, Nash & Young and released "Déjà Vu," which contained the hit song "Woodstock."
In addition to his solo albums, Crosby collaborated with other music greats throughout his career, including Jerry Garcia, Bill Kreutzmann and Phil Lesh of the Grateful Dead, Carole King and Joni Mitchell.
Crosby is credited with having discovered Mitchell, whom he also dated.
'Very proud of living'
The rocker struggled with addiction in the past, and spent five months in jail on narcotics and weapons charges. He was released in 1986 and credited his time in prison with helping him get sober.
"They locked me in a box and I got off drugs, and believe me, it changes you totally," he told the Guardian in 2021. "You go from not wanting to live to being very proud of living because you're no longer killing yourself and you're taking care of your family again, being a decent guy and making music."
Crosby has, especially in recent years, been open about his health problems.
In 1994, he received a liver transplant. He's also undergone multiple heart procedures and been open about managing his diabetes.
Crosby told NME in 2021 that continuing to make music was keeping him "alive."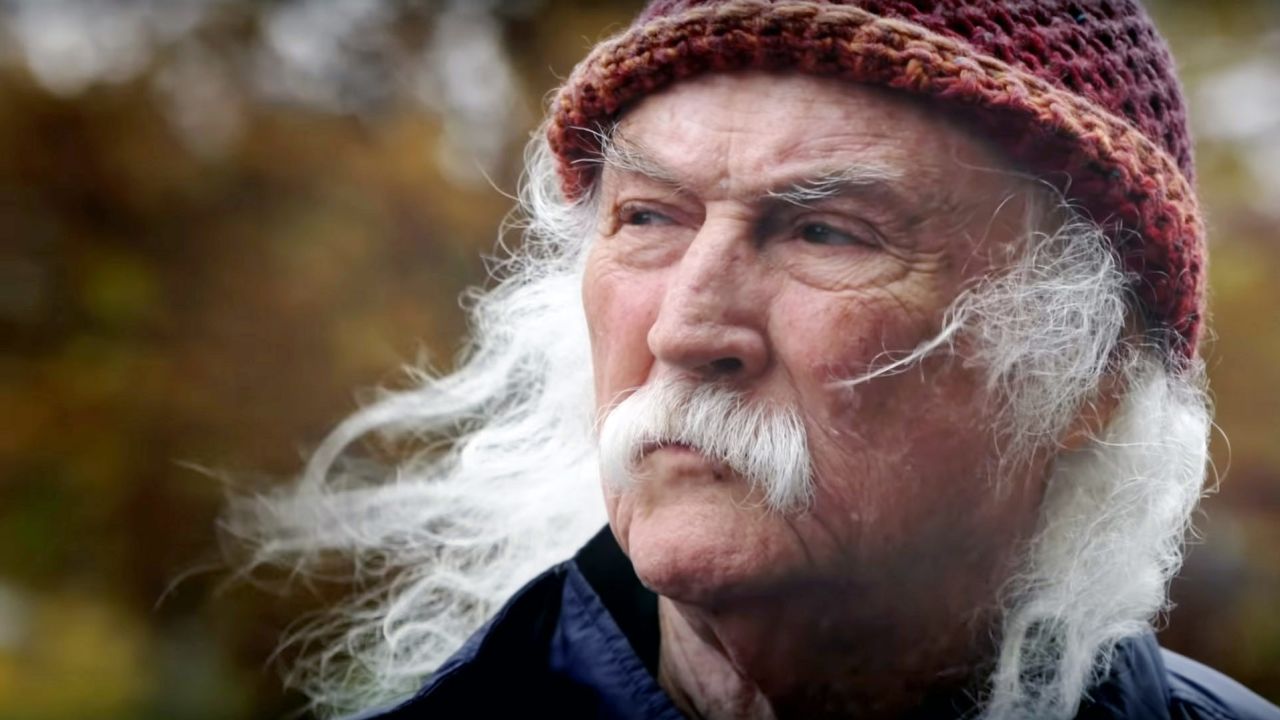 "There are two (centers) to my life; my family and the music," he added. "That I can still at this advanced age get a chance to make more music is just a freaking miracle."
In 1987, he married Jan Dance. The pair shared one son, Django.
'He gave me the gift of family'
Upon learning of Crosby's death, musician Melissa Etheridge, who had two children with former partner Julie Cypher using Crosby as a sperm donor, wrote on Instagram that she is "grieving the loss of my friend."
"He gave me the gift of family," she wrote.
Crosby's former bandmate Nash referenced their at-times "volatile" relationship in a tribute on Facebook, writing on Thursday, "what has always mattered to David and me more than anything was the pure joy of the music we created together."
The statement added: "David was fearless in life and in music. He leaves behind a tremendous void as far as sheer personality and talent in this world. He spoke his mind, his heart, and his passion through his beautiful music and leaves an incredible legacy. These are the things that matter most."
Stills, the other member of Crosby, Stills & Nash, shared in a statement on Facebook that "it is only the memory of such a unique and full life so well lived that must sustain us through this period of profound grief."
The statement added that "David lived a life of deep and enduring gratitude and was an extraordinary, richly sentient being," continuing to say that "his music will live on through us all."
Carole King, who was joined on stage in 1994 by Crosby and Nash to perform "You've Got a Friend," reacted to the news on Facebook saying "my old friend David is gone, but he left us with his words, his music and his beautiful voice."
Beach Boys leader Brian Wilson also shared his sentiments on social media saying he was "heartbroken."
"David was an unbelievable talent - such a great singer and songwriter. And a wonderful person," he wrote.