An excavator gouges huge chunks of rich brown earth by the roadside, depositing the dirt at the edge of the lengthening trench.
Soldiers shovel more dirt out of the trench, well inside the city of Bakhmut in Ukraine's eastern Donetsk region.
The officer in charge, who gives his name only as Valentin, insists the trench is just a precautionary measure, and that the fighting in Soledar, just 15 kilometers (9 miles) to the north, remains back and forth.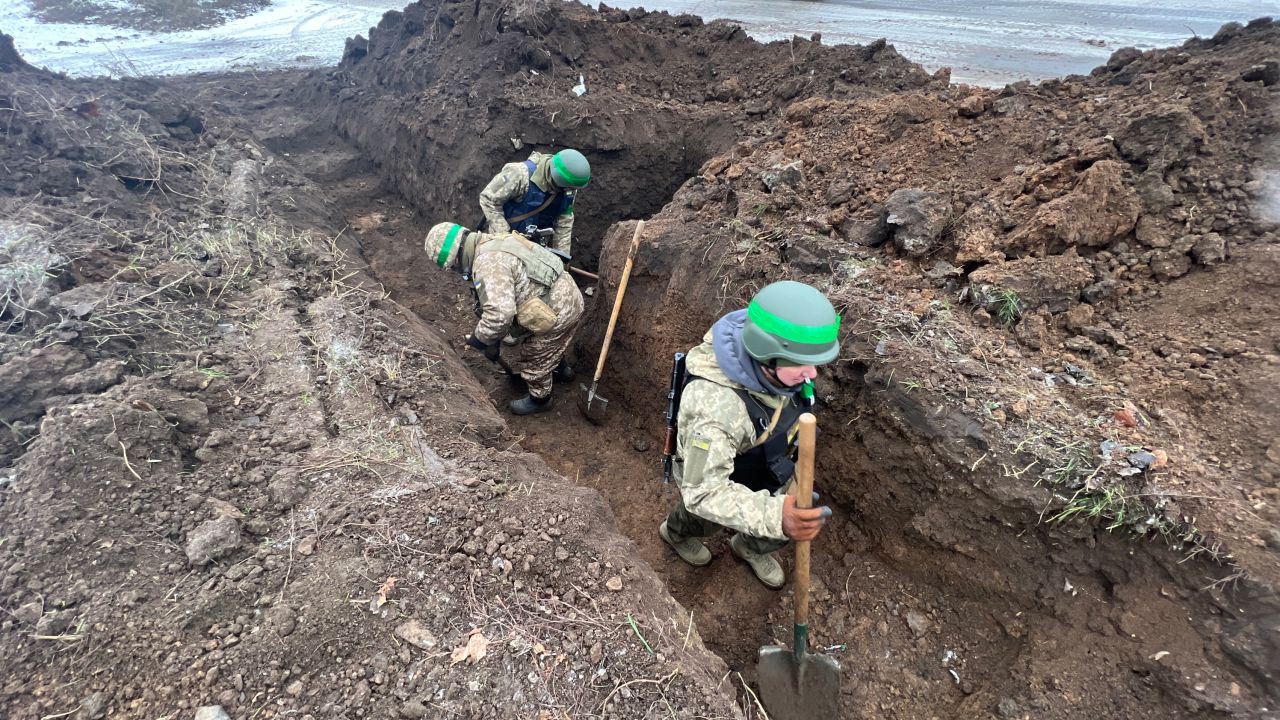 "If we have weapons and tanks and guns, they won't come here," he says.
The situation in Soledar remains unclear. Days ago, the leader of the Russian private military company Wagner, Yevgeny Prigozhin, announced that his group had control of the entire Soledar area. Ukrainian officials dispute the claim. This CNN team, which has been to the Soledar area several times in recent days saw that, regardless of the various claims, Ukrainian forces are on the defensive.
Fighting around Bakhmut has raged for months – but has eased slightly as Russian forces have focused their efforts on Soledar. If the battle there is in its final stages, it's widely assumed the Russians will renew their push to take Bakhmut.
Ukrainian officials say perhaps only 10% of the pre-war population remains in Bakhmut. On the western side of the city, which slopes down to a valley out of view of Russian positions, some civilians try to carry on as best they can.
They gather to receive bags of logs made from residue from the sunflower harvest for their stoves. Down the road, a crowd lines up with large plastic bottles and jugs to fill up at a well.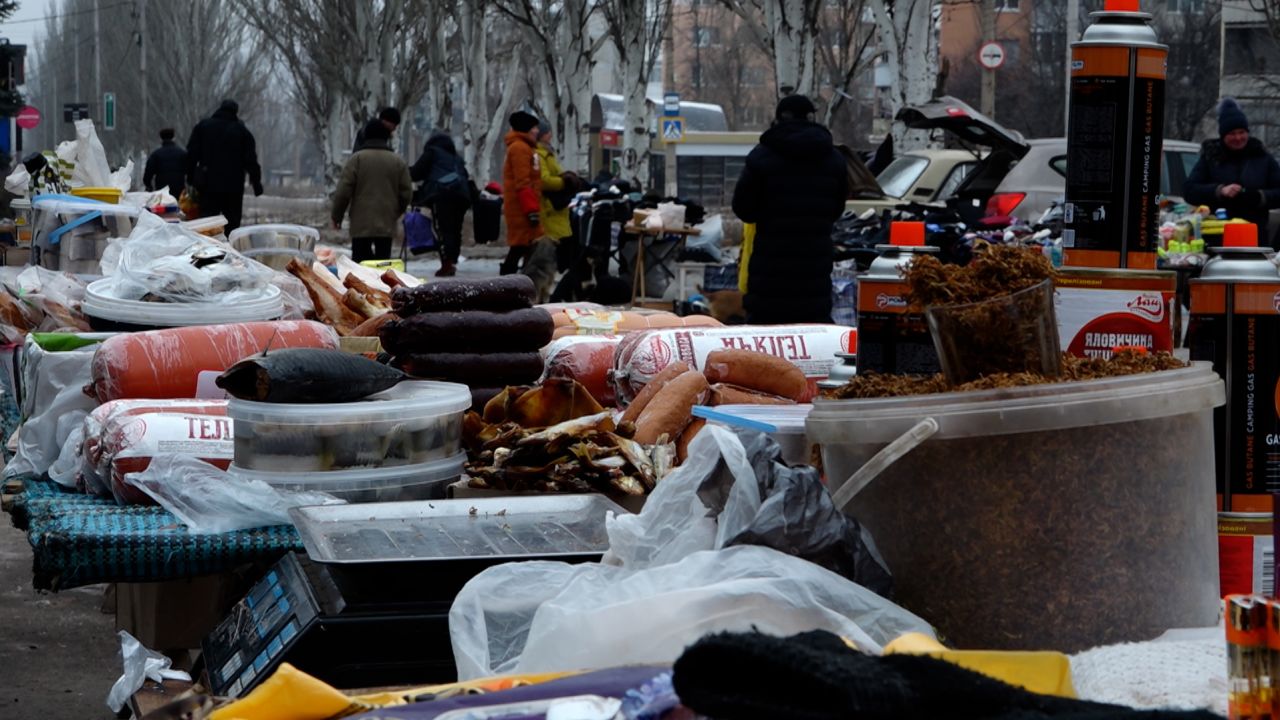 In the morning, a few vendors set up tables by one of the few passable roads into the city to sell fish, bread, grilled meat, coffee, and tea.
There we met Serhii, a grizzled, bearded man of indeterminate age who gives only his first name. He said he couldn't afford to leave, getting by on food from soldiers and volunteers. He claimed to be an army veteran, but said he couldn't access his pension because all normal public services have stopped functioning.
"I'm living like a f***ing animal," he told us.
Closer to the front, we met Galina. She was returning from the other side of the river – scene of the most intense combat – where she attended services at the local Baptist church.
Bundled up against the cold in a thick, blue overcoat, a white scarf on her head, she appeared not to have a care in the world. But for the bang and rattle of the nearby fighting, you'd think it was a peaceful, snowy January afternoon.
"What did you pray for?" I asked.
"We prayed for peace and for God to save us and our town, and for peace in all of Ukraine," she responded.
Bidding us a good day with a smile and a wave, off she went.
Near the river that divides the town, and nearer the fighting, we saw a lone, one-legged figure on crutches making his way down the middle of a road littered with broken glass and twisted metal.
We greeted the man, who introduced himself as Dmytro. "You have just two questions," he said, taking a deep drag on a cigarette. One of his crutches had yellow tape on it, the other blue – the colors of the Ukrainian flag.
I asked why he was still here, so close to the fighting, in a condition that would hardly allow him to get to safer ground in a hurry.
"This is my land," he said. "I won't leave."
My second question: what happened to your leg?
"That was long ago, when I was young," he responded. "That's it," he added, "you had your two questions."
Dmytro, like Galina, appeared deaf to the sounds around him. He turned on his crutches and hobbled around the corner onto a street clearly visible from Russian positions across the river. Another blast shook the ground. He hobbled ahead without pause.
A block back, we met Svetlana. She was wandering down the street in a stained tan sweater and a maroon wool cap. Her cheeks appeared brown from weeks without washing.
"I put some food on the fire, I chopped some wood," she said in the most matter-of-fact manner, "and decided to go out for some fresh air."
Last spring, Svetlana said, she fled her home in Lyman, a town north of Bakhmut occupied by the Russians until late September last year. She and her husband have moved into what they say is a friend's flat. They may well be squatting, but who is checking?
Is she worried that, if Soledar falls into Russian hands, Bakhmut is next?
"What will happen will happen," she answered, shrugging her shoulders.
On a hill with a panoramic view of the city, a Ukrainian anti-aircraft crew was preparing to fire on Russian positions. Their gun, manufactured in what was the Soviet Union in 1950, is also an effective weapon against troops, its large rounds spraying shrapnel in a 50-meter (54-yard) radius, according to the commander, who goes by the nickname "Pilot."
His men gave him that moniker because he went to flying school in Florida and owns a company selling helicopter engines, he said. Pilot added that he had to pay out of his own pocket to mount the gun on an army truck for added mobility.
Like others in Bakhmut, he insists Ukrainian troops are still holding their ground in Soledar. He anticipates the fighting will intensify here.
"The situation is difficult in Bakhmut," he said. "The Ukrainian army is strong, and we will fight for Bakhmut."
Moments later, the order comes to open fire.
Flames and smoke leap from the barrel of the gun as four rounds zoom into the air.
The point of impact is out of sight, over the hill – the target, Russian trenches.
Four distant booms echo over the city.