The early days of 2017 were a whirlwind for Vice President Joe Biden: swearing in a new Congress, a surprise Medal of Freedom, a speech at Davos and one final trip to Ukraine.
Partly to wrap up his policy portfolios, partly to tout his accomplishments, and partly to occupy himself following the death of his son a year earlier, Biden thrust himself into work in a final sprint to mark what then appeared to be the end of a four-decade run at the highest levels of government.
As Biden was busy keeping busy, however, his office was shutting down. Aides scrambled to pack up his workspaces in the West Wing, the Eisenhower Executive Office Building and at his official residence, the Naval Observatory.
Those competing objectives – to use his office until the final minutes even as it was obliged to shut down – made for a muddled and hurried process that left aides packing boxes of documents and papers late into the night, even as more material kept arriving.
Exactly how a small batch of classified documents ended up in boxes of Biden's personal effects remains an open question. The White House and the now-president's lawyers have refused to say who, precisely, packed and moved the material. Those questions are now central to a special counsel investigation into Biden's handling of classified material after leaving the White House in 2017.
This account of how Biden's aides wound down his vice presidential office, as well as new details about the classified documents they placed with personal items, is based on interviews with former and current administration officials and others familiar with the process.
At a minimum, the placement of the secret documents alongside "personal and political papers" reveals a records retention process gone awry. It was a manilla folder marked "VP personal" that contained one of the classified documents that was first discovered last November by the Biden attorney, setting off the chain of events, according to one person familiar with the find.
Among the items from Biden's time as vice president are 10 classified documents including US intelligence memorandums and briefing materials that covered topics including Ukraine, Iran and the United Kingdom, according to that person.
There was also a memo from Biden to President Barack Obama, as well as two briefing memos preparing Biden for phone calls – one with the British prime minister, the other with Donald Tusk, the former prime minister of Poland who served as president of the European Council from 2014-2019. It's unclear how much of this material remains sensitive.
Former aides and others familiar with the process of Biden's transition out of government service describe a serious effort to follow the law made difficult by an unusually active final stretch.
"That made the process very disjointed – not because people weren't capable, but because it wasn't some straight line out of the White House," a source with direct knowledge of the process said. "The day-to-day almost accelerated in those final days. Throughout, people were trying to ensure he still had what he needed, while also trying to pack in moments he wasn't there."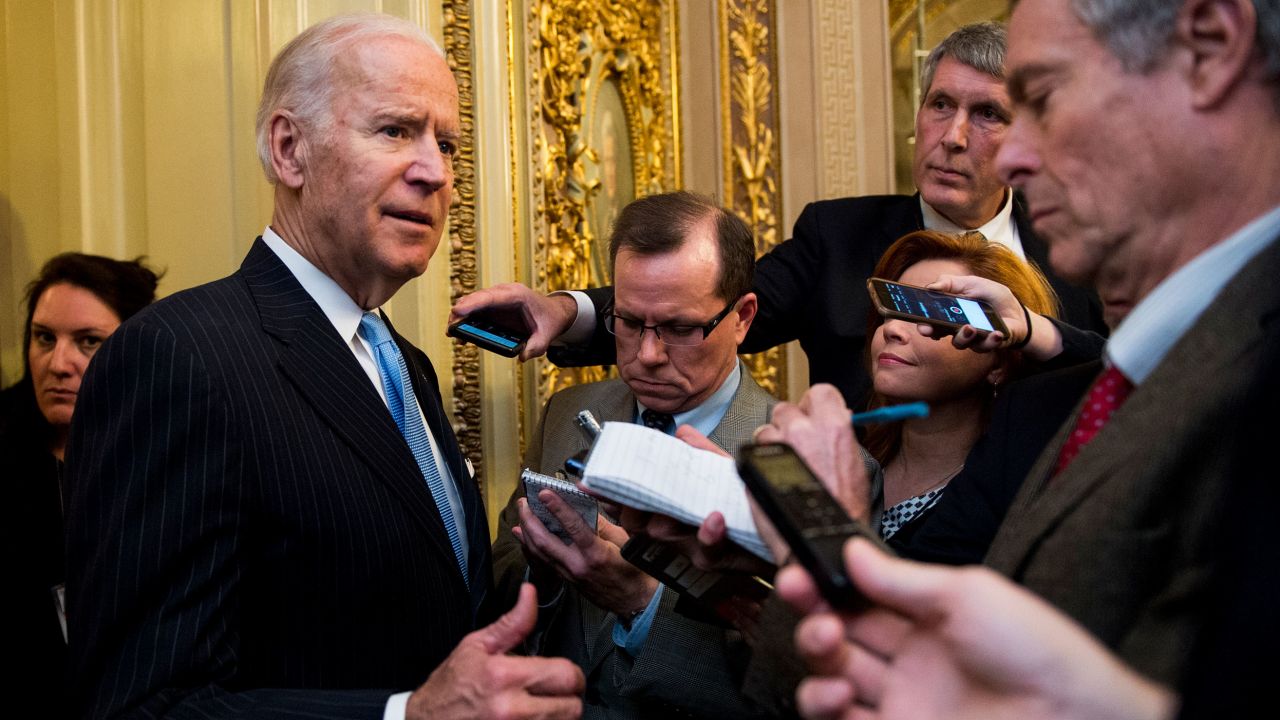 The packing was carried out by members of Biden's staff, including lower-level aides and assistants who were provided boxes to store the vice president's things.
Among the aides working in Biden's office at the time were his chief of staff Steve Ricchetti and communications director Kate Bedingfield, who now hold senior roles in Biden's White House. Other top aides who have worked with Biden for decades, including senior adviser Mike Donilon, had previously left the administration.
According to people familiar with the matter, it was lower-level staffers who carried out most of the actual packing of Biden's belongings and documents, including his executive assistant Kathy Chung, who now works at the Pentagon, as well as other personal aides.
Chung was interviewed in the probe of classified documents found in Biden's personal offices, according to a defense official. She did not respond to CNN's attempts to contact her.
The chaotic closing days
Those closing days of Biden's vice presidency were a flurry of packing mementos, photographs and personal papers, people familiar with the matter say. Though most of Biden's files and documents were turned over to the National Archives in a process that began several weeks before he left office, last minute work continued up until the hours he departed the White House for Donald Trump's inauguration.
The looming arrival of Trump to the White House left many of Obama and Biden's aides wary of the future and eager to cement many of their accomplishments. It was an uneasy moment, according to many who lived through it.
"It was just a really really weird time for everyone," the source familiar said.
The steady pace of official events Biden maintained in the final days made the process of packing his office more difficult, according to former aides. Each high-profile meeting required a briefing memo – often containing classified information important for the President to know before sitting down with foreign leaders.
In just the final five days of his vice presidency, Biden met in Kyiv with Ukrainian President Petro Poroshenko and in Switzerland with Chinese President Xi Jinping. He spoke by phone with the prime minister of Iraq two days before leaving office. And earlier in the week he held calls with the president of Kosovo and the prime minister of Japan. As his team worked in Washington to ensure all the classified material in his offices were properly packed and submitted to the government, more classified documents continued to arrive.
"Documents and briefings are always coming in and it didn't slow down, even when the boxes were being packed," another person familiar with the process said.
Aides worked into the night to complete the packing, according to a person familiar with the matter, to avoid interfering with Biden's continued use of his offices.
"We had clear Presidential Records Act guidelines – everyone did – in terms of how to close things down," one of the people familiar with the matter said. "The people who actually needed to pay attention to them definitely did. For most of us it wasn't some all-consuming thing, but obviously for those responsible for the vice president's stuff, it was a big deal and they treated it as such."
The process of packing Biden's office operated separately from the effort underway to pack and preserve Obama's records, some of which were sent to a temporary facility in Illinois. Biden's office dealt directly and separately with the National Archives to ensure the vice president's records were turned over, according to a former administration official.
While the National Archives sends staff members to the White House to gather files and papers of the President, they do not treat all vice presidential papers with the same high regard, officials said.
Staff members from the vice president's office are often left to sort through papers themselves, officials say, rather than specialists from the Archives. While classified documents hold the same level of secrecy for presidents, vice presidents and anyone with proper security clearance to handle them, officials say, it would be easier for papers outside the Oval Office to be mixed up or left behind.
Many of the boxes of personal items – not deemed covered by the records requirements to submit to the National Archives – were transported from the vice president's office to a temporary facility about one block away from the White House, run by the General Services Administration. From there, they went to another temporary office before eventually being moved to the offices of the Penn Biden Center for Diplomacy and Global Engagement, a think tank Biden opened in early 2018.
"GSA's support is available for six months after the end of their term of office; while Former Presidents then go on to receive lifetime support from GSA, former Vice Presidents do not," a GSA spokesperson told CNN. "In 2017, GSA provided approximately 5,300 usable square feet of office space to the Outgoing Vice President's transition team at 1717 Pennsylvania Ave, NW. The Outgoing Vice President's transition team vacated the space on July 21, 2017."
Biden on the move
But in those hectic final days of his term, as boxing and cataloging was underway at the White House, Biden was on the move. Obama kicked off the closing week of his administration with a surprise for his partner: bestowing the prestigious Medal of Freedom to Biden in a ceremony in the State Dining Room that brought the vice president to tears.
It was designed to be a farewell to public life, which the medal's citation clearly stated: "A grateful nation thanks Vice President Joseph R. Biden, Jr. for his lifetime of service on behalf of the United States of America."
At the time, the notion of Biden running for president in 2020 wasn't even a private consideration as he prepared to set off into the private sector for the first time of his adult life.
The morning after receiving the Medal of Freedom, Biden traveled to New York to appear on ABC's "The View," joining Whoopi Goldberg and Joy Behar at the talk show table as yet another stop in his victory lap of public service.
Biden then traveled to Kyiv, meeting with Poroshenko and wishing him well, saying: "I want to say what a privilege it has been to support and stand with Ukraine over these past 25 years, first as a senator and of late as vice president."
And at the World Economic Forum in Davos, he delivered a valedictory address and met on the sidelines with Xi, whom he'd come to know when both men were serving as vice president.
Biden was intently focused on memorializing his work on Ukraine, according to former aides, as well as the other policy areas assigned to him by Obama.
Three days later, Biden was on hand for Trump's inauguration. At noon on January 20, 2017, he was without the trappings of an office or a title in Washington for the first time in 44 years. He rode his beloved Amtrak back to his home in Wilmington.
Behind the scenes, a small contingent of aides to Biden were unpacking boxes and setting up a new house on Chain Bridge Road in McLean, Virginia, just outside Washington, a rental property where Alexander Haig, former chief of staff to Richard Nixon and Secretary of State to Ronald Reagan, once lived. It served as an office and a gathering point as Biden's longtime advisers helped chart his new path, with his decision to challenge Trump and return to the White House not even a private consideration at the time.
CORRECTION: This story has been updated to reflect that Mike Donilon was not working in the White House in January 2017.
CNN's Jamie Gangel and Kristen Holmes contributed to this report.