Editor's Note: Jonathan Reiner, MD, is a CNN medical analyst and professor of medicine and surgery at George Washington University. The views expressed in this commentary belong to the author. View more opinion on CNN.
The survival and recovery of Buffalo Bills safety Damar Hamlin after his collapse during last week's Monday Night Football game has been a happy, but all-too-real, demonstration of the importance of immediate CPR and prompt defibrillation in the crucial first few minutes following a sudden cardiac arrest. But while Hamlin's near-death experience traumatized his family, teammates, the NFL and millions of people who witnessed his struggle live on television, for others it has become just another crass opportunity to promote vaccine disinformation.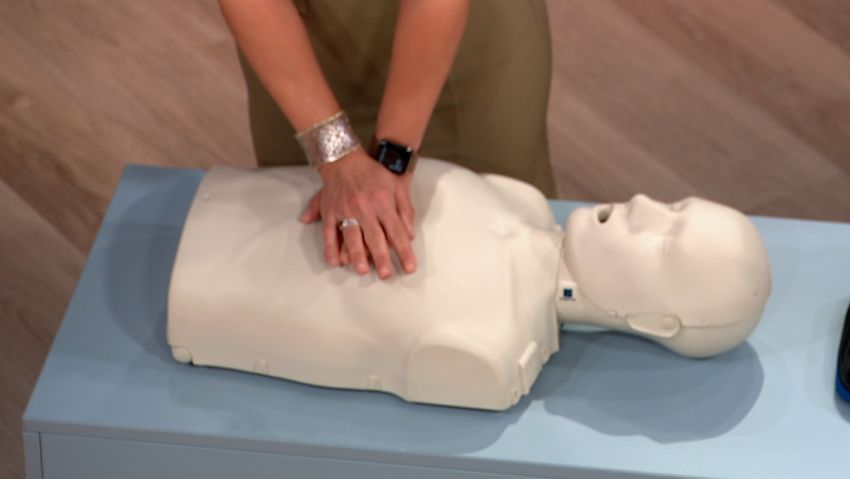 If you don't know how to perform CPR, watch this
In the first quarter of the game, with the Cincinnati Bengals leading the Bills 7-3, Bengals wide receiver Tee Higgins caught a short pass from quarterback Joe Burrow. Hamlin sprinted quickly towards him and met Higgins at the 50-yard line. Both players seemed to ready themselves for impact, with Higgins lowering his right shoulder and Hamlin spreading his arms for the tackle. When they collided, Hamlin's left chest absorbed Higgins' blow and both players went down.
For those watching the game, it looked like a routine play. But then, a second or two after Hamlin rose to his feet, he suddenly fell backwards onto the turf.
The subsequent televised effort to save the 24-year-old's life was heroic but difficult to watch, culminating after several minutes — which seemed like an eternity — in his evacuation from the field by ambulance.
While the stunned commentators on ESPN and fans around the world tried to make sense of what they had just witnessed, the internet erupted with a blizzard of unfounded rumors.
Charlie Kirk, founder of Turning Point USA, quickly parroted an unfounded anti-vaccine conspiracy theory, tweeting, "This is a tragic and all too familiar sight right now: Athletes dropping suddenly." The tweet has been viewed nearly 12 million times.
Dr. David Drew Pinsky (otherwise known as "Dr. Drew"), an internist and television personality, tweeted similar language, "So disturbing. Another athlete who dropped suddenly."
Though the tweets didn't mention Covid-19 vaccines outright, the implications were clear as day.
Former New York Times columnist and prolific vaccine opponent Alex Berenson wrote on Substack the next day, "When I saw the video of what had happened, my immediate reaction - beyond fear for Hamlin's life - was, I suspect, the same as most of yours. Had Damar Hamlin suffered cardiac arrest? Were the mRNA vaccines ultimately responsible, perhaps by causing myocarditis that left him vulnerable."
And Rep. Marjorie Taylor Greene of Georgia tweeted: "Before the covid vaccines we didn't see athletes dropping dead on the playing field like we do now… How many people are dying suddenly? Time to investigate the covid vaccines."
Throughout the pandemic, right-wing media outlets and personalities have repeatedly questioned the safety of Covid-19 mRNA vaccines, amplifying the unfounded claims of vaccine skeptics. On Tucker Carlson's Fox News show the night after Hamlin's collapse, Dr. Peter McCullough, a Dallas cardiologist and loud critic of Covid-19 vaccines, suggested that, "vaccine-induced myocarditis," may have caused Hamlin's episode.
Carlson told his audience, "Hamlin was still lying on the field, receiving CPR when self-described medical experts in the media, people with no demonstrated medical ethics at all, effectively witch doctors, decided to use his tragic life-threatening injuries as an opportunity to spread still more propaganda about the Covid shots. 'It could not have been the shot,' they told you. 'Shut up.' But, they're lying. They don't know that."
During the same show, Carlson insinuated that athletes have been dying because of the Covid-19 vaccine, "Since the vax campaign began, there have been more than 1,500 total cardiac arrests in those leagues and two-thirds of those were fatal," he claimed.
Those statistics about deaths in athletes, promoted by Carlson, was taken from an letter published in a Scandinavian journal, whose only attribution was "GoodSciencing.com," (which is about as credible as it sounds).
This is not the first time a tragedy has been used to promote Covid-19 vaccine disinformation. In December, in the aftermath of the sudden death of soccer journalist Grant Wahl, social media burned with cruel and false rumors that Wahl's death was caused by the vaccines which his wife, Dr. Celine Gounder, advocated for.
An autopsy in New York subsequently found Wahl died of an unrelated ruptured aortic aneurysm.
As Gounder noted in an op-ed she later penned for the New York Times, she wanted to share the truth about the cause of her husband's death to squash rumors that it had been the result of a Covid-19 vaccine.
The truth is, there is no evidence to suggest athletes have been dying due to the vaccines, and much is known about their safety. As per the Centers for Disease Control and Prevention, more than 650 million doses of Covid-19 vaccine have been administered in the US, and their safety profiles have been well documented. Potential adverse vaccine events are collected by the Vaccine Adverse Event Reporting System (VAERS).
Earlier this week, Hamlin, who has since returned home from the hospital, went through "a comprehensive medical evaluation," according to the Bills, but no cause of his cardiac arrest has been made public. It remains most likely, however, that Hamlin's cardiac arrest just seconds after absorbing Higgins's hit, was the result of "commotio cordis." This uncommon, but well-described, phenomenon, named from the Latin for "agitation of the heart," is a consequence of a potentially lethal arrhythmia generated by trauma to the chest at a precise and vulnerable moment in the heart's electrical cycle.
Get our free weekly newsletter
Sign up for CNN Opinion's newsletter.
So why did Hamlin do so well? The short answer is that he was fortunate to collapse steps away from a large crew of trained medical responders who recognized that he was in cardiac arrest, quickly began CPR and then resuscitated him with an automated external defibrillator.
Reportedly, when Hamlin first awoke in the hospital he asked, "who won?" Now we know. Hamlin won.