Kiki Yang brought an empty green suitcase from Shenzhen to Hong Kong this week to load up on new purchases for her family and friends.
"I did a lot of shopping these days," she told CNN on Tuesday, gesturing to her luggage, which she described as fully packed with clothes, medicine and electronics.
Yang is one of tens of thousands of mainland Chinese visitors expected to be welcomed back in Hong Kong this week, as one of the world's toughest border closures ends. On Sunday, residents of Hong Kong and mainland China were permitted to resume two-way, quarantine-free travel after three years, albeit in limited numbers.
For businesses like beauty retail giant Sa Sa, the moment couldn't have come any sooner: Danny Ho, its chief financial officer, told CNN that mainland Chinese visitors usually account for a whopping 70% of its business.
"That basically dropped to almost zero once the border controls [were] in place," he said, referring to rules starting in early 2020 that required arriving visitors to self-isolate in hotel rooms.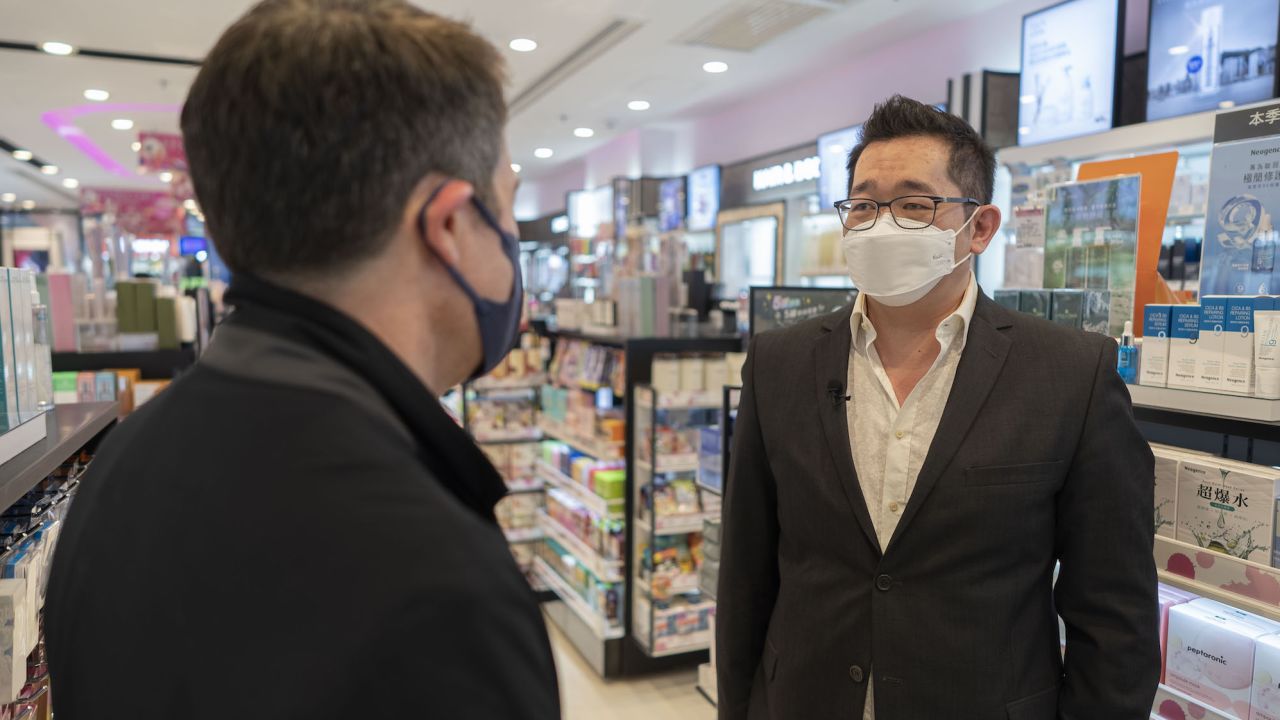 Unsurprisingly, Sa Sa's business has slumped. Once Asia's biggest beauty retailer, the chain has slipped to fourth place, behind rivals such as LVMH's Sephora, according to data from market research provider Euromonitor International.
Sa Sa, which counts Hong Kong and Macao combined as its top market, has seen sales roughly halve since 2019. The company has tried to stop the bleeding by shutting down stores, investing online and diversifying its product mix, including the introduction of non-beauty items, such as face masks and Covid-19 tests, according to Ho.
Now, things are looking back up.
"Everyone in Hong Kong retail, I can tell you, has been very much looking forward to this event," said Ho, a member of the Hong Kong Retail Management Association, referring to the border reopening.
The move is the latest effort by Hong Kong to rebuild its status as a global business hub. For decades, the former British colony has been seen as a friendly gateway to the vast market of mainland China, but its economy was battered during the pandemic as Covid-19 restrictions took hold.
Hong Kong's economy fell into recession in 2022, and is estimated to have contracted by 3.2% over the full year, according to a government forecast.
Restricted cross-border travel was the biggest concern for businesses across the city, according to a survey by the Hong Kong General Chamber of Commerce released Monday.
"The worst Is over," the group declared in a statement, though it warned of other lingering headwinds.
Early days
Businesses and economists aren't rushing to upgrade their forecasts just yet.
"In the first half of this year, the rebound is definitely going to be significant. We're going to see things really pick up, but it's not going to reach a full recovery," said Sheana Yue, China economist at Capital Economics.
Yue said that hotels and restaurants could soon see an uptick, particularly as "a backlog of people getting their visas sorted" from mainland China was cleared.
Currently, as part of a gradual reopening, Hong Kong has a quota of 60,000 visitor arrivals from mainland China each day.
But according to government statistics, less than 6,000 people in that category have been coming in daily so far. The city has seen a total of just under 21,600 arrivals from mainland China from Sunday through Wednesday, in its first four days of reopening, immigration department data shows.
While Yue expects Hong Kong to come out of recession this quarter, she estimates it could take a full year for the city to bounce back, potentially by the first quarter of 2024.
That's when the economy may finally return to early-2019 levels, before it was badly hit by both mass protests and the pandemic, she added.
Louise Loo, a senior economist at Oxford Economics, also said it would take a while for Hong Kong to make a turnaround, particularly as it continues to grapple with "meaningful economic challenges," including weak housing prices and the impact of high US interest rates.
But once all border restrictions are removed, "Hong Kong is the biggest beneficiary of China's reopening within the region," she told CNN.
Ho, the Sasa executive, has also stopped short of raising sales projections this quarter, though he said the company was hopeful for an upswing during the forthcoming Lunar New Year holiday.
The retailer has prepared special discount coupons on Alipay, Alibaba's ubiquitous digital payments system, to offer mainland Chinese customers coming to the city to shop, though it's too early to see an immediate impact of their return, he said.
"We have to wait and see how much actually recovers," Ho added.
— CNN's Jennie Chen, Kathleen Magramo and Simone McCarthy contributed to this report.