Virgin Orbit's modified Boeing 747 jet — dubbed "Cosmic Girl" — took off Monday from Newquay in England's Cornwall county, 245 miles west of London, in a first launch for the country from UK soil. But nearly two hours after the plane left the ground and the rocket fired its engines to swoop toward space, Virgin Orbit revealed the launch was a failure.
"It appears that LauncherOne has suffered an anomaly which will prevent us from making orbit for this mission," said Christopher Relf, director of systems engineering and verification for Virgin Orbit, in a Virgin Orbit live stream covering the launch. LauncherOne is the name of the air-launched rocket that hitched a ride beneath the wing of the Cosmic Girl aircraft.
No people, only satellites, were on board the rocket, which initially appeared to launch from the 747 jet without issue. Reif earlier confirmed that the rocket's second stage was coasting through orbit, preparing to ignite its engine for a second burn. But he later revealed that it did not go as intended.
"We are looking at the information and data that we've gotten," he added. "And we will be back with you in a moment with more."
A follow-up tweet from Virgin Orbit echoed Relf's comments, reading, "We appear to have an anomaly that has prevented us from reaching orbit. We are evaluating the information."
Virgin Orbit's Cosmic Girl aircraft and crew did return safely to the ground after Monday's launch, the company confirmed on its live stream.
The company's stock, which was already down nearly 9% during trading hours Monday, shed another 28% after hours. As of 8 p.m. ET, it was priced at just $1.40 per share.
Monday's event was aiming to mark the first successful launch from the UK, though, technically, the rocket is designed to launch while Cosmic Girl is in flight.
The modified Boeing 747 flew to about 35,000 feet (10.7 kilometers) before releasing the rocket strapped under its wing.
Virgin Orbit expected LauncherOne to travel to between 310 and 745 miles (499 and 1199 kilometers) above the Earth's surface and then release nine satellites into Earth's low orbit.
It was not immediately clear what caused the rocket's failure.
The launch was aiming to be the first for Virgin Orbit — a subsidiary of Richard Branson's Virgin Group — of commercial satellites from Western Europe, and the first launch for Virgin Orbit outside the United States.
Since January 2021, the US-based company has conducted four successful launches from the Mojave desert in California. The company has also experienced one previous failure. Virgin Orbit's first launch attempt out of California in May 2020 failed because of an engine issue.
Ahead of the flight, Virgin Orbit CEO Dan Hart had described the UK mission as a "historic endeavor."
"This launch represents the opening of a new era in the British space industry and new partnerships across industry, government, and allies," he said in a statement released Friday.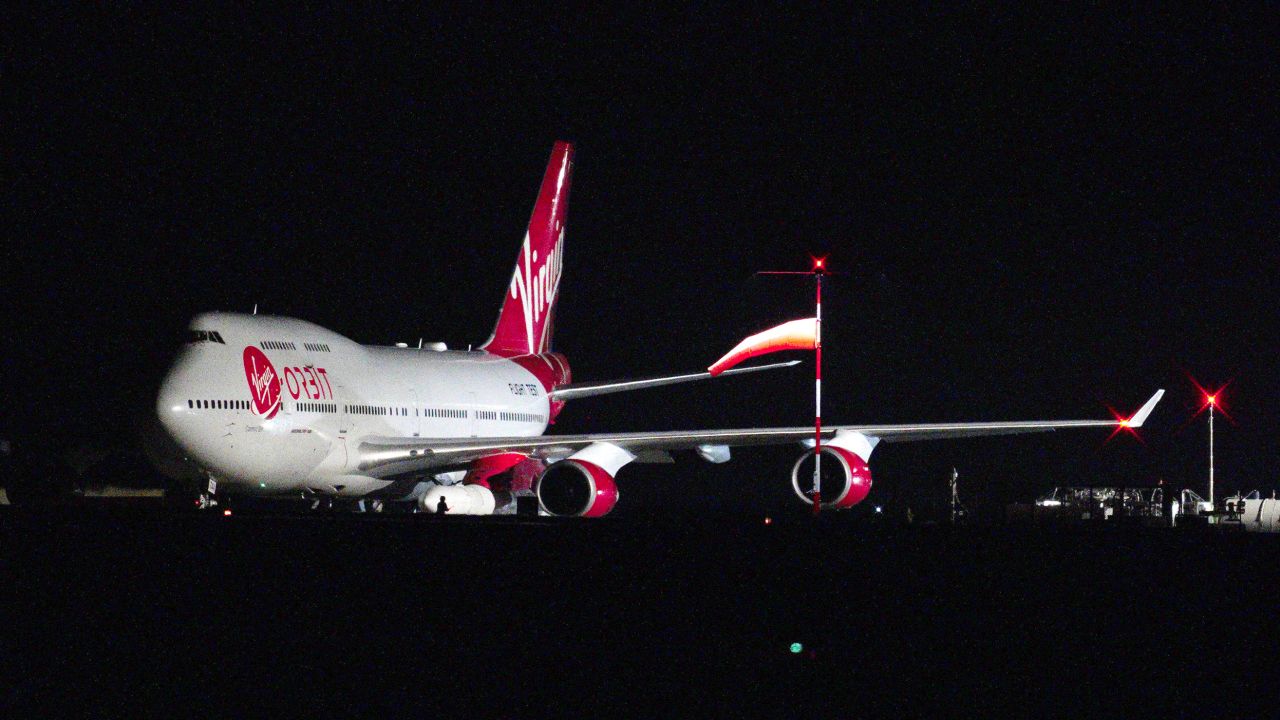 The satellites on board Monday were owned by seven customers, including private companies and government agencies. Among other things, the satellites were expected to be used for preventing illegal trafficking, smuggling and terrorism, the company said in Friday's news release, as well as for reducing the environmental impact of production.
The mission, named "Start Me Up" after the Rolling Stones' 1981 song, was a joint venture between Virgin Orbit, the UK Space Agency, Cornwall's local government and the UK's Royal Air Force.
'A new era'
The launch was expected to mark a key milestone in the United Kingdom's growing commercial satellite sector.
The country has been working on commercial spaceports for several years in a bid to capture a bigger share of the rapidly growing global space market, which Morgan Stanley estimates could be worth over $1 trillion by 2040.
The country's £16.5 billion ($20 billion) space industry directly supported about 47,000 jobs between 2019 and 2020, according to the latest available government figures.
Ian Annett, the UK Space Agency's deputy chief executive, said Friday that the launch signaled a "new era" for the UK's space industry, "putting [it] firmly on the map as Europe's leading destination for commercial small satellite launch."
"The development of new orbital launch capabilities is already generating growth, catalyzing investment and creating jobs in Cornwall and other communities across the United Kingdom," he added.
The small satellite launch industry is a burgeoning business around the world, but particularly in the United States. Virgin Orbit was one of the first in a long list of start-ups attempting to create small rockets that can deliver lightweight satellites to orbit quickly and cheaply — a growing business model that has dozens of global competitors. But the industry is also known to be fickle. Other small-rocket start-ups have also suffered failures in recent months and years, including US-based companies such as Firefly and Astra.
CNN's Hanna Ziady contributed to this report.