Florida Rep. Matt Gaetz strode into House GOP Leader Kevin McCarthy's office on Monday night with a list of demands. Among them: The chairmanship of a key House Armed Services subcommittee.
McCarthy rejected the offer. That decision set in motion a chain of events that left Gaetz and McCarthy locked in open confrontation on the House floor late Friday night. Gaetz, McCarthy's staunchest opponent, dramatically denied McCarthy the final vote he needed to become speaker – then Gaetz and the last holdouts abruptly changed course allowing McCarthy to win the speaker's gavel on his 15th attempt.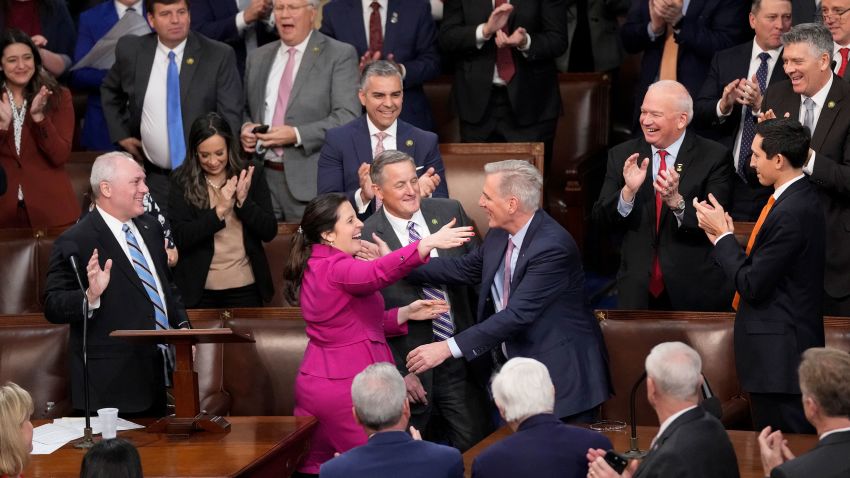 See the moment Rep. Kevin McCarthy was elected House speaker
Before the final vote, pandemonium erupted on the House floor after Gaetz waited until the very end of the 14th ballot to vote "present" when McCarthy needed one more "yes" vote. Stunned after believing he had the votes, McCarthy faced his most embarrassing defeat yet. McCarthy's allies encircled Gaetz to try to find a way forward. McCarthy soon made a bee-line for discussion and started engaging Gaetz, too.
After McCarthy walked away from Gaetz, looking dejected, Armed Services Chairman Mike Rogers moved toward the conversation and lunged at Gaetz, having to be physically restrained by Republican Rep. Richard Hudson of North Carolina. Rogers, a Republican from Alabama who earlier in the week warned the GOP dissidents they would lose their committee assignments, told Gaetz he would be "finished" for continuing to wreck the speaker's vote.
Nearby, Rep. Marjorie Taylor Greene of Georgia was trying to convince Rep. Matt Rosendale of Montana, another McCarthy holdout, to take her cell phone and speak to former President Donald Trump, who was on the line.
Finally, the House clerk announced for the 14th time that no one had the votes to be speaker. Republicans moved to adjourn the chamber until Monday. As the vote timer counted down, 218 Republicans had voted yes, a majority that would have sent McCarthy home for the weekend and left the House in paralysis at the hands of Gaetz and his allies.
But with less than a minute left to go in the vote, Gaetz moved toward the front of the chamber, grabbing a red index card to change his vote on adjournment. Gaetz walked toward McCarthy, and the two briefly exchanged words. McCarthy then raised his hand and yelled out, "One more!" as he triumphantly walked toward the front of the chamber to change his vote, too. It was the GOP leader's final negotiation capping an emotional roller coaster over the course of four days as he was held hostage by a narrow faction of his conference. Dozens of Republicans followed McCarthy and Gaetz to defeat the adjournment measure, and McCarthy's victory, at last, was at hand.
The six Republican holdouts all voted present on the 15th ballot, giving McCarthy a 216-212 victory to end the longest speaker's race since 1859. Rep. Tom Emmer, one of McCarthy's top deputies, went up and down the aisles telling Republicans on the House floor not to clap for Gaetz or Rep. Lauren Boebert when they announced their votes, like they had for other holdouts who had flipped to McCarthy earlier in the day.
Asked why he reversed course on McCarthy, Gaetz said, "I ran out of things I could even imagine to ask for."
McCarthy expressed relief as he left the floor: "I'm glad it's over."
McCarthy denied Gaetz was offered the subcommittee gavel he had sought earlier in the week in exchange for his vote. "No one gets promised anything," McCarthy said.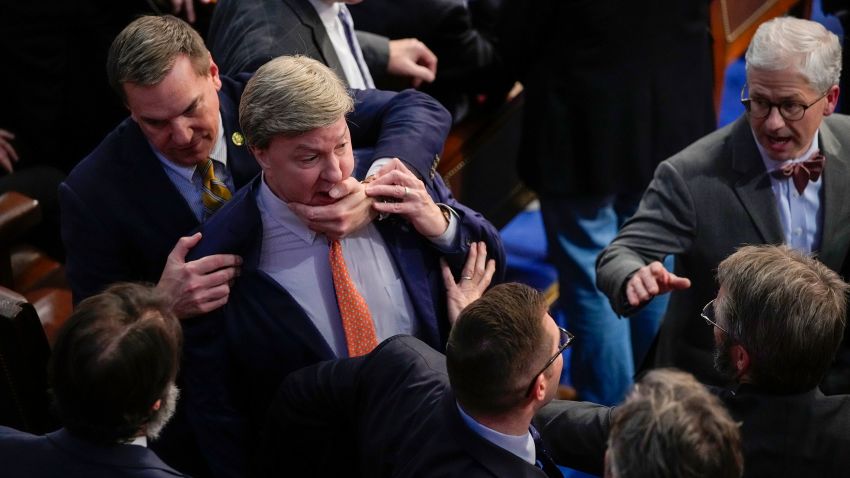 GOP lawmaker had to be restrained while confronting Gaetz. Hear what he told him
Dividing the 'Never Kevin' movement
The chaotic scramble to the speakership came after days of marathon negotiations that exposed deep divides within the GOP and threw into question their ability to govern effectively in the 118th Congress. But McCarthy's victory after facing 20 defectors on Tuesday also highlighted the successful strategy concocted by McCarthy and his top lieutenants to defeat the self-proclaimed "Never Kevin" movement led by Gaetz.
McCarthy's strategy led to a breakthrough over two votes Friday afternoon, when McCarthy flipped 14 Republicans who had voted against him following marathon talks over House rules – setting the stage for the 11th-hour chaos with the final six holdouts.
It's too soon to say whether the four-day speaker drama will become little more than an historical footnote for the 118th Congress, or if it's an early indicator of even more bruising fights to come. But the fight over the speaker's gavel exposed the bitter fault lines bubbling up in the Republican Party for the better course of a decade that will hover over the House for the next two years.
McCarthy's concessions to the GOP dissidents are significant and could ultimately cut his tenure as speaker short. Among the rules changes: McCarthy agreed to restore a rule allowing a single Republican member to call for a vote to depose him as speaker, the same rule that led to John Boehner's decision to resign as speaker in 2015.
Still, McCarthy's victory Friday now gives him the long-sought speaker's gavel and the chance to lead a House that will quickly turn its focus to investigating President Joe Biden, his administration and his family. More challenging for McCarthy and his conference are the looming fights later this year over government spending and the debt ceiling, where McCarthy cut deals on spending during this week's negotiations likely to be unacceptable both to Democrats and the White House as well as Senate Republicans.
This account of how McCarthy finally won the fifth longest speaker's fight in history is based on dozens of interviews throughout the week as the drama played out on and off the House floor with the fate of McCarthy's political career and the legislative body itself hanging in the balance.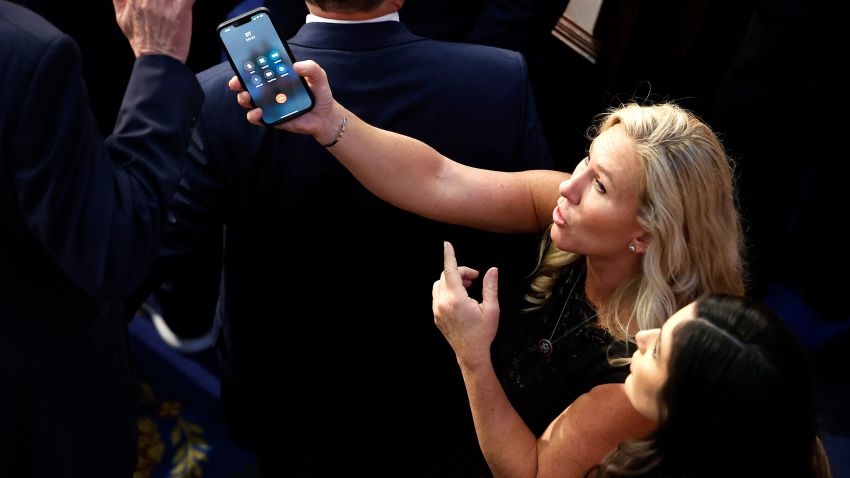 Analysis: Dana Bash reacts to McCarthy thanking Trump for speaker role
'We're going to war'
The morning following McCarthy's Monday meeting with Gaetz, things got even worse for the GOP leader.
In a tense meeting in the basement of the Capitol with the full House GOP Conference, McCarthy and Gaetz got into a screaming match. McCarthy called out his detractors for asking for personal favors, including Gaetz, whom he said informed him he didn't care if Democrat Hakeem Jeffries was elected speaker so long as he didn't get the job.
Afterward, the Florida Republican accused McCarthy of acting in bad faith by asking him for a list of demands – and then by later berating him over it.
"It was very unseemly," Rep. Dan Bishop of North Carolina, one of the 20 who initially opposed McCarthy.
That meeting – where Rep. Lauren Boebert of Colorado called out "bulls**t" on McCarthy and where the GOP leader engaged in heated exchanges with Reps. Chip Roy of Texas and Scott Perry of Pennsylvania – set the stage for the furious four-day battle.
Afterward, McCarthy and his allies knew they had a problem. They saw his opposition growing amid anger over McCarthy's threats and tough talk. So they began to work on a strategy: Take the temperature down and divide the opponents away from Gaetz and provide concessions to far-right members of the conference who want more say in the legislative process.