Editor's Note: Julian Zelizer, a CNN political analyst, is a professor of history and public affairs at Princeton University. He is the author and editor of 24 books, including his forthcoming co-edited work, "Myth America: Historians Take on the Biggest Lies and Legends About Our Past" (Basic Books). Follow him on Twitter @julianzelizer. The views expressed in this commentary are his own. View more opinion on CNN.
Republican Rep. Kevin McCarthy is locked in a power struggle in the bid to become House Speaker – a position he has long strived for and previously failed to secure in 2015.
The conservative cabal of 20 or so representatives – most of them election-denying Trump loyalists – withheld their votes for McCarthy over repeated rounds of voting, extracting major concessions from the Republican representative that whittled away at the institutional power of the speakership.
What was surprising to many observers was how little sway former President Donald Trump seemed to have in this Republican infighting. On Wednesday, Trump took to Truth Social and warned the GOP to "NOT TURN A GREAT TRIUMPH INTO A GIANT & EMBARRASING DEFEAT … Kevin McCarthy will do a good job, and maybe even a GREAT JOB—JUST WATCH!" Trump would offer more words of wisdom in another post: "VOTE FOR KEVIN, CLOSE THE DEAL, TAKE THE VICTORY…"
Republican Rep. Matt Gaetz, one of the holdouts against McCarthy, responded to the former President's endorsement on Wednesday with a statement that seemed to mock Trump's own rhetoric. "Sad!" Gaetz said. "This changes neither my view of McCarthy, nor Trump, nor my vote."
Even former Speaker of the House Newt Gingrich, a founding father of the politics of smashmouth partisan warfare, implored the GOP to elect McCarthy: "It's him or chaos." It's an ironic statement coming from a legislator renowned for reveling in such chaos and a sign of how extreme parts of the GOP have become.
After more than 10 votes, the Republican obstructionists still didn't budge. And while Gaetz cast a vote for Trump in the seventh and eighth round (and nominated him on the 11th), the prolonged deadlock was yet another sign that the former president's power has diminished at a time when the 2024 presidential campaign is expected to ramp up.
In certain respects, Trump is facing a dilemma many other presidents and legislative leaders have encountered before. These leaders shift the political playing field and inspire a younger generation of politicians to do what they did. Former Speaker John Boehner, himself part of the Gingrich generation of Republicans that rocked Washington by abandoning old norms of governance and promoting a much more aggressive version of partisanship, repeatedly clashed with the Tea Party legislators he opened the doors of power to.
Over time, the acolytes demand more and become more extreme than the leader who originally welcomed them into the fold. This is what led Boehner to later blast Republicans like Jim Jordan as "legislative terrorists." He had become the establishment; they were the rebels.
A significant part of Trump's influence was his nihilistic attitude of political combat. He helped to spur a younger, more extreme cohort to step up and demand power. It seems these burn-down-the-house conservatives will do almost anything in pursuit of victory and believe – like Trump – that chaos, instability, and hyper-divisiveness have great political value. And now some of these Trump loyalists might be close to concluding that they no longer need him – or at the very least, they no longer need to follow his every move.
We see that in the group of 20 or so members of Congress who are now refusing to support McCarthy. They put their foot down and seem to be happy holding out, despite major concessions from McCarthy. Yesterday, Rep. Ralph Norman, a Republican from South Carolina, revealed just how far they were willing to go, demanding that McCarthy "shut down the government rather than raise the debt ceiling" – which would send the nation into financial default. In 2011, Tea Party Republicans held the debt ceiling hostage to extract spending cuts from President Barack Obama – this time, Republicans like Norman are going even further by refusing to even negotiate, calling it a "non-negotiable."
What comes of this ouroboros of extremism? More gridlock, division and partisanship corroding our democratic processes.
While Trump's standing appears to have weakened (there is, of course, still plenty of time for him to turn things around), he has already changed the landscape of American politics. As we now see in the contentious vote for House speaker, Trump has accelerated the radicalization of the GOP, some members of whom are now going rogue, hellbent on playing by their own rules and extracting extreme concessions, even if it comes at the cost of the party and the ability of government to function.
Get our free weekly newsletter
Sign up for CNN Opinion's newsletter.
As for Trump, his very influence could end up playing a role in his defeat. Not only is he now unable to sway votes on Capitol Hill, he is likely to confront a number of politicians, like Florida Gov. Ron DeSantis or former US Ambassador to the UN Nikki Haley, who are capable of presenting a fresher and more polished version of Trumpism without the baggage that comes with Trump. If the GOP is now full of Trumpian Republicans who have taken his playbook and run with it, then voters might want to choose someone other than Donald Trump to lead them into the next political era.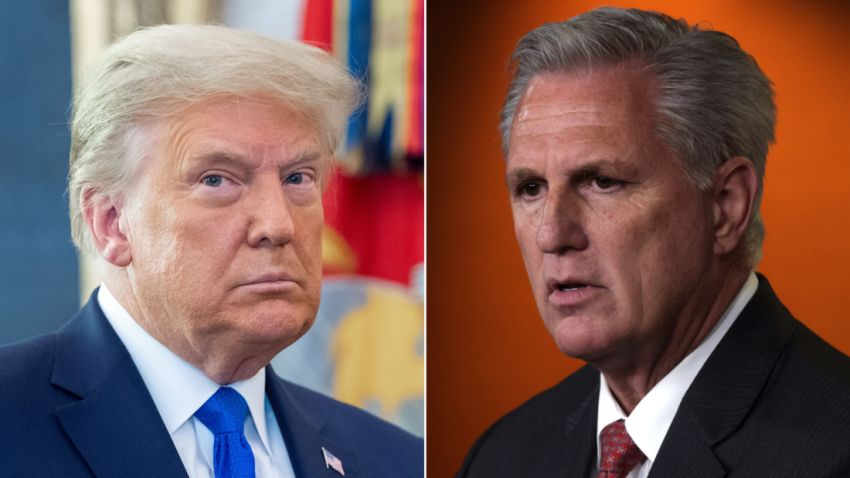 Analysis: Why McCarthy is thanking Trump for House speaker role