Life is pretty good for Taylor Swift right now, but what is it like walking around looking like her?
Ashley Leechin can answer that question.
The 29-year-old married mother of two looks so much like the 33-year-old Grammy-winning singer and songwriter that a video went viral not long ago in which a man on the streets of New York City appears to have an emotional response to mistaking Leechin for Swift.
Leechin recently told CNN what she says really happened during that encounter.
She was in New York City for a big Swiftie (as the fans of Swift are known) meet up when she and a group of friends hopped on the subway after reading a tweet that said Swift was going to be at a Target store in the city.
Once they got there, Leechin said there were hundreds of people in line and the whispers immediately started wondering if she was the star.
She said that as she went to tell the store's employees that she was not, in fact, Taylor Swift, she was approached by a young man who appeared to be crying.
"It was almost like a shaking, crying and I was caught off guard," Leechin recalled. "He pretty much was just like, 'Oh my God, Taylor, I love you so much. I love you.' And it wasn't until he started smiling when I was just like, 'Oh, you're joking.'"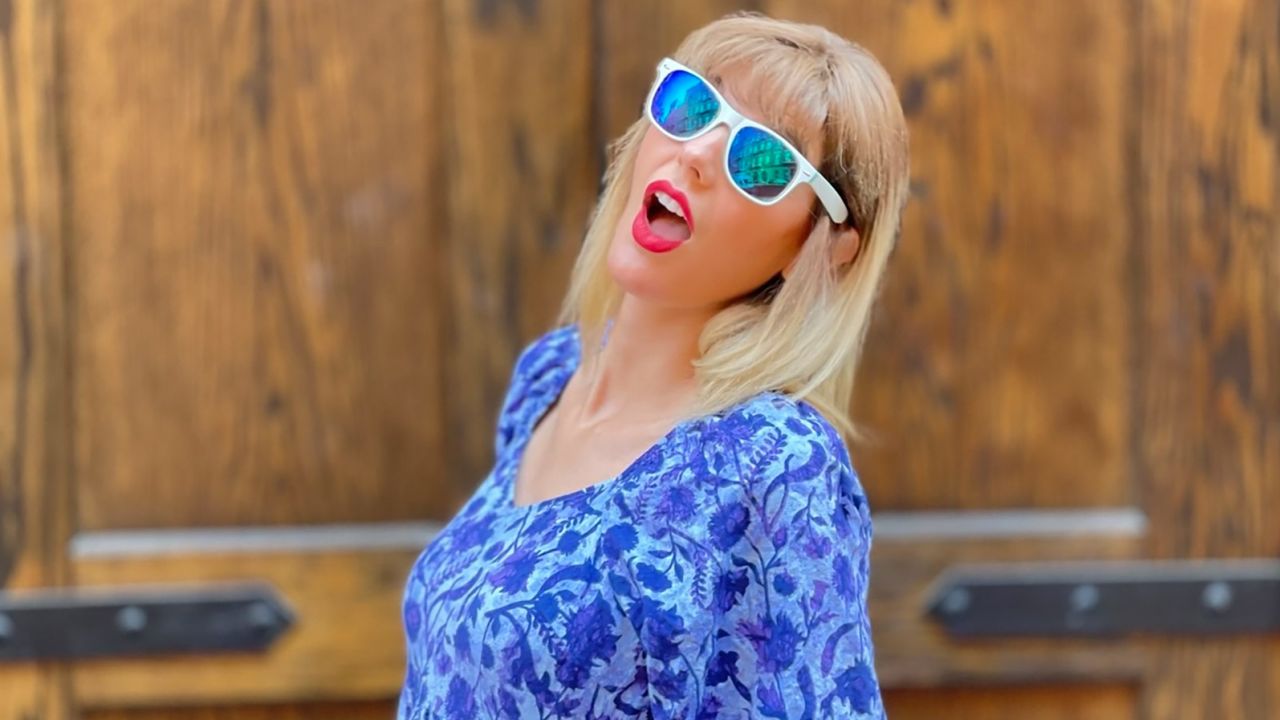 He would have been forgiven had it been a legitimate case of mistaken identity, given how Leechin has nailed Swift's look, voice and persona.
So much so, she has a pretty healthy following on her popular TikTok account.
Leechin said she was in middle school when people first started to notice her resemblance to Swift, then an up and coming singer.
"We had the same hairstyle and a very similar look. I had started listening to Taylor in 2006 when she came out with [her single] 'Tim McGraw,'" Leechin said. "So it was kind of a joke going into high school. It wasn't weird for me, per se. It was fun just because I love her so much."
She said she downloaded TikTok in 2020 while quarantining during the pandemic and things really took off from there.
Not that life as a look-alike is always the perfect love story.
Leechin has gotten some hate from people online who have told her to "stop emulating someone that you've never met."
She insists that she has only positive intentions as she has so much respect for Swift.
"I love her music, so of course I'm going to emulate her," Leechin said.
You read that right by the way: Leechin has never met Swift in person, though in September Swift hopped into the comments on a TikTok of Leechin reacting to Swift's video about her unveiling song titles from her "Midnights" album.
Swift wrote, "My mom just saw this and said 'she looks like you.'"
Cue Leechin freaking out.
Even her kids, an 8-year-old son and 7-year-old daughter, are down with their mom being Swift's doppelgänger.
"They love it," she said. "It's been a long road on social media and they've seen my videos. Every time Taylor Swift pops up on a video, like her NYU speech, my son was like, "Mommy, is that you in the purple gown?'"
While Leechin could probably make a mint working as a Swift look-alike, right now she's just having fun.
"I have had many opportunities, and, recently, I've turned them down," she said. "I do have my own agent. However, I'm not pursuing any gigs at this moment just because it got to a point where they wanted me to nail that look down so much to wearing blue contacts. I refused to do that."
One thing she is committed to will be attending Swift's upcoming "Eras Tour." Leechin was one of the lucky ones who was able to snag tickets.
On the face of it, that seems only right.