Editor's Note: Sign up to get this weekly column as a newsletter. We're looking back at the strongest, smartest opinion takes of the week from CNN and other outlets.
In 1789, President George Washington proclaimed the first national holiday of Thanksgiving. He chose a date in late November for people to express gratitude for "the great degree of tranquility, union, and plenty," along with the "civil and religious liberty" that the burgeoning United States of America enjoyed.
Two hundred and thirty three years later, the holiday still celebrates those values, though "tranquility, union, and plenty" can seem more like an aspiration than a reality at times, if you go by the headlines. Family gatherings, shopping, movie-going and football were, as ever, the comforting hallmarks of the holiday weekend, but they took place in the shadow of mass shootings, political divisions and economic upheavals.
Get our free weekly newsletter
Sign up for CNN Opinion's newsletter.
Perhaps no one in the US has a stronger vantage point on the challenges America faces today than Gabby Giffords, the former US congresswoman who is still recovering from the January 8, 2011, shooting in which six people were killed and 12 others were wounded. Giffords, who was shot in the head, "had to relearn how to walk and talk." She wrote, "I fought for every step and every word, diagnosed with the communication disorder aphasia. There was a period of time when the only two words I could get out were 'what' and 'chicken.'"
But she discovered that there was something the shooting couldn't extinguish. "My progress has been slow and steady. I still get frustrated at times – as I say often, aphasia really sucks. But one of the most important lessons I've learned during my own recovery journey has been to persevere and never to give up hope…"
"There were times when it would have been much easier to give up hope than to persevere. It's been tough, for example, watching mass shooting after mass shooting dominate the headlines, knowing that tens of thousands more Americans have been killed and injured in shootings that didn't make the news."
Last weekend, a gunman killed five people and injured more than a dozen at Club Q in Colorado Springs. "I weep for the young LGBTQ people who will never make it to adulthood, for those who can't see past the hate to a future where they might step into the light and into their true, fabulous selves," wrote Allison Hope. "I weep for a country that continues to stand idly by and watch as the violence creeps ever closer to their homes, that allows homegrown terrorists to destroy our social fabric, our families, our children."
On Tuesday, a supervisor fatally shot six colleagues inside a Chesapeake, Virginia, Walmart before killing himself. There have been more than 600 mass shootings in the US so far this year, according to the Gun Violence Archive.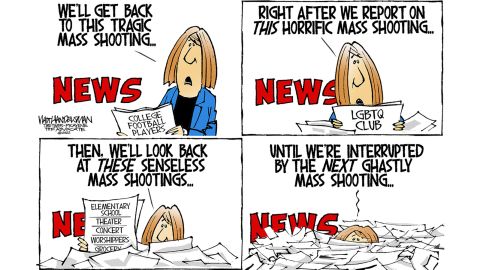 Home price boom is over
Get ready for an "ugly 2023." That's economist Erik Lundh's advice to homeowners. During the first two years of the Covid-19 pandemic, US home prices boomed. Now, sharply higher mortgage rates are making home ownership less affordable and prices are starting to fall as a result.
There is a silver lining for those looking to sell their homes. "Millennials, the largest generational cohort since the baby boomers, have gotten older and are looking to buy their first homes. Unfortunately for them, there aren't enough to go around," wrote Lundh. "But this means high prices, even though they're starting to fall and will continue to do so, will likely be somewhat sticky. In essence, demand from Millennials will probably help keep prices from entering freefall – as was the case in 2008. It's highly unlikely this decline would spark another financial crisis."
Another Supreme Court leak?
The Supreme Court's public image suffered this year when a draft opinion in the Dobbs v. Jackson case written by Justice Samuel Alito leaked in May. A month later, the court's image took another hit when it officially overturned Roe v. Wade, which established a Constitutional right to abortion in 1973. Controversy also swirled over the involvement of Ginni Thomas, the wife of Justice Clarence Thomas, in supporting former President Donald Trump's efforts to negate Joe Biden's 2020 election victory. As Mary Ziegler noted, the judicial branch's approval rating has fallen this year.
Last week, the New York Times reported that there might have been an earlier leak – of the court's 2014 decision in the Hobby Lobby case involving a challenge to the Affordable Care Act provision "which required employers to cover all female contraceptives approved by the Food and Drug Administration."
Ziegler wrote that a former anti-abortion activist "said he was told that the employers would win the case from a conservative donor who had close social ties to Alito and his wife — and that Alito had written the majority opinion." (Alito and the donor have denied any involvement in a leak.)
"This latest bombshell," she added, "will test if the justices have to care about the court's legitimacy after all," Ziegler wrote.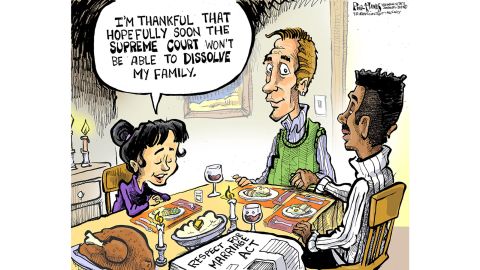 Trump taxes: now what?
As the clock ticks down on the Democratic Party's control of the House, the Ways and Means Committee has finally cleared all the legal hurdles to getting Trump's tax returns. Trump's legal team "managed to string things along for 1,329 days since the committee sought the former president's tax returns, nearly as long as the American Civil War, as Congressman Bill Pascrell pointed out," Edward J. McCaffery wrote. "And so now, finally, the Supreme Court – without opinion or dissent – has denied Trump's request to block the release of his tax returns."
What to do with them? McCaffery argued that "the lessons to be learned here are not about Trump, but about us, and our tax system." If it is true that Trump has paid little in taxes, he noted, "here is something that all Americans should be able to agree on: something is wrong with a system in which a billionaire can pay no taxes. Either that's not legal, and someone should be holding him or her to account, or it is legal and the laws should change. We have to better watch the watchdogs enforcing the present law and we have to take a harder look at that law itself."
For more on politics:
Julian Zelizer: Sarah Palin lost the battle, but won the war
Michelle Obama, life coach
In 2018, former first lady Michelle Obama released her memoir, "Becoming." The book was a sensation, with more than 17 million copies sold worldwide. Now she is out with a new book – this time, in a different genre, Nicole Hemmer noted.
"'The Light We Carry' is not a follow-up memoir. It's a self-help book, one that reflects all the conventions of the genre and shows that Obama understands her appeal: not as a former first lady who has done things few people will ever be able to do, but as a person who has faced familiar challenges despite her unusual circumstances," Hemmer wrote. "What makes the book so unusual, and worth reading, is that it is a first lady rather than a life coach reaching into her experiences and emotions to write it."
Bob Iger's back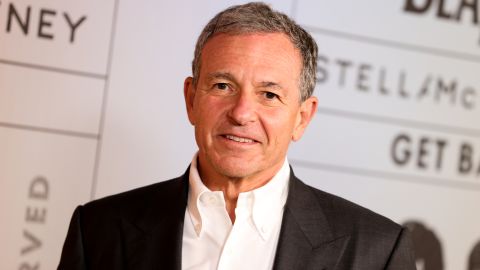 Bob Iger is back as chief executive of Disney, after the company's board unexpectedly fired his hand-picked successor, Bob Chapek.
During his 15-year-run as CEO, Iger "built much of his strategy around the conviction that brands were critical to whatever form the delivery of entertainment would take," wrote Bill Carter.
"'Brand' was the essence of Disney, a company still selling millions of mouse ears because its founder co-created a character in 1928. So Iger believed brands such as ESPN, Pixar, 'Star Wars' and Marvel would fuel the fires of audience interest well into the future, no matter how people accessed them."
"Iger raised Disney to powerhouse status with those acquisitions … And right before he finally decided he would actually step away from the mega-brand he'd expanded, he pushed a giant pile of chips on the bet that streaming was the future, which drove the company's launch of Disney+."
"Undoubtedly, Iger thought that positioned the company spectacularly. It clearly didn't look that way to him in recent months as the ship started taking on water under Chapek."
In his newsletter for The Information, Martin Peers asked, "If newly restored Disney CEO Bob Iger was such a brilliant executive, how is it possible that in 15 years in the top job he wasn't able to groom a number two who could last?" Peers added, "Iger was a very capable CEO, no question. But it's doubtful he's any more capable than Chapek of solving Disney's biggest challenge: how to make streaming video nearly as profitable as the cable TV operation it's gradually replacing."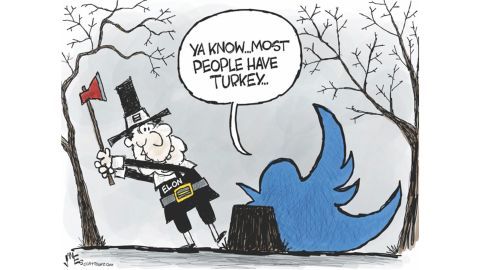 A Navajo story
Hilary Tompkins wrote that she was among the "Native Americans who were placed in White families under the Department of the Interior's Indian Adoption Project in the 1960s and 1970s."
"Only much later in life, as a young adult taking Native American studies at Dartmouth College, did I learn that I also had a legal connection with the Navajo Nation as a citizen of the Tribe." Now Tompkins, who served as an Interior Department official during the Obama administration, is speaking out about a case before the Supreme Court which is challenging a measure Congress passed when it outlawed the Indian Adoption Project.
"My family and I eventually found each other by serendipity when I was living on the Navajo reservation. In middle age, I have come to accept who I am – a Jersey girl born into the Salt Clan. I have overcome the pain and loss. But I wouldn't wish my experience on the children of Tribal citizens today. We cannot fail Native children again as we have failed them in the past."
Don't miss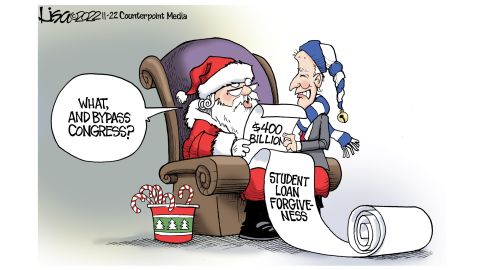 David A. Andelman: Why Putin would want a truce
Jill Filipovic: He killed Hollywood movies about women. But he couldn't bury this one
Jemar Tisby: This film is a timely reminder of what patriotism looks like
Reshma Saujani: Gretchen Whitmer's critical lesson for Democrats
Michael Bociurkiw: I was one of the first people at the MH17 crash site. This is what I saw
AND…
Pie on the plate
In 1911, labor organizer Joe Hill parodied the Christian hymn, "In the Sweet By-and-By," with lyrics that were more bitter than sweet. In "The Preacher and the Slave," Hill criticized clergy who "Try to tell you what's wrong and what's right" but "when asked how 'bout something to eat" will say, "Work and pray, live on hay, You'll get pie in the sky when you die."
Thankfully, you don't have to wait for that. Pie on the plate is the traditional ending to many holiday dinners, but how much do we know about how that came to be? In an illuminating Q&A, Jane Greenway Carr interviewed Rossi Anastopoulo, author of the recent book, "Sweet Land of Liberty: A History of America in 11 Pies."
Pumpkin pie has a fraught history, however enticing the result. "Pie is important, but it's also delicious – and fun," Carr wrote. "Dive into 'Sweet Land of Liberty' to learn how pecan pie became America's sweetheart. Meet the Pie King of Hollywood's golden era, who infused pie with silver screen glamour and celebrity. Discover pie as a political weapon – metaphorical, in the hands of anti-Equal Rights Amendment organizer Phyllis Schlafly (who made quiche an art form of lobbying) and literal, by pie-tossing activists in America and internationally."
"Anastopoulo is here to make sure you know (if you didn't already) that there's nothing simple about being 'as American as apple pie.' Her two rules for this dish: you must use Granny Smith apples and 'carve the name of your loved one in the crust – it's the best way to show how much you truly care.' (Hers bear the name of her father, Akim.) Perhaps Jane Austen's word on apple pies says it all: Anastopoulo quotes Austen's letter to her sister, Cassandra, in which she wrote, 'Good apple pies are a considerable part of our domestic happiness.'"