As kids, very few of us loved getting clothes for the holidays. Somewhere along the line, though, clothing became a festive, functional home run — assuming the fit works for the recipient — and few brands do it like Bonobos.
In addition to being Famous for Fit, this company is known for combining comfort, style and revolutionary attention to detail. The result is a versatile wardrobe that actually suits your life. And the best news? While aiming to "create a world where everybody fits," Bonobos offers a wide selection of sizes. That way, picking up a foolproof, last-minute gift becomes as effortless as wearing the clothing itself.
Last-minute gifts that will soon become wardrobe staples
The Bonobos Stretch Washed Chino 2.0 has earned its iconic status. An updated design with even more functionality, these pants are as polished as slacks, as stretchy as sweats and as cooling as athletic wear. They're even wrinkle-resistant and moisture-wicking for guys who are always on the go. Last but definitely not least, the signature curved waistband "fits perfectly," according to multiple reviewers.
"Inside, outside, on the town — I love this thing!" one reviewer writes. A jacket and a shirt in one, this piece offers the best of both worlds. The snap buttons, collar and breast pockets keep you looking fresh for dinners, work meetings or casual outfits. But inside, there's a soft Sherpa lining that both layers well and keeps you warm in colder weather.
It's made from 98% cotton for a real flannel feel, but the 2% elastane still offers an adaptive fit. This stretchy shirt is also lighter than most, so you can layer it in the winter and wear it alone in the spring and fall. "I absolutely love this shirt," raves one reviewer, who says it "feels really cozy" without "getting very hot."
Not all merino wool is high-maintenance. This crewneck sweater is machine-washable at home, not to mention lightweight, cozy and extremely soft. Grab it in nine different colors and sizes up to an XXL.
Last-minute gifts for a winter getaway
Help them pack for that vacation in sustainable style with these recycled swim trunks. They come in plenty of colors and patterns to suit their personality, plus buyers love the thoughtful features: a mesh interior lining, UPF fabric, a drawstring elastic waistband and loads of pockets, to name a few.
This bestselling button-down has almost 700 reviews and tons of 5 stars. Why? The ample pattern options are "very stylish," while the stretchy cotton fabric is "beyond comfortable" and "washes up great." Due to its short sleeves and collar, it's the ideal combo of dressy and casual.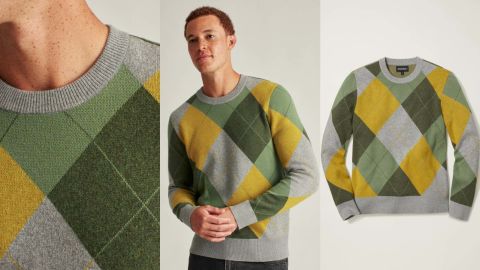 There are two reasons to jump on these sweaters fast: For one, they're limited edition. For another, the designs are especially festive for the holiday season. These sweaters are perfect for a cozy sweater party — no ugly here.
Bonobos' Italian Wool Top Coat makes for a practical yet luxurious gift. It's crafted from (you guessed it) Italian wool, which makes it water-repellent and body temperature-balancing. It's also fully lined on the inside and has chic peak lapels on the outside. Get it in Camel, Charcoal Herringbone or Navy Houndstooth.
Last-minute gifts for the ultimate golfer
If golf is their sport, you can't go wrong with this half-zip pullover. Then again, thanks to its polished appearance and polo-compatible fit, even those who don't play golf call it "sharp-looking and versatile." The material is soft, breathable, layerable and offered in four colors — and there's even a discreet zippered pocket on the side.
Go from the office to the golf course without changing a thing. These Performance Link Pants have a slacks-like style but stretch with every move. Other noteworthy features include UV-resistance, moisture-wicking material, a secure zip pocket and silicone strips to keep your shirt tucked in.