Limited Time Offer: Get $100 OFF when you spend $400 on anything — no coupon code required.
Ever wish you had a personal bartender? Someone who could whip up craft cocktails on a whim? Thanks to this innovative new cocktail maker, your wish can come true. Well, sort of! The Bartesian cocktail maker makes you the mixologist, with just the touch of a button. Just in time for the holidays, this machine is your secret to premium mixed drinks at home. The Bartesian comes from an innovative group of engineers, mixologists and designers who care about the cocktail experience. And they've really cooked up something cool. You'll want to give these as gifts after you try one for yourself.
What to buy
Right now you can get $100 off when you spend $400 on anything at bartesian.com — no coupon code required. Check out what the company has to offer:
Now you can be an at-home mixologist with the Bartesian cocktail maker.
This futuristic intelligent cocktail maker comes with five labeled glass spirit bottles, a power cord and a bar mat. (Cocktail capsules sold separately.)
What makes it special?
Using the Bartesian is almost as easy as beckoning for the bartender. (But much more cost-effective!) Make sure the included bottles contain your preferred spirits, then simply pop in a premixed cocktail capsule and choose your drink strength. Press "mix," and the machine does the rest. Your drink takes about 30 seconds as the machine measures, mixes and pours. Bonus: no need to tip! And you even get glassware suggestions.
You use capsules for coffee — why not for cocktails? Bartesian offers more than 50 cocktail options, with more added all the time. Whatever your taste, you'll find a great drink capsule: margarita, lemon drop, old-fashioned, martini and more. Seasonal varieties will add festive variety to your lineup, and they're perfect for parties. The highest-quality juices, bitters, essences and other ingredients are packed into each cocktail capsule. There's nothing artificial, and the capsules are fully recyclable.
Impress friends and family with your happy hour service or pro party cocktails. The Bartesian provides everything you'd get from a fully stocked bar in one compact machine, which also makes it ideal for folks who just don't have room for a full bar in their homes! Each capsule code gets read by the machine, and the process is controlled by touchscreen. The Bartesian even self-cleans between drinks.
Shop Bartesian Cocktails & Accessories
A festive collection of eight cocktail capsules, Bartesian's holiday collection includes two of each seasonal drink: Festive Rum Punch, Holiday Spiced Old Fashioned, Mocha Bliss Martini and Mistletoe Margarita. The perfect pack for a party, available for a limited time only.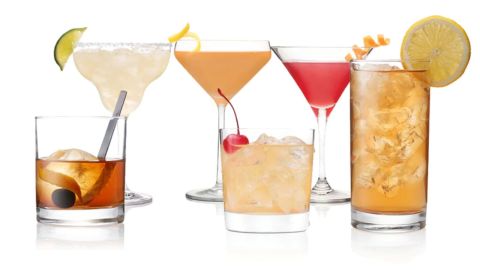 All the classics are here to start you on your Bartesian cocktail journey. This six-pack includes capsules for one of each: Cosmopolitan, Long Island Iced Tea, Whiskey Sour, Margarita, Uptown Rocks and Old Fashioned cocktails.
Don't forget the garnishes! Take your creations up a notch with these delicious glass rimmers. This fruity sugar garnish pairs perfectly with lemon drops, margaritas, gimlets and cosmopolitans, to name just a few.
Save money by opting for a cocktail capsule subscription. Keep the drinks flowing and create your own custom order that'll ship regularly. It's easy to modify your order, skip a month or add seasonal releases. Subscribers also save up to 20% on drinks, plus 50% off accessories.
Order your Bartesian now and start prepping those holiday cocktail menus.