Cyber Monday Offer: Take up to $250 off select Stand Mixers from now through 11/28 and up to $50 off Stand Mixer Attachments from now through 12/3. Use code CYBERMONDAY5 to get an additional 5% off on select items.
KitchenAid has a reputation as one of the most popular brands on wedding registries; after all, its cult-favorite stand mixer isn't just a possibility-creating appliance for anyone who uses their kitchen — it's also a sleek, functional statement piece that instantly elevates a countertop. What people don't realize, however, is that KitchenAid's gifting potential extends far past wedding season and well into the holidays.
This brand doesn't just make stand mixers either — although that's always a foolproof option for the baker or chef on your gift list. Since launching in 1919, KitchenAid has seriously expanded its selection of accessories and appliances, which now includes cutlery, coffee makers, slow cookers and temperature-control cookware. That way, "whether you cook, bake, brew or blend, anything you want to do in the kitchen, you can do with KitchenAid."
A little-known secret that could save you tons of money on KitchenAid favorites? KitchenAid's Refurbished Program, which allows you to purchase appliances that perform like new but for a fraction of the original price. Everything in this selection is meticulously cleaned, inspected and repaired, and come with a six-month warranty for your peace of mind.
This wide selection translates to ample gift ideas at any price point, so no matter your budget or who you're buying for, you can find something they'll love and use day in and day out. And thanks to KitchenAid's Black Friday/Cyber Monday sales, you can take up to $250 OFF select Stand Mixers from Nov. 20 to Nov. 28, up to $50 OFF on Stand Mixer Attachments from Nov. 20 to Dec. 3, and save as high as 44% on site (use code CYBERMONDAY5 to get an additional 5% off on select items)*.
Get inspired with KitchenAid's fall lookbook and check out the two most popular gifts below.
Top gift under $50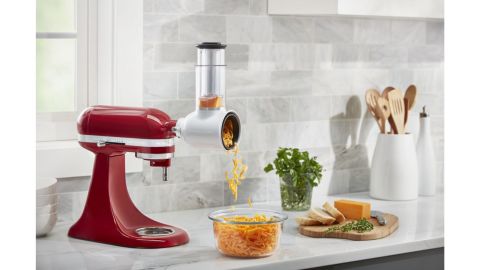 Gift it to someone who has any KitchenAid stand mixer, and it'll allow them to slice and shred fresh ingredients in no time, in any bowl and with minimal effort on their part. In the box, you'll find three different blades (all dishwasher-safe) and a 2-in-1 food pusher. "I got the mixer for Christmas and treated myself to the shredder attachment and it was the add on I didn't know I needed!" one reviewer raves. "This makes tedious tasks quick, easy and fast."
Top gift over $50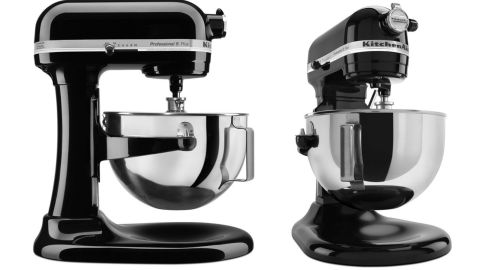 Judging by its 4.7-star rating and more than 3,500 reviews, the Professional 5 Plus Series stand mixer is one of the most popular in the lineup. "It was the best gift ever!" one reviewer writes. "We immediately started using it later that afternoon and haven't stopped. We've made homemade pizza dough, bread, cookies, blueberry muffins and cakes." In fact, thanks to its 10 powerful speeds and durable design, it'll make quick work of most kitchen prep jobs.
It's available in six colors and comes with a 5-quart stainless steel bowl with a handle. In this order, you also get a coated flat beater, a Powerknead spiral dough hook and a 6-wire whip — but granted the machine is compatible with more than 10 different attachments, you'll have plenty of add-on gift ideas for years to come.
*Only valid for new orders on kitchenaid.com. Excludes accessories and refurbished models. While supplies last.