Chinese leader Xi Jinping has formally stepped into his norm-breaking third term ruling China with an iron grip on power, as he revealed a new leadership team stacked with loyal allies.
On Sunday, a day after the close of the five-yearly Communist Party Congress, Xi announced six men – Li Qiang, Zhao Leji, Wang Huning, Cai Qi, Ding Xuexiang and Li Xi – to stand alongside him as members of the Politburo Standing Committee, China's top ruling body.
The lineup, filled with staunch Xi loyalists, made clear that Xi had not only broken with recent precedent to take on a third term at the helm of the party, but had also concentrated power at the very top of it to an extent unseen in decades.
Xi also revealed the full lineup of the 24-member Politburo, which for the first time in at least 25 years includes no women, underlining the dearth of female representation in the party's top echelons.
The four new faces in the Politburo's seven-member Standing Committee are all Xi's long-time allies and proteges: Li Qiang, Cai Qi, Ding Xuexiang and Li Xi. The new lineup clears the path for him to rule for a third term with minimal internal discord – and underlines that affinity for Xi trumps all else in China's current political landscape.
No room for moderates
The sweeping reshuffle of the Standing Committee came after the departure of key party leaders not in Xi's inner circle – Premier Li Keqiang and Wang Yang, head of China's top advisory body. Both have retired from the top ruling body despite being one year below the party's unofficial retirement age of 68 and eligible to serve another term. Xi, at 69, is one year above that informal limit.
That change was made clear Saturday at the close of the Party Congress.
Events of the day were briefly interrupted by an unexpected scene when Xi's immediate predecessor Hu Jintao, who is 79 and has been in frail health in recent years, was escorted out of the Great Hall of the People from his seat next to Xi, for reasons that were not immediately clear, though Hu appeared initially reluctant to leave.
Also noticeable for his absence from the new Standing Committee lineup announced Sunday is Hu Chunhua, 59, a vice premier seen as more within the orbit of Li Keqiang and the elder Hu.
Hu Chunhua had once been touted as a candidate for the top leadership but was not promoted from the Politburo onto its Standing Committee at the Party Congress five years ago. This time around, Hu has even dropped out of the new 24-member Politburo, in a further sign of his dimmed political future – and Xi's unrivaled power.
Also absent is a clear successor to Xi. Standing Committee lineups prior to the Xi era have included younger members as potential successors. But with the youngest member now 60 years old, there's no stand-out name in the mix – a potential sign Xi is not planning to step down anytime soon.
The clearing of rivals and elevation of allies makes for an "unprecedented" situation for the ruling body that will drive the world's second largest economy, according to Chen Gang, a senior research fellow at the National University of Singapore's East Asian Institute.
"This new lineup is not a product of power sharing or horse trading among different factions, but basically it is the result or consequence of Xi's authority," Chen said.
"We have entered a new era, as Xi now controls almost every aspect concerning policy making and decision making," he said. "We're seeing a kind of re-centralized bureaucracy in China, which will definitely impact the future China's economic and foreign policy trajectory."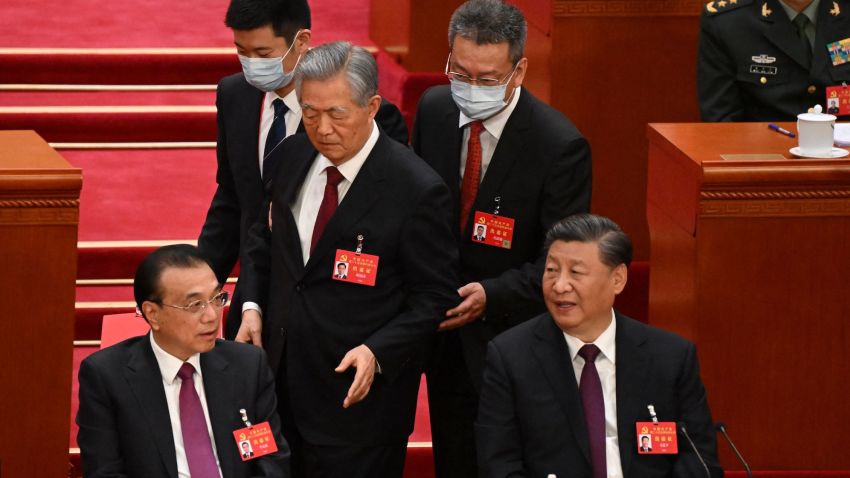 Video: 'High drama' as Xi's predecessor led out of the meeting
Expansion of control
While the lineup revealed Sunday is the top tier of the Communist Party, those selected will then go on to fill top government positions, as appointments are made in the coming months ahead of a key meeting of the country's rubber-stamp legislature in March.
The new lineup means Xi will also gain greater control over all aspects of the Chinese state, including the economy, which is traditionally the domain of the premier, who heads its State Council.
That position is now expected to be placed in the hands of Shanghai party chief Li Qiang, a long time Xi loyalist who has been appointed to the number-two role in the party, despite the backlash that followed a chaotic two-month Covid-19 lockdown in Shanghai earlier this year.
Li's appointment is one of several "norm-busting" elements of this year's leadership reshuffle, according to Victor Shih, an expert on elite Chinese politics at the University of California San Diego, who noted that Li's appointment will place a leader without any State Council experience at the head of that body – something not seen in decades.
"The Chinese economy and the State Council itself are so much more complex today compared to the 1980s. Not having that experience is going to at least initially make the job of running China's state machinery that much more challenging," said Shih, the author of "Coalitions of the Weak," a book about elite politics in China over recent decades.