Today, you'll find a deal on our pick for best standing desk converter, a discounted Blue Yeti microphone and savings on an Ooni pizza oven. All that and more below.
From $59.99 at Amazon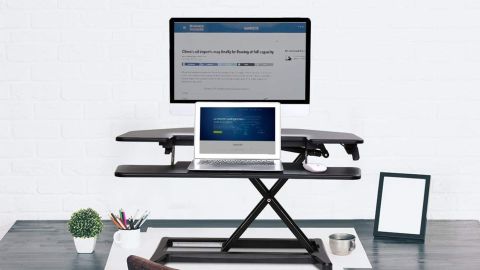 Whether you're stuck working from your kitchen table, your couch or even — gasp! — your bed, your posture is probably suffering by now. It's time you made your remote office setup more official with this deal on Flexispot standing desks, available for less from Amazon today. Or, if you're already the proud owner of a desk you like, transform it into a standing desk with one of Flexispot's standing desk converters, also on sale, which happen to be our pick for best standing desk converters. Either way, be sure to shop soon; this is a one-day-only deal.
$549 $449 at Amazon
Apple's AirPods Max made quite a splash when they hit the headphones scene at the end of 2020. And while we acknowledged that the luxury they deliver comes at quite a high price in our full review, they're seeing their biggest discount ever on Amazon right now. AirPods Max are down to $449.99 in every color — that's $100 off their usual price, and the lowest price we've seen so far this year. If that's enough of a deal to convince you to buy, be sure to act fast; they'll likely sell out quickly.
$164.95 $99.99 at Best Buy
Treat yourself to fresh herbs and produce all year long with the AeroGarden Harvest, a hydroponic system that makes anyone feel like a master gardener. Outfitted with the full light spectrum and an automatic timer, this system grows plants faster than traditional methods while requiring practically no upkeep. This compact garden fits almost anywhere, and it's on sale at Best Buy right now, so don't miss out.
$129.99 $89.99 at Amazon
Practically everyone agrees — the Blue Yeti microphone is the best mid-price microphone out there. Whether you're podcasting, streaming or anything in between, the Blue Yeti boasts superior sound quality and a variety of helpful features and controls. Down to just under $90 at Amazon, this microphone is a smart purchase for any at-home setup.
$399 $329.99 at Costco
If it's truly amore between you and pizza, then you need your own pizza oven — and today you can save on a top-rate one. The Ooni Koda 12 Gas-Powered Pizza Oven, the smaller version of our pick for best gas pizza oven, is down to $329.99 at Costco (the price is available for Costco members only) from its usual price of $399.99. When we tested the larger Koda 16, we found that it delivered the most even heat distribution of the gas ovens we tested, making for fuss-free operation and perfectly charred and blistered artisanal pizza crust, and we expect the same from this more compact model.
More deals to shop
• Reebok is offering 40% off when you use code FRIEND, a hefty markdown for a variety of beloved sneaker styles.
• Give yourself some peace of mind with 24/7 home security from Simplisafe; this trusted system is now down to $239.99 and available with a free temperature sensor.
• Keep up with your reading with the sleek, portable and glare-free Kindle Paperwhite, now down to $79.99 for the previous-generation model.
• If you're looking for an older tablet model that's guaranteed to get the job done, right now you can snag a refurbished iPad 5 for $149.99.
• The brand-new Garmin Instinct 2S Solar, outfitted with GPS, impressive health monitoring and solar charging capabilities, is on sale for the first time since its release last month.
• The Bowflex leaves the basic treadmills of yesteryear in the dust, and it's currently on sale for $1,499.99 with a myriad of fitness and entertainment features included.
• Liven up your home with some cute succulents, now just $27.99 for a pack of 20 plants.
• Up your cooking game with this preseasoned Lodge cast-iron skillet, a steal for just $19.90.
• Pasta night just got easier — right now this nifty silicone strainer from Kitchen Gizmo is just $11.99.
• If you buy four or more Funko Pop! action figures, you'll save loads, thanks to the GameStop Pop! And Save Event.
Deals you may have missed
From $19.99 at Woot!
Light up your home in technicolor with deals on several refurbished Philips Hue products at Woot!. The ultra-intuitive, top-quality multicolor lights boast 16 million colors to set the mood in any room in your house, or just opt for the smart white lights to up the intelligence of your home's bulbs. You'll need a Hue Smart Hub to operate the lights — also on sale — or they can also be seamlessly integrated into your existing Hue ecosystem. They also work with Amazon Alexa and Google Assistant, and are guaranteed to last for 22 years, or 25,000 lifetime hours.
Up to 50% off with code RUNFAST at Adidas
Spring temperatures are upon us! If you're planning to ramp up your workouts, now is the perfect time to browse offerings from Adidas, including the sought-after Ultraboost 21s. No matter your gait, mileage, or desired cushioning, you're sure to find a pair that suits your needs. This sale offers 50% off select running shoes with code RUNFAST, and it only lasts until tomorrow — so if you're looking for a new exercise shoe run, don't walk, to the Adidas site.
$299.99 From $239.99 at Amazon
Arm your home with a Ring Alarm Pro System, now up to 28% off for eight-piece and 14-piece sets. (One kit even includes the Ring Doorbell and Ring Stick Up Camera).. The Ring system works seamlessly with Alexa to arm and disarm, plus it allows you to check the status of your Ring Alarm security system with your voice and on your smartphone via Ring's app. For more on the second-generation Ring system, read our full review here.
$29.95 $14.99 at Amazon
A must-have for camping, hiking and even traveling, the LifeStraw ensures you always have access to clean water with its built-in filter you can drink right out of, and right now it's at the lowest price we've seen in several weeks on Amazon. Pick up one of your own (or a few for the whole family) for just $14.99. And you likely won't ever need to shell out for a replacement; Lifestraw is built to last with a microbiological filter that will provide 4,000 liters (1,000 gallons) of clean and safe drinking water.
$49.99 $34.99 with $5 off coupon at Amazon
Spring is on the way, but for now, it's still winter, and if your skin is suffering from seasonal dryness, consider picking up this humidifier while it's on sale. The Pure Enrichment MistAire Ultrasonic Cool Mist Humidifier is now about $15 when you clip the $5 off coupon on the product page, and as our pick for best humidifier for bedrooms, it makes virtually no noise and has a night light function that gives the machine a soft glow, so you can get some extra hydration while you snag your shut-eye. Plus, the automatic shutoff means you won't have to remember to do anything come morning.
$14 From $11.90 at Amazon
What's better than regular hot sauce? Hot sauce with truffles mixed in. Now you can get your hands (and taste buds) on Truff's hot sauces, pasta sauces and several gift sets — some of which include the brand's mouthwatering truffle oil and truffle mayonnaise — for less at Amazon. Browse the storefront for products that feature a coupon, be sure to clip it and you'll see the discount come through when you check out.
$110 $100 at Target
Savings on gift cards is almost like free money, and right now Target has an offer you won't want to miss. When you scoop up a $100 Apple gift card from the major retailer, a $10 Target gift card will automatically be added to your cart too. The timing is perfect, considering Apple's slate of new releases, so be sure to shop while the savings are still available.
Spring Sale
Feeling ready to bask in the sun? Get ready to bask in the savings too with the Spring Sale at Zappos. Grab deals on Steve Madden, Sorel, Crocs, Levi's and more and get your whole crew outfitted for all your upcoming spring outings.
20% off sitewide with code SEMI20
On the hunt for that spring statement piece? Check out BaubleBar's selection of fun bracelets, rings, earrings and more. Plus, save 20% sitewide with code SEMI20.
$348.99 $279.99 with code CNNSWCH
Bring your games on the go with the Nintendo Switch console. Now available for $69 off, this set comes with two colorful controllers for solo or team play and the ability to dock the console for big-screen gaming on your TV.
$988 $789 at Amazon
We've all seen those incredible drone videos with aerial shots from above. And now you can learn how to make them yourself with the help of the DJI Mavic Air 2, which you can snag for almost $200 off at Amazon. We had a blast testing this drone out ourselves, and with lots of cool specs, plus built-in safety features, this drone is a great option for those who are looking to start earning their pilot's wings.
$99.95 $79.95 at Amazon
Tired of waking up to the same irritating phone alarm? Our pick for the best sunrise alarm clock, the Philips SmartSleep clock, is on sale now for $20 off. Designed to simulate the rising morning sun and gently awake you with soft sounds, this clock will have you starting your day in a total state of Zen.
25% with code CELEBRATE
Celebrate 25 years of SkinStore with savings of up to 50% during the brand's anniversary sale. Plus, enjoy 25% off select top beauty brands like First Aid Beauty, BeautyStat and Nuxe by using code CELEBRATE at checkout. And if that isn't reason enough to jump for joy, snag a 13-Piece Beauty Bag, valued at $188, when you spend $150 or more.