Spooky season is here — and after that, it's time for the holidays and some cold weather hibernation. Despite how different these seasons might seem, all of them call for one thing: captivating indoor activities that keep you, your game night group or your whole family entertained. Cue Hunt A Killer, a series of the latest murder mystery games that ship straight to your door so you can play the part of detective without ever having to step foot outside.
Hunt A Killer was founded in 2016 by childhood friends and business partners, and has since won awards and racked up over 100,000 members worldwide. The attraction for so many fans? Bringing people together, whether it's a date, a gift for someone who can't stop watching true-crime documentaries, the best game night of your friends' lives or an ongoing activity that the whole family can look forward to.
Solving each murder case is just like a real true-crime investigation; you'll need to examine clues, evidence, and autopsy reports in order to discover who the killer is and why they did it. According to reviewers, the props are "very cool," the story is "authentic," and the "attention to detail is superior." One verified buyer writes, "Everything about this game is a work of art, from the character development, to the clues, to the website." (Said website also contains a massive online community of members, so you have a place to go if you get stuck or want to chat about true crime. But don't worry — no spoilers allowed.)
Best of all, Hunt A Killer can be customized to each person or group of people. There are three ways to play, and there are options of the latest games within each category, all with different themes and skill level options. Keep reading to check out various subscription options for the latest games in town. From Oct. 1 to Oct. 31, you can use code UNDERSCORED to get $10 off of your purchase!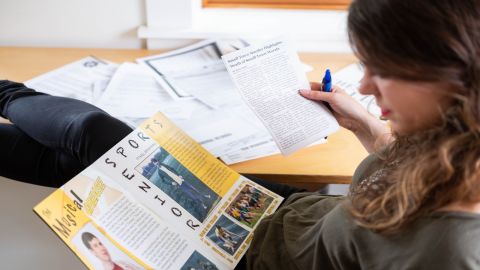 Most people start with Mallory Rock Box: Beth Ferris-Hendricks's body washes up on the shores of Maine's Mallory Rock, but while the town rules her death an accident, her sister Gwen is determined to find the truth — and her murderer while uncovering the secrets that exist on Mallory Rock.
You can purchase individual box sets with all episodes that you can work through at your own pace (on average, they take about 10 to 15 hours to complete). Act fast, though — supply is limited.
Premium games can be completed in a single night. They take between two and 10 hours and call for roughly one to four players, but the more the merrier. As a result, they're great for stay-at-home dates or game nights — especially since all you'll need is a clear space to arrange the clues and a digital device, such as a phone or tablet.
If you want to go all out on an immersive detective experience, you can opt for a membership, which starts at $30 per box and ships the current season — Murder On Ice — to your home in six monthly installments. Each box takes about two to three hours to complete and will be a delivery that the whole family looks forward to every few weeks. You also get the Killer Cocktails original recipe book alongside two copper Detective Juice mugs as a free gift.