It's World Bee Day! Did you know bees "dance?" And can use tools? There are lots of fascinating things to discover about these petite pollinators.
Here's what you need to know to Get Up to Speed and On with Your Day.
Here's what you need to know to Get Up to Speed and On with Your Day.
(You can also get "5 Things You Need to Know Today" delivered to your inbox daily. Sign up here.)
1. Congress
NASA has postponed the launch of Artemis I into space. The launch team discovered an issue with an engine bleed in one of the rocket's four engines. During engine bleeds, hydrogen is cycled through the engine to condition it for launch. Three of the four engines were performing as expected, but engine #3 was experiencing an issue. The uncrewed Artemis I mission had been scheduled to lift off today between 8:33 a.m. and 10:33 a.m. ET from NASA's Kennedy Space Center in Florida, but several issues cropped up after the rocket began fueling after midnight. The next launch window is September 2. The last crewed landing on the moon, Apollo 17, took place in 1972.
2. Coronavirus
As Russian shelling and missile attacks continue to cause widespread destruction throughout his country, Ukrainian President Volodymyr Zelensky said today that the work required to rebuild Ukraine should be a "common task" of the democratic world. Ukraine's infrastructure losses amount to more than $100 billion, according to its prime minister. This comes as Ukraine's military has warned that Russian forces are preparing for renewed assaults on cities in the Donetsk region still controlled by Kyiv after taking over Lysychansk – the final city to fall in the Luhansk region. Meanwhile, up to 60 million tons of grain could be stuck in Ukraine by the fall if Russia continues to block the country's exports, Zelensky said.
3. Mideast violence
The city of Akron, Ohio, remains on edge one week after the fatal police shooting of 25-year-old Jayland Walker. A news conference held by city officials one Sunday – along with the release of 13 police body camera videos – has started to paint a fuller picture of the shooting, which police say happened when Walker, who is Black, fled an attempted traffic stop on June 27. Walker was unarmed at the time he was killed, Akron Police Chief Stephen Mylett said. Authorities said Walker suffered at least 60 wounds in the fatal shooting. The Mayor of Akron declared a state of emergency and issued a curfew for Monday night through this morning in order to "preserve peace" in the community. 
4. Policing
5. South China Sea
The Eiffel Tower in Paris is reportedly riddled with rust and badly in need of repairs. However, the iconic landmark is instead being given a paint job costing 60 million euros in preparation for the 2024 Olympics, Reuters reports, according to a confidential analysis cited by French magazine Marianne. The Eiffel Tower, built by Gustave Eiffel in the late 19th century, is among the most visited tourist sites in the world, welcoming about six million visitors each year. "It is simple, if Gustave Eiffel visited the place he would have a heart attack," one unnamed manager at the tower told Marianne. The company that oversees the tower is reluctant to close the tower for a long time because of the tourist revenue that would be lost, Marianne said.
BREAKFAST BROWSE
See the spectacular finale of the DC fireworks show
Some of the world's most popular artists were recognized at the MTV Video Music Awards on Sunday. Here are the stars who took home shiny new trophies and stunned us with their dazzling runway looks.
Emotional support alligator spotted in Philadelphia
For some, alligators are seen as cold-blooded creatures. But one man sees his pet gator as a companion – and even walks it on a leash.
Father and daughter go viral with Harry Styles concert outfits
If there's a "Father of the Year" award, this man deserves to be a contender. Watch this heartwarming video of a dad who dressed up to match his young daughter at a Harry Styles concert. 
The founder of AriZona Iced Tea had never been to the state
Check out the surprising backstory of how the 99-cent beverage got its name.
Here's how you can calmly handle common household headaches
Unexpected plumbing leaks and appliance breakdowns can be extremely stressful. But don't worry, CNN made a list of solutions to frequent household problems so you can feel better prepared when these issues arise.
TODAY'S NUMBER
$10,000
That's how much a Mickey Mantle baseball card from 1952 sold for at auction on Sunday, making it the most valuable sports collectible in the world, according to Heritage Auctions. Mantle spent 17 years playing for the New York Yankees and was inducted into the Baseball Hall of Fame in 1974. The record-breaking baseball card is from his rookie season and is especially valuable because it's so well-preserved, the auction house said.
TODAY'S QUOTE
"I'm terrified I might be here forever."
– Republican Gov. Chris Sununu of New Hampshire, calling on President Joe Biden to apologize for suggesting that the driving force behind some GOP supporters of former President Donald Trump was akin to "semi-fascism." In an interview with CNN on Sunday, Sununu said Republican voters should be insulted by Biden's latest jabs against Trump, which have grown distinctly sharper as November's midterm elections approach. This comes after Biden last week offered one of his sharpest rebukes of Republicans who have remained loyal to Trump and his MAGA credo.
TODAY'S WEATHER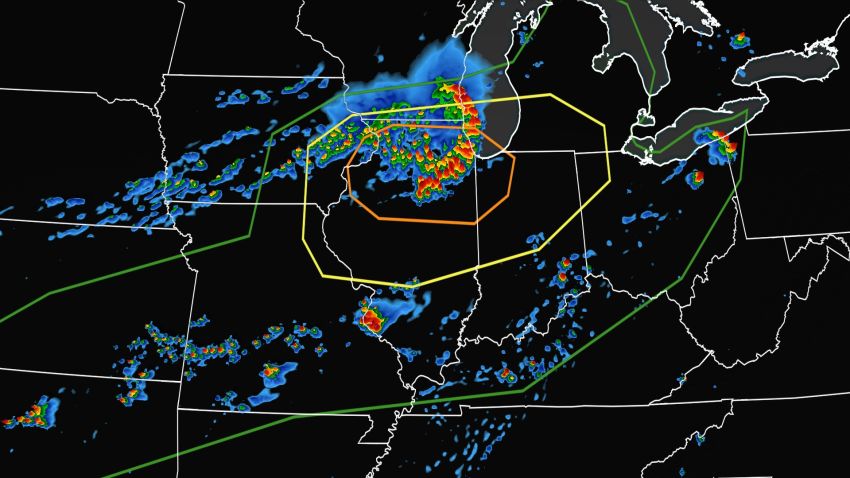 Storms bring severe threat to the Midwest and flood risk to the South
Check your local forecast here>>>
AND FINALLY
Parrot uses a face mask as hammock
This Saturday, movie theaters across the US are offering tickets for just $3 in celebration of National Cinema Day. Also, did you know that America's movie archive is located in an underground bunker in Virginia? Take a look inside! (Click here to view)