Here's what you need to know to Get Up to Speed and On with Your Day.
(You can get "5 Things You Need to Know Today" delivered to your inbox daily. Sign up here.)
1. Buffalo shooting
A raging wildfire has forced thousands of people to evacuate rural communities near California's Yosemite National Park. The fire, which remains 0% contained as of Monday morning, has charred more than 15,000 acres in central California's Mariposa County, officials said. California Gov. Gavin Newsom declared a state of emergency for the region, which frees additional resources to battle the fire. About 2,500 personnel are working to help extinguish the blaze, which has been burning since Friday and has destroyed at least 10 structures and damaged five others. The wildfire comes as much of the US has been experiencing sweltering heat and worsening drought conditions fueled by climate change.
2. Church shooting
Gun violence also plagued the Southern California city of Laguna Woods yesterday after a shooting at a church left at least one person dead and five others injured. The shooting occurred at the Geneva Presbyterian Church during an event to honor a former pastor of a Taiwanese congregation that uses the church for its worship services. Police have a suspect in custody, Orange County Undersheriff Jeff Hallock said during a news conference yesterday. He is believed to be an Asian man in his 60s who doesn't live in the area. The suspect was detained after a group of churchgoers were able to hogtie his legs with an extension cord and confiscate at least two handguns from him, Hallock said. Investigators are working to determine whether he has any connections to the church or its congregants. Police do not yet have a motive, Hallock said.
3. Ukraine
4. Abortion
5.Elon Musk
HAPPENING LATER
Biden to sign Inflation Reduction Act into law today
President Joe Biden will sign a sweeping $750 billion health care, tax and climate bill into law at the White House today – marking a major victory for his administration and the Democratic Party ahead of the midterm elections. The Inflation Reduction Act accomplishes several key Biden legislative agenda items and represents the largest climate investment in American history.
BREAKFAST BROWSE
Billboard Music Awards 2022
After 200,000 suggestions, an adorable baby hippo received an equally cute name. Watch the video here!
'Stranger Things' cafe opens in Tokyo
Of course, a pop-up cafe inspired by the Netflix horror drama "Stranger Things" has to have an "Upside Down." Take a peek inside.
WeWork's former CEO has a new startup, reportedly valued at more than $1 billion
When one door closes, another one opens. After being ousted from his CEO role at WeWork, Adam Neumann's new company is being positioned as a solution to the nation's housing crisis. 
'Better Call Saul' series finale review
The extra-long "Better Call Saul" series finale premiered Monday – and it did not disappoint. Here's a recap of the show … but first, spoilers ahead!  
Taiwan's new $220 million arts center radically rethinks theater design
More than a decade since it broke ground, this long-awaited venue in Taiwan has opened to the public and rethinks the way theaters should operate. 
TODAY'S NUMBER
$12.4 million
That's how many Americans will be impacted by an "extreme heat belt" in the next 30 years, increasing both the intensity and frequency of the hottest days of the year, according to a study published Monday by a climate research group. Specifically, most of the region from Texas to the Great Lakes will experience temperatures above 125 degrees during the hottest stretches of the year.
TODAY'S QUOTE
"Never say never."
– The Justice Department, stating in a filing Monday that it opposes the release of key details that led to the search of Donald Trump's Mar-a-Lago estate last week. The DOJ said some continued secrecy is needed to protect the investigation and therefore, it will not unseal the affidavit which outlines why the search was necessary. Several media organizations, including CNN, had asked for the affidavit to be unsealed after the search was conducted.
TODAY'S WEATHER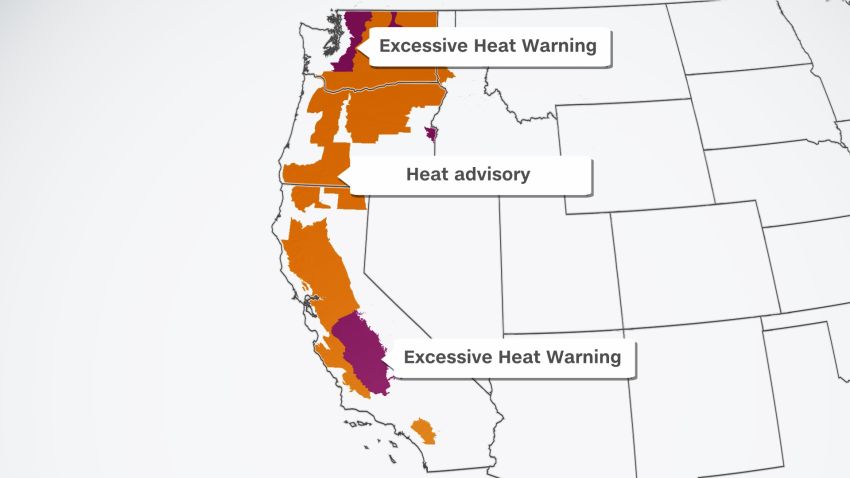 Temperatures soar for the West
Check your local forecast here>>>
AND FINALLY
Have a purr-fect Monday
Watch this video of a couple who travels the world riding roller coasters together. It's a marriage that's seen a lot of ups and downs – in the best way. (Click here to view)