There was nothing obviously untoward about the woman who approached the Palanca border crossing between Ukraine and Moldova with a 15-year-old boy she said was her nephew. But something about the pair just seemed odd. The boy, in particular, appeared embarrassed and uncomfortable.
Suspicious, border officials started asking questions, bringing in social workers and psychologists. "We saw something was not okay, but didn't know what. So we interviewed them separately," the psychologist who helped conduct the interview told CNN.
It turned out their story was a lie. The woman was a stranger who had promised the boy a lucrative job in Cyprus – a chance to "be a man" and support his family living in Ukraine.
All he had to do was pretend to be her nephew, give her his passport and help her write a fake parental consent letter, he told the officials.
"We found his mother and called her, and she was crying and said she did not write any declaration and had no idea about this, it was terrible," the psychologist said. CNN is not using their name for security reasons.
The incident was referred to Moldovan law enforcement for an investigation, the psychologist added. The border authorities did not respond to CNN's request for more information about the case.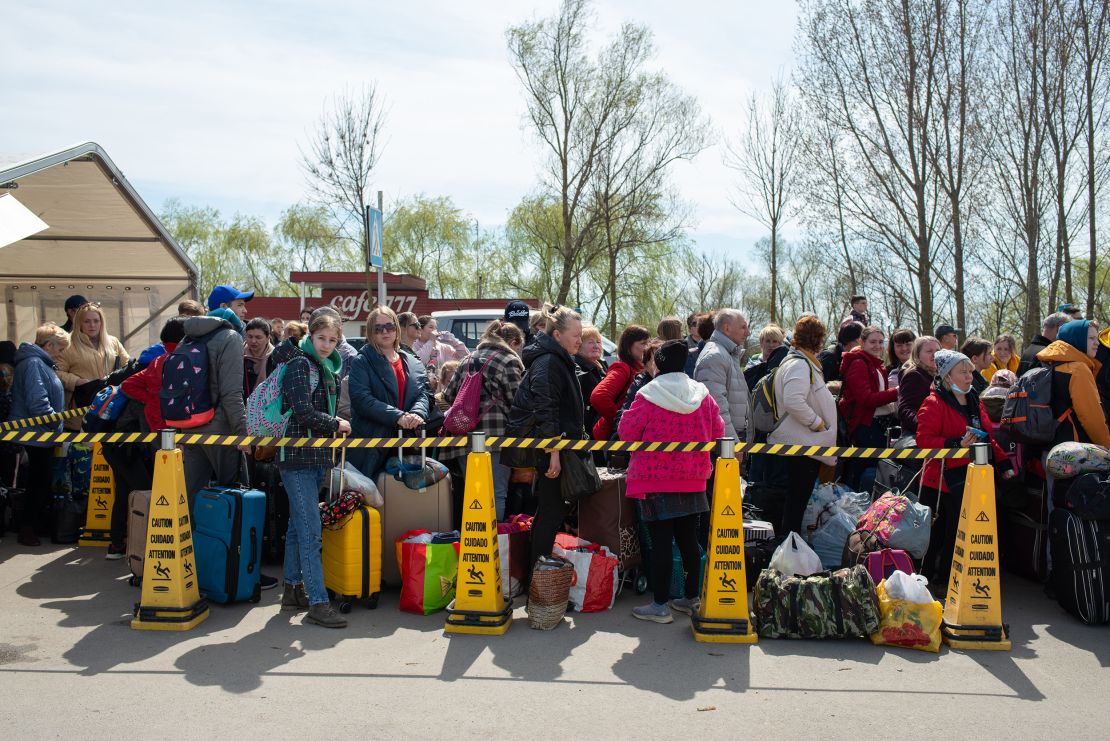 Authorities in the region and international organizations have warned that the number of women and children at risk of human trafficking has skyrocketed because of the war in Ukraine. While the boy at the Palanca crossing was reunited with his family – his mom came to the border to pick him up – many others may not be so fortunate.
CNN has spoken this month to a number of organizations involved in the humanitarian response to the crisis. All had examples of suspicious behavior targeting refugees, especially women – including a man who sought to lure away 10 pregnant women with a bogus offer of housing.
Another woman, Ludmila, who ended up in Moldova after escaping an abusive relationship in Ukraine as the war began, told CNN that her three children had been put at risk in what should have been a sanctuary. They were offered alcohol and worked for strangers, she said, before she managed to find a place in a shelter for vulnerable women in Chisinau, the Moldovan capital.
When Russian President Vladimir Putin ordered his troops to attack Ukraine in late February, volunteers from across Europe rushed to the Ukrainian borders to offer help to those fleeing the violence. But so did people looking to exploit the situation.
Pramila Patten, the United Nations Special Representative on Sexual Violence in Conflict, warned last month that the humanitarian crisis caused by Russia's war in Ukraine was "rapidly turning into a human trafficking one in which women and children are being exploited."
More than 5.9 million people have fled Ukraine since the start of the war, according to the UN's refugee agency. The vast majority are women and children, many of them very vulnerable.
"And the longer the crisis goes on, the more desperate people get," said Mendy Marsh, co-founder and executive director of VOICE, a non-profit focused on ending violence against women and girls in conflict, crisis, and disaster settings.
"In the beginning of a crisis, you have people who are the most mobile, who have the best connections, maybe a family to get to in Poland or other places in the region. As the crisis goes on longer and longer, there are fewer people who have those connections," she said, and many are poorer. "Some people have had to move inside of Ukraine and then maybe they're moving again."
The International Organization for Migration (IOM) says its anti-trafficking advice hotline in Ukraine has received almost 19,000 calls since the war began – twice the monthly average. "We know that these evil predators are using every trick in the book to dupe confused, vulnerable people with promises of a safe onwards journey," IOM spokesman Joe Lowry told CNN.