It's almost tailgating season! Set up the ultimate party site with this guide to a great time.
Summer is winding down, but the outdoor fun doesn't have to end. Football fans have something special to look forward to: tailgating season. It's that special time when we gather food, friends, beverages and plenty of team spirit and head to the game. Take your tailgating up a few notches this year with two great brands: Academy Sports + Outdoors and RVshare. With a little inspiration from our tailgating guide, you can set up the ultimate fan experience. Pick your perfect RV rental from RVshare, then stock it with party essentials from Academy Sports + Outdoors.
Academy Sports + Outdoors is the online store for tailgating essentials. It has everything from folding chairs and movable coolers to grills, plus so many more products to elevate your outdoor experience. It even has top team gear; hats, shirts and decals will show your spirit. Grab your gear and join the party!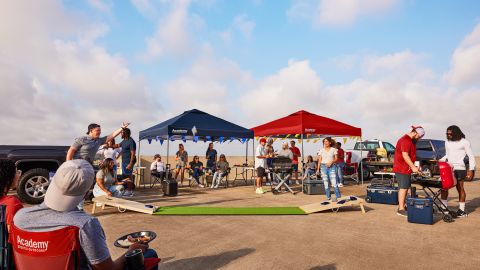 If you want to majorly upgrade your tailgating setup, RVing allows you to kick back in comfort. Having your own recreational vehicle on site for the game allows you to whip up a game day feast for friends or just hang out in comfort with a prime setup. All your amenities are on board for the game – from a kitchen with a full range of appliances, to indoor/outdoor tv screens, to plumbing, all your favorite comforts are easily accessible to you and your guests. And whether you're roasting in the hot Tampa sun and need AC, or you're freezing in the frigid Buffalo air, many RV's offer climate control to ensure you remain comfortable.
Let's start upgrading! Here are all the top tailgating essentials, plus some of the most popular RV choices for the best possible tailgate experience.
These products from Academy Sports + Outdoors will have your friends asking, "Where did you get that?!"
First things first: a folding chair! This oversized, padded option is perfect for lounging outside your full-size RV.
A folding table always comes in handy. This 5-footer is perfect for laying out all the prime snacks you prepared in your fully stocked RV kitchen.
Cooler convenience is key, and this one has wheels for easy transport. Tote this classic cooler in your RV rental, and pull it outside for easy access.
Tailgating in the heat? Add some shade with this easy, portable canopy. When you aren't chilling in your RV enjoying the AC, you can still be fully shaded.
If you need a little extra cooking space, this folding grill is perfectly portable. It's a great option if you're towing a small RV that lacks a kitchen.
We all know tailgating is one big party. Tote snacks, drinks or anything else to visit your fellow football fanatics across the lot. And of course it folds right up for storage!
Once you have your supplies, you can make that final RV selection; which one is right for you and your preferred tailgating experience? RVshare has a wide selection of RV's, available across the county (you can explore more here). Here are some examples of RV's that are perfect for game day, and be sure to search to see what's available in your area:
$350 per night at RVshare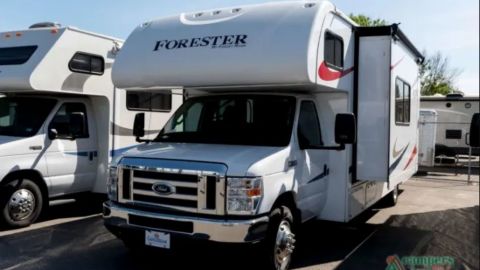 If you want all the amenities, check out a Class C RV. These bad boys vary in size, and they're great if you're comfortable driving a truck. All you have to do is drive — perfect.
$99 per night at RVshare
If you're looking for an affordable, smaller option that still boasts amenities, you might be looking to book a travel trailer. This guy allows for a second car, so you can visit locations nearby. Even if you're only used to driving a large RV, a travel trailer is a smart option.
$399 per night at RVshare
The Class A is the cream of the crop for both space and amenities. This is the option for you if you're traveling from far away, or if you just want to take your tailgate experience to the next level.