Editor's Note: Oren Cass is the executive director at American Compass, a policy shop developing a new conservative economic agenda. The views expressed in this commentary are his own. View more opinion on CNN.
Any legislation that manages to navigate Congress successfully is noteworthy these days, but the CHIPS Act, passed by the Senate Wednesday, represents an especially significant inflection point for the United States. We may finally be ready to do what it takes to support critical industries operating on our shores.
The bill which aims to restore American leadership in manufacturing advanced semiconductors, the cutting-edge computer chips in everything from smartphones to airplanes, was backed by a bipartisan vote (64 to 33). It provides semiconductor producers with more than $70 billion to build new chip factories, called foundries, in the US.
The legislation also authorizes a $200 billion increase in funding over the next decade for scientific research to boost technological innovation. The bill now moves to the House of Representatives, which is expected to pass it soon.
Since the Cold War ended, American policymakers have generally promoted globalization, arguing that it doesn't matter what goods get made where. Other countries have been determined to attract manufacturers and the investment and jobs they brought with them, and we did little to stop them from leaving, so off they went.
The US lost millions of good manufacturing jobs, saw entire industries hollowed out and accumulated trillions of dollars in trade debt as we increased the imports that we bought from the rest of the world much faster than the exports we sold back.
Even in advanced technology products, which should have been our strength, our advantage quickly vanished. In 1992, the US ran a trade surplus of nearly $60 billion making such products for the world (adjusted for inflation). By 2020, we ran a deficit of $188 billion, according to the US Department of Commerce.
Semiconductors provide the quintessential example. American labs developed the transistor and integrated circuit in the middle of the 20th century and figured out how to print them on silicon, giving rise to Silicon Valley. The industry's leader, Intel, pushed the envelope on smaller, faster chips and dominated the market for the smallest and fastest ones.
But then Taiwan and South Korea began making huge investments in, and providing generous subsidies for, their own semiconductor firms – Taiwan Semiconductor Manufacturing Company (TSMC). Analysts estimate that, thanks mostly to these policies, building an advanced foundry in the United States can cost 50% more than in those East Asian countries.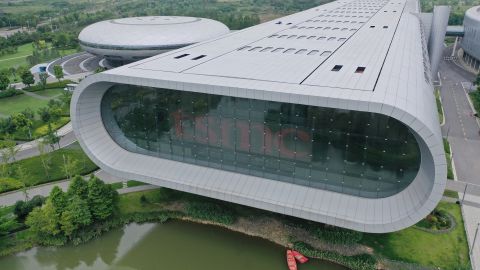 Meanwhile, as capital expenditures surged abroad, Intel opted to make relatively lower investments than its competitors, preferring to return cash to shareholders.
Unsurprisingly, Intel no longer sets the standard. Advances in chip manufacturing require etching ever-smaller transistors on to silicon wafers. TSMC can produce chips with transistors just 5 nanometers (nm) wide, while Intel is stuck at 10nm and won't reach 7nm until next year.
Pat Gelsinger, who took over as Intel's CEO last year, said "we had some missteps," and that "the strategy had become a little bit confused on the role that we're going to play in manufacturing for the long term… now we're leaning back into that with clarity, with clear urgency."
Meanwhile, TSMC may soon be at 3nm. Just last month, Samsung began production of its own 3nm chips.
Globally, the US share of semiconductor manufacturing has fallen by two-thirds since 1990, to 12%, and is still falling. Already lapped by other Asian competitors, the next threat comes from China, which has been making huge investments in the industry under its "Made in China 2025" strategy for achieving global leadership in key technologies.
According to the Semiconductor Industry Association, "In 2019, all six of the new [foundries] that opened globally were outside the United States, with four being built in China, which is putting significant government dollars behind these new facilities."
Better late than never, American policymakers have awakened to the threat posed by the loss of global leadership in such a vital technology, especially if an adversary like China takes the reins from the US. The chip shortages that emerged during the Covid-19 pandemic have further underscored the risks of relying on foreign supplies.
Sounding the alarm last year, the National Security Commission on Artificial Intelligence reported, "Put simply: the U.S. supply chain for advanced chips is at risk without concerted government action. Rebuilding domestic chip manufacturing will be expensive, but the time to act is now. The United States should commit to a strategy to stay at least two generations ahead of China in state-of-the-art microelectronics and commit the funding and incentives to maintain multiple sources of cutting-edge microelectronics fabrication in the United States."
The CHIPS Act does just that.
Opponents have expressed concern that the program's funds could wind up in China – it "subsidizes the construction of semiconductor factories in China," warns Kevin Roberts, president of the conservative Heritage Foundation. But this reflects a serious misunderstanding of how the bill works. Companies only receive public funds under agreement with the federal government to build domestic foundries. No new incentive exists to make investments in China.
One might worry that a company would still make separate investments abroad, but of course that is an option that such a company already has today. And the bill includes so-called guardrails that do restrict recipients of federal funds from expanding operations in China.
To receive funds, a company must agree that investments in China will be limited only to technologies several generations out of date. While some critics believe this restriction should be even tighter and permit work only on chips even further out of date, the CHIPS Act represents an improvement either way. It would create greater public incentives than have ever existed for building domestic foundries, and greater legal restrictions than have ever existed on building Chinese ones.
Get our free weekly newsletter
Sign up for CNN Opinion's newsletter.
The critics do have a point in this respect: America needs to get even tougher on China. That's not an argument against passing the CHIPS Act – an inflection point marks the moment when a curve begins to change direction, not a complete reversal all at once. But it does highlight an opportunity for further progress in the coming year, restricting the technologies that companies can send to China and the investments they can make there.
Republicans have been most vocal in raising the criticism that firms might invest in China, which marks a change from their historical reluctance to interfere with business investments and free trade. Hopefully they mean what they are saying and, if their party wins congressional power in November's mid-term elections, the CHIPS Act will be only act one.