Gun owners allowed to carry handguns without permits or training. Parents of transgender children facing investigation by state officials. Women forced to drive hours out-of-state to access abortion.
This is Texas now: While the Lone Star State has long been a bastion of Republican politics, new laws and policies have taken Texas further to the right in recent years than it has been in decades.
Elected officials and political observers in the state say a major factor in the transformation can be traced back to West Texas. Two billionaire oil and fracking magnates from the region, Tim Dunn and Farris Wilks, have quietly bankrolled some of Texas' most far-right political candidates – helping reshape the state's Republican Party in their worldview.
Over the last decade, Dunn and his wife, Terri, have contributed more than $18 million to state candidates and political action committees, while Wilks and his wife, Jo Ann, have given more than $11 million, putting them among the top donors in the state.
The beneficiaries of the energy tycoons' combined spending include the farthest-right members of the legislature and authors of the most high-profile conservative bills passed in recent years, according to a CNN analysis of Texas Ethics Commission data. Dunn and Wilks also hold sway over the state's legislative agenda through a network of non-profits and advocacy groups that push conservative policy issues.
Critics, and even some former associates, say that Dunn and Wilks demand loyalty from the candidates they back, punishing even deeply conservative legislators who cross them by bankrolling primary challengers. Kel Seliger, a longtime Republican state senator from Amarillo who has clashed with the billionaires, said their influence has made Austin feel a little like Moscow.
"It is a Russian-style oligarchy, pure and simple," Seliger said. "Really, really wealthy people who are willing to spend a lot of money to get policy made the way they want it – and they get it."
Dragged to the 'hard right'
Dunn and Wilks did not respond to repeated requests for comment. In past interviews and opinion pieces, Dunn has argued that his political spending is focused on making Texas' state government more accountable to its voters, while Wilks has described his donations as aimed at electing principled conservative leaders.
Former associates of Dunn and Wilks who spoke to CNN said the billionaires are both especially focused on education issues, and their ultimate goal is to replace public education with private, Christian schooling. Wilks is a pastor at the church his father founded, and Dunn preaches at the church his family attends. In their sermons, they paint a picture of a nation under siege from liberal ideas.
"The cornerstones of our government are crumbling and starting to come apart," Wilks declared in a 2014 sermon at his insular church, the Assembly of Yahweh 7th Day. "And it's because of the lack of morality, the lack of belief in our heavenly Father."
Texas' far-right shift has national implications: The candidates Dunn and Wilks have supported have turned the state legislature into a laboratory for far-right policy that's starting to gain traction across the US.
Dunn and Wilks have been less successful in the 2022 primary elections than in past years: Almost all of the GOP legislative incumbents opposed by Defend Texas Liberty, a political action committee primarily funded by the duo, won their primaries this spring, and the group spent millions of dollars supporting a far-right opponent to Gov. Greg Abbott who lost by a wide margin.
But experts say the billionaires' recent struggles are in part a symptom of their past success: Many of the candidates they're challenging from the right, from Abbott down, have embraced more and more conservative positions, on issues from transgender rights to guns to voting.
"They dragged all the moderate candidates to the hard right in order to keep from losing," said Bud Kennedy, a columnist for the Fort Worth Star-Telegram newspaper who's covered 18 sessions of the Texas legislature.
"I don't think regular Texans are as conservative as their elected officials," Kennedy said. "The reason that Texas has moved to the right is because the money's there."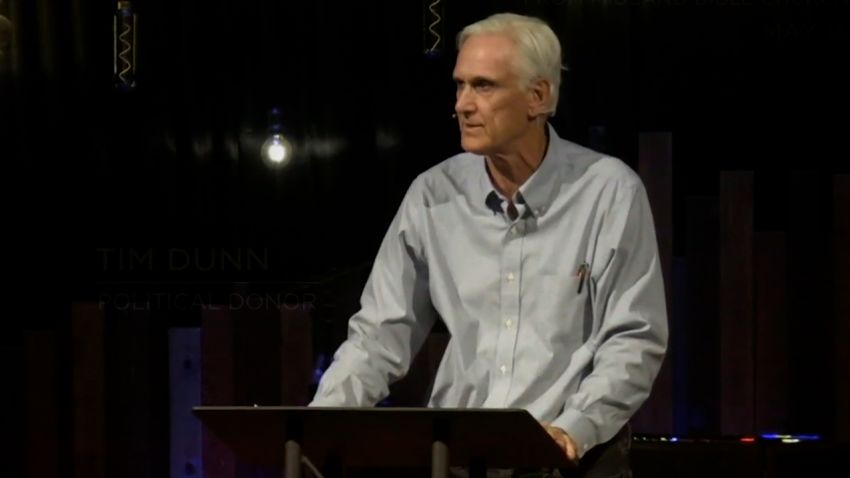 Donors with influence on Texas politics
Political investments paying off
Over the last decade, many of the most conservative bills in the Texas legislature, on topics from LGBT rights to guns to private school vouchers, were killed by the moderate Republicans who held sway in the state House. That changed last year, thanks to people like Valoree Swanson.
Swanson was a Sunday school teacher and political activist when she challenged a 14-year incumbent Republican, Debbie Riddle, in 2016 in a district covering Houston's Republican-dominated northern suburbs.
Swanson, who ran to Riddle's right, shocked political observers by outraising the incumbent – an unusual feat for a first-time candidate. Her largest donor: Empower Texans, a political action committee created by Dunn and largely funded by him and Wilks. She defeated Riddle in the Republican primary by more than 10 percentage points and went on to easily win the general election.
Last year, Swanson won a major legislative victory: She authored the transgender sports bill, which blocks trans students from playing on K-12 school sports teams that aren't aligned with their genders at birth. While other bills about transgender issues had failed in previous years, the sports bill was approved by a legislature now firmly controlled by the GOP's right flank after the moderate former House speaker retired. Observers saw it as a validation of the billionaires' early investments in Swanson's first campaign, paying off years later.
"They're effectively investing their money and they're moving the needle on policy in Austin," said Scott Braddock, the editor of Quorum Report, a publication that's been covering the legislature for decades, referring to Dunn and Wilks. "These are extreme people investing a lot of money in our politics to reshape Texas, such that it matches up with their vision."
Swanson is hardly an outlier: All 18 of the current Republican members of the Texas Senate, and almost half of the Republican members of the Texas House, have taken at least some money from Dunn, Wilks or organizations that they fund. Lt. Gov. Dan Patrick and Attorney General Ken Paxton have also been major beneficiaries of the billionaires' spending.
Texas is one of just 10 states that allow individuals to make unlimited contributions to state political candidates, according to the National Conference of State Legislatures – letting Dunn and Wilks have more influence than they might elsewhere in the country.
While Dunn and Wilks focus on state politics, they've also gotten involved in national races. Wilks, his brother Dan and their wives were among the largest donors to super PACs supporting GOP presidential candidate Sen. Ted Cruz in 2016, contributing a total of $15 million. And Dunn has given millions of dollars to super PACs supporting former President Donald Trump and congressional Republicans in recent years.
In a statement to CNN, Cruz called the Wilks brothers "the epitome of the American dream" and "fearless champions of conservative causes, much to the consternation of the corrupt corporate media."
So far in 2022, Dunn's and Wilks' political investments haven't been as successful as in past years. Defend Texas Liberty, the group they fund, gave more than $3 million to Don Huffines, a former state senator who challenged Abbott in his Republican primary and won just 12% of the vote. Despite his loss, experts pointed out, over the course of the campaign Abbott embraced some of the positions Huffines had staked out, including strong opposition to transgender rights and support for deploying National Guard members to the US-Mexican border.
Defend Texas Liberty's second-largest beneficiary this year has been Shelley Luther, an unsuccessful far-right legislative candidate who attracted national attention after she was arrested for refusing to shut down her Dallas hair salon to comply with coronavirus restrictions.
In an interview with CNN, Luther – who proposed banning Chinese students from Texas universities and declared she is "not comfortable with the transgenders" – said that Dunn and Wilks had been integral to her campaign.
"Without them, I couldn't have even run," Luther said. But she added that the spending wouldn't have given the billionaires influence over her votes or decisions: "He wants me to do what I say that I represent," she said of Dunn.
Enforcing the 'law of the jungle'
Dunn and Wilks don't just use campaign donations to play a role in state politics. They also fund a network of organizations that have been influential at boosting conservative causes.
Texans for Fiscal Responsibility, a non-profit chaired by Dunn, has released a "Fiscal Responsibility Index" each legislative session grading state lawmakers based on their stances on conservative bills. The scorecard, which is often cited in election ads that show up in voters' mailboxes, is known in Texas political circles for its ability to make and break Republican primary campaigns.
"If you don't show up well on the scorecard, you're going to have a lot of money spent against you," Seliger said.
Texas Republicans say that even a deeply conservative record doesn't protect someone from a primary challenge funded by Dunn, Wilks and groups they bankroll.
State Sen. Bob Deuell had won el