President Joe Biden on Thursday said the US will not allow Iran to acquire a nuclear weapon and that he believed diplomacy remained the best avenue to keep the nation from obtaining one, despite Israeli objections over a deal with the Islamic Republic.
"This is a vital security interest to both Israel and the United States, and I would add for the rest of the world as well," Biden said at a news conference in Jerusalem standing alongside Israeli Prime Minister Yair Lapid.
He added, "I continue to believe that diplomacy is the best way to achieve this outcome. We will continue to work with Israel to counter other threats from Iran throughout the region, including support for terrorism and ballistic missile program that continues and the proliferation of weapons to terrorist and proxies like Hezbollah."
The President said he would deliver that message to Saudi leadership when he travels to Saudi Arabia on Friday and said, "With regard to Iran and convincing the Saudis and others that we mean what we say is – we mean what we say."
Biden has pushed for a revival of the Iran nuclear deal, which former President Donald Trump withdrew the US from in 2018, as he faces increasing pressure from key Middle East allies to produce a plan to contain Iran. Biden's hosts in Israel oppose a new Iran nuclear deal and the previous version of the deal was unpopular in that nation.
But hopes appear to be fading that the deal will materialize, and the President on Thursday acknowledged the US is "not going to wait forever" for a response from Iranian leadership.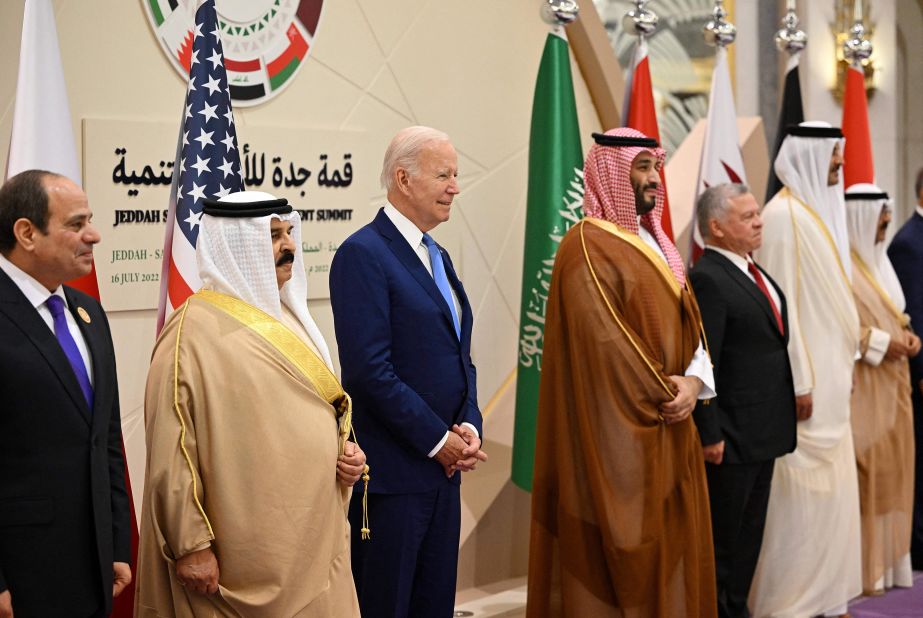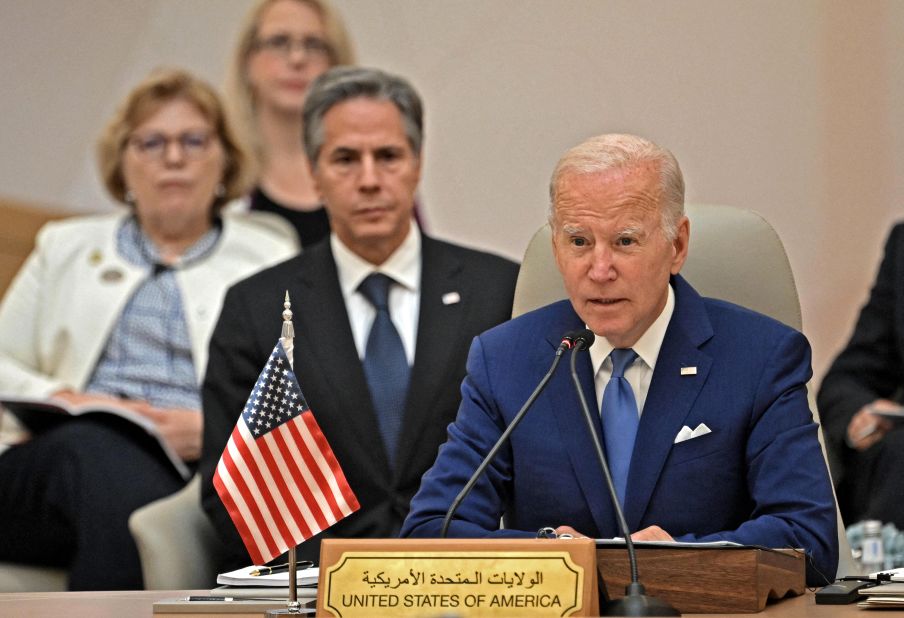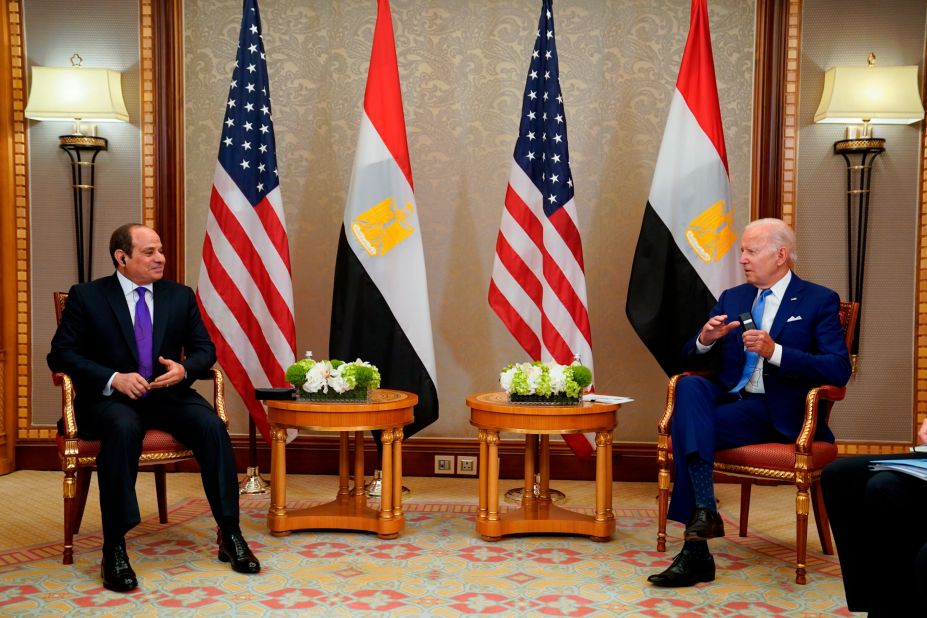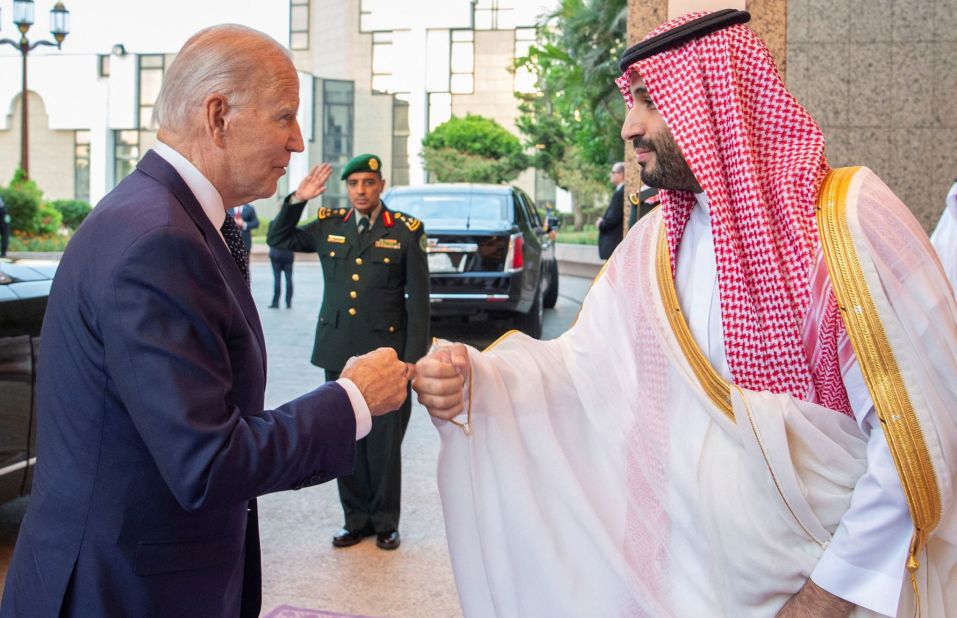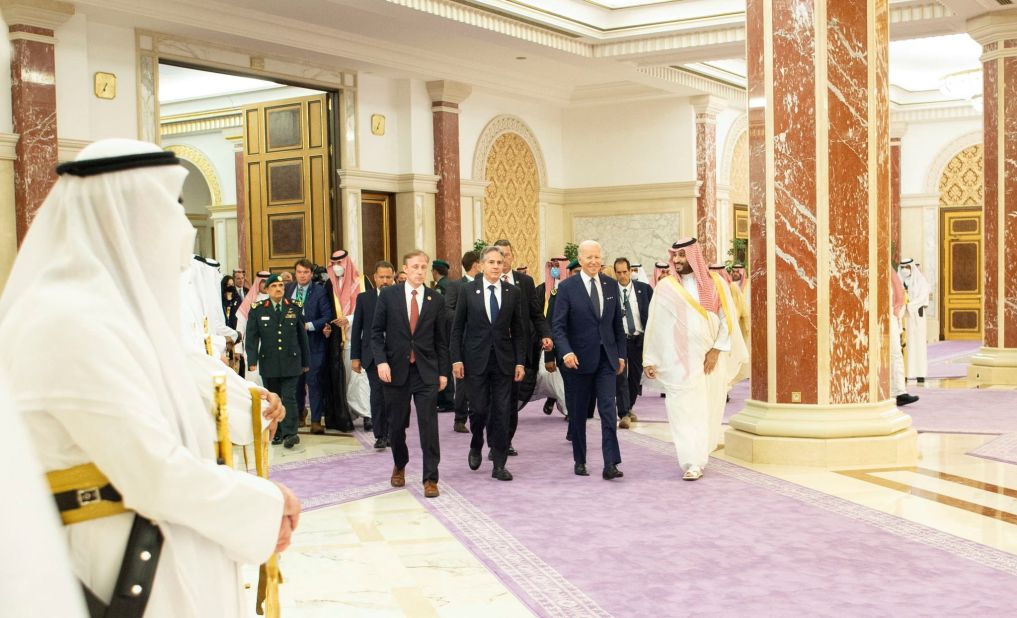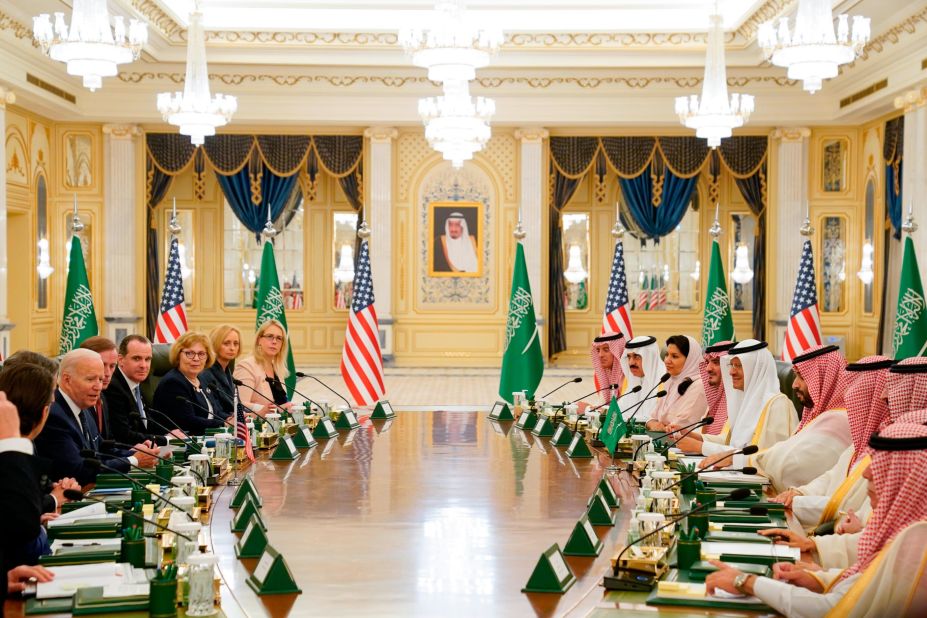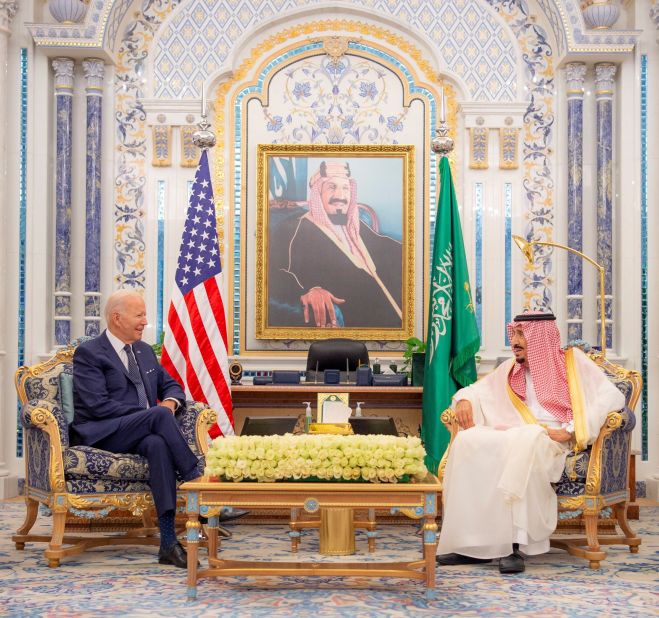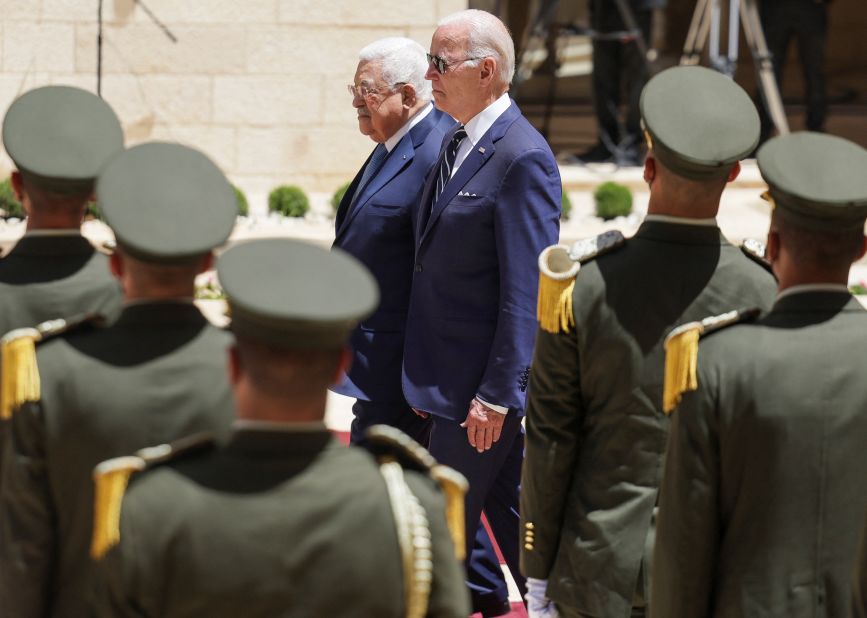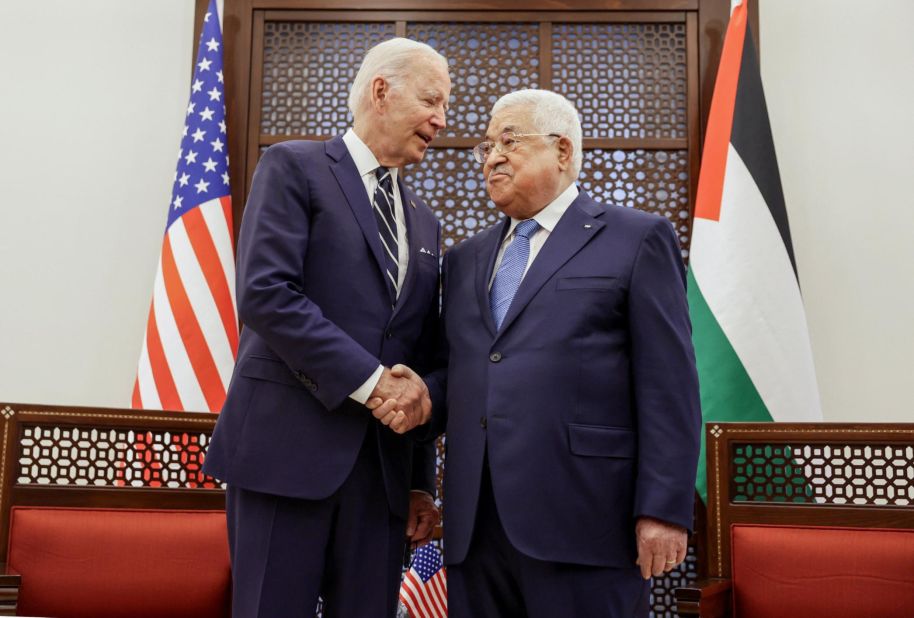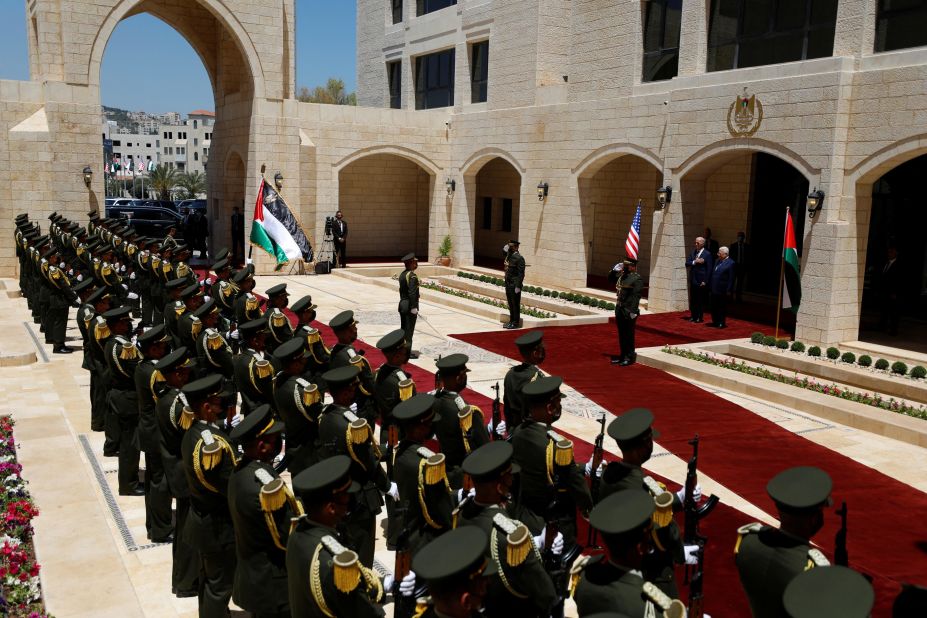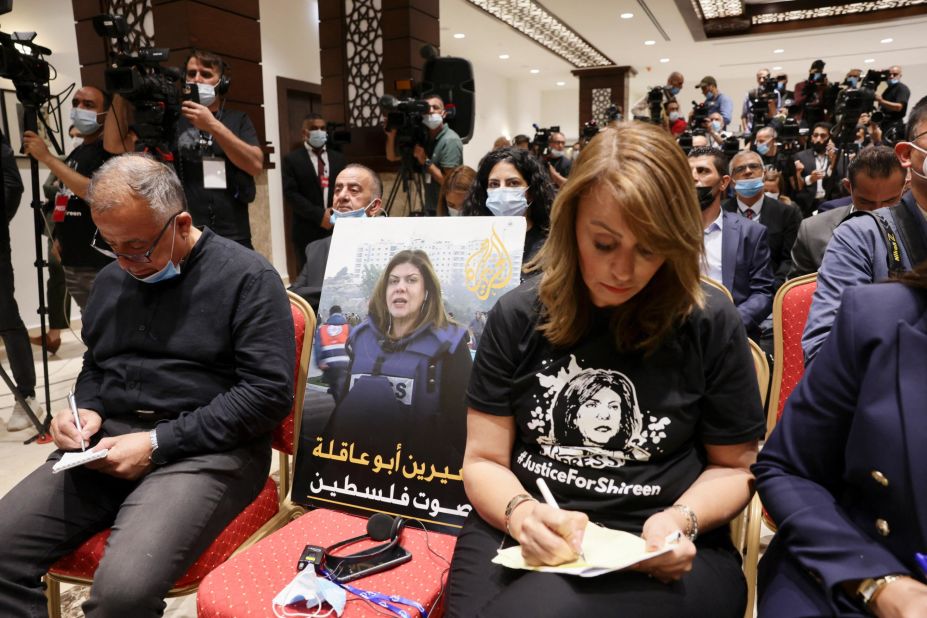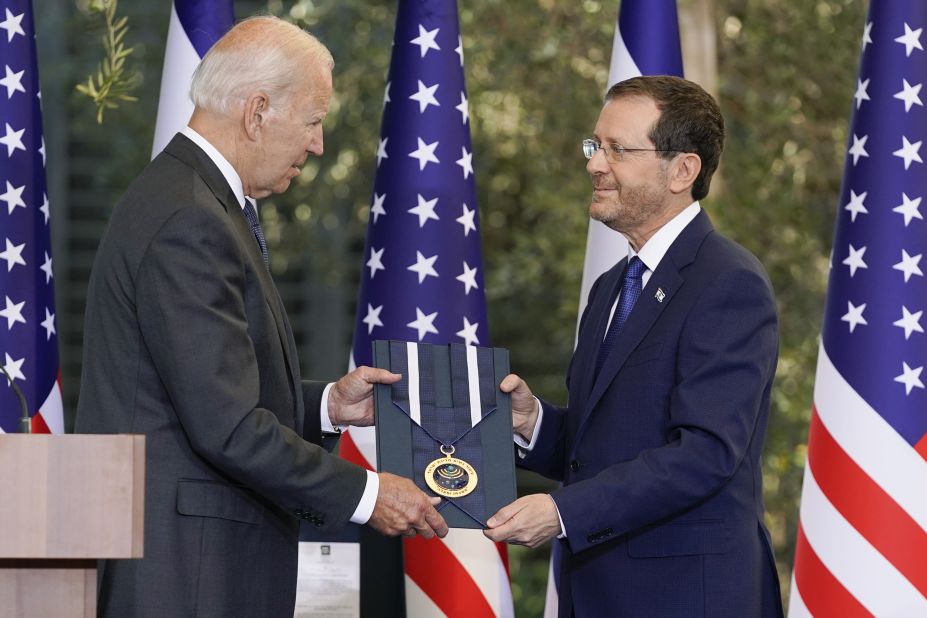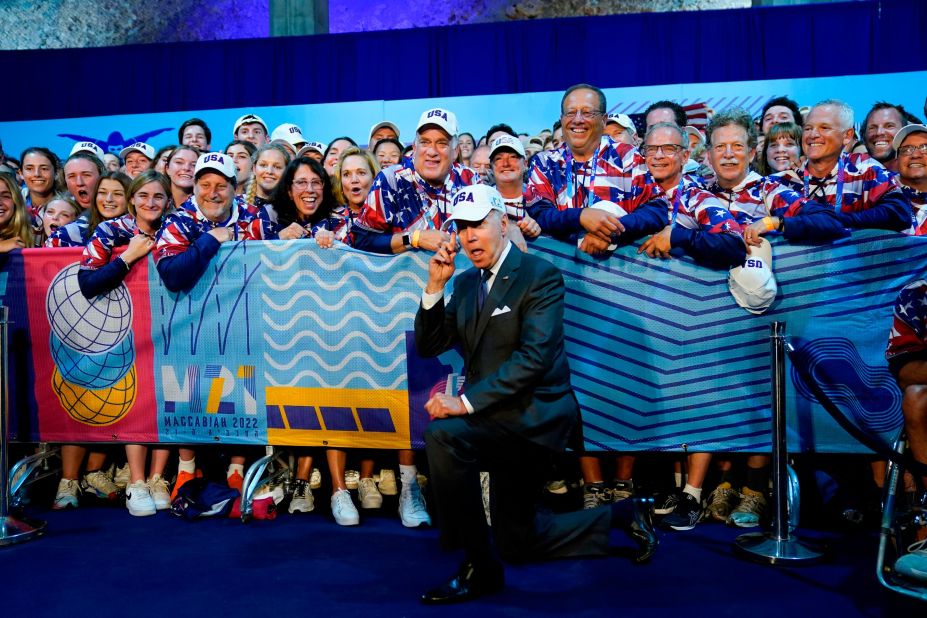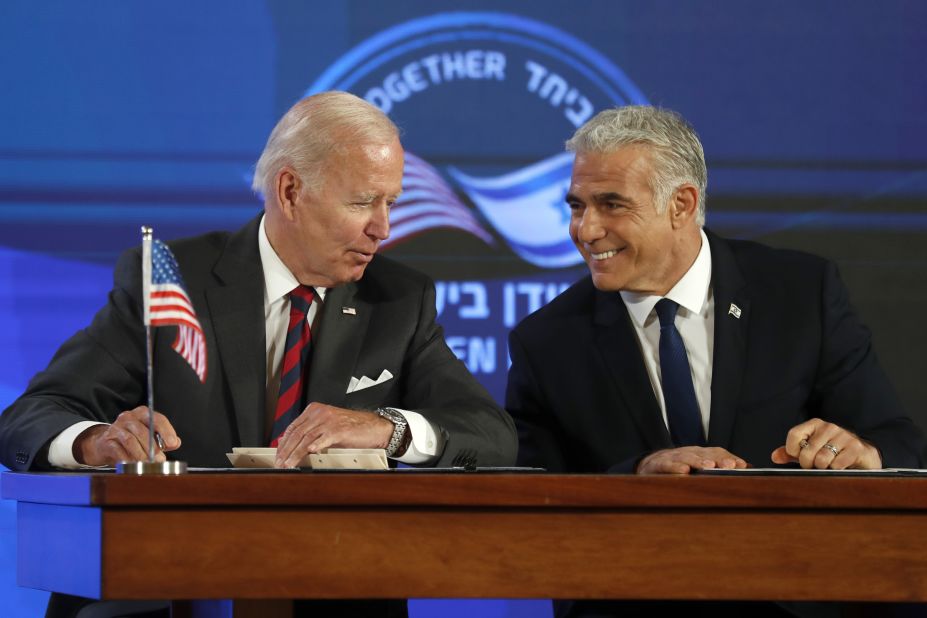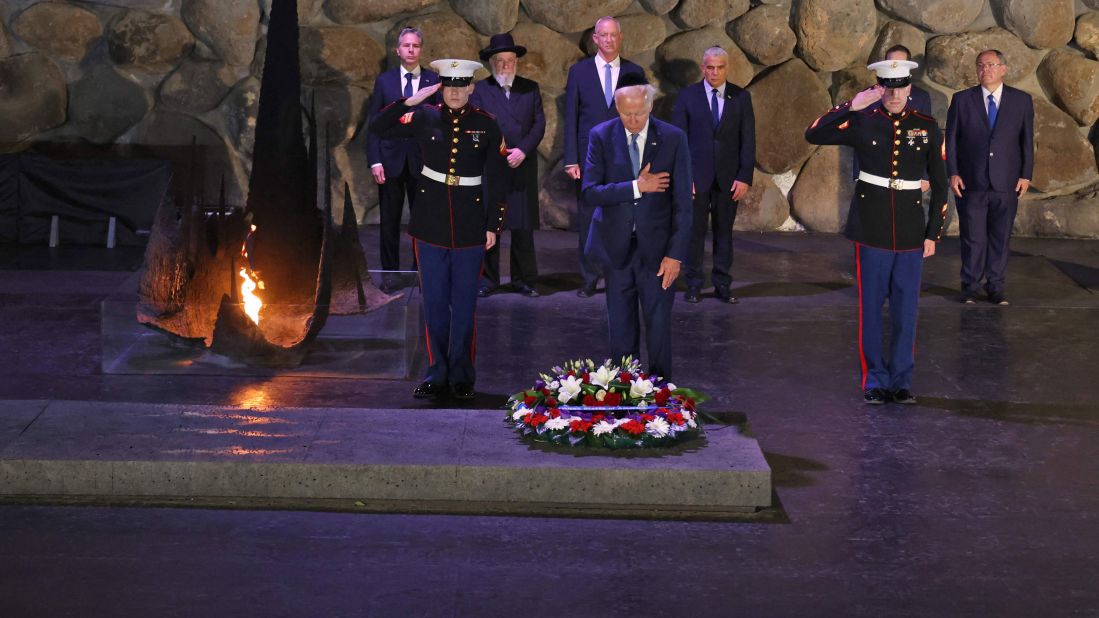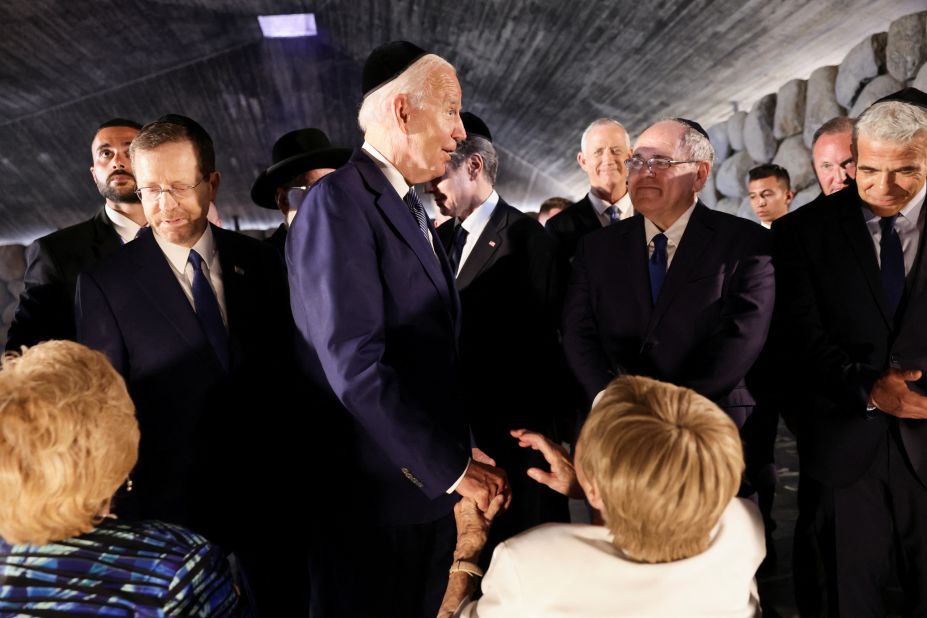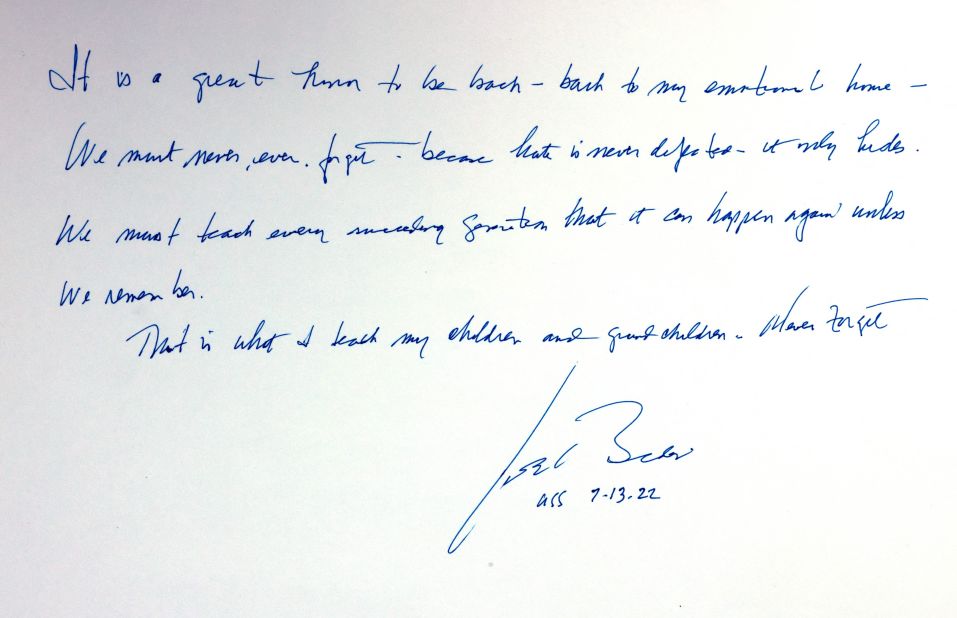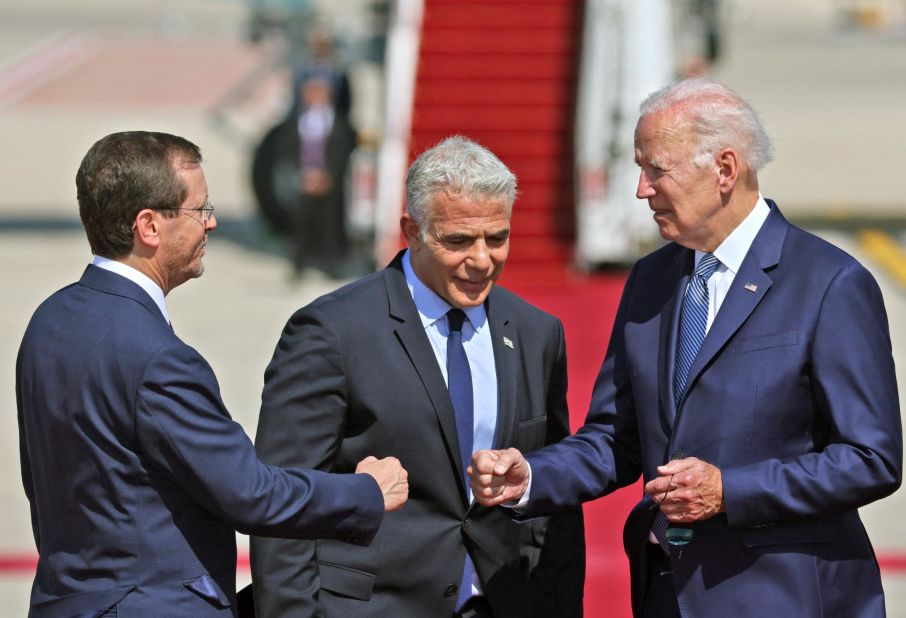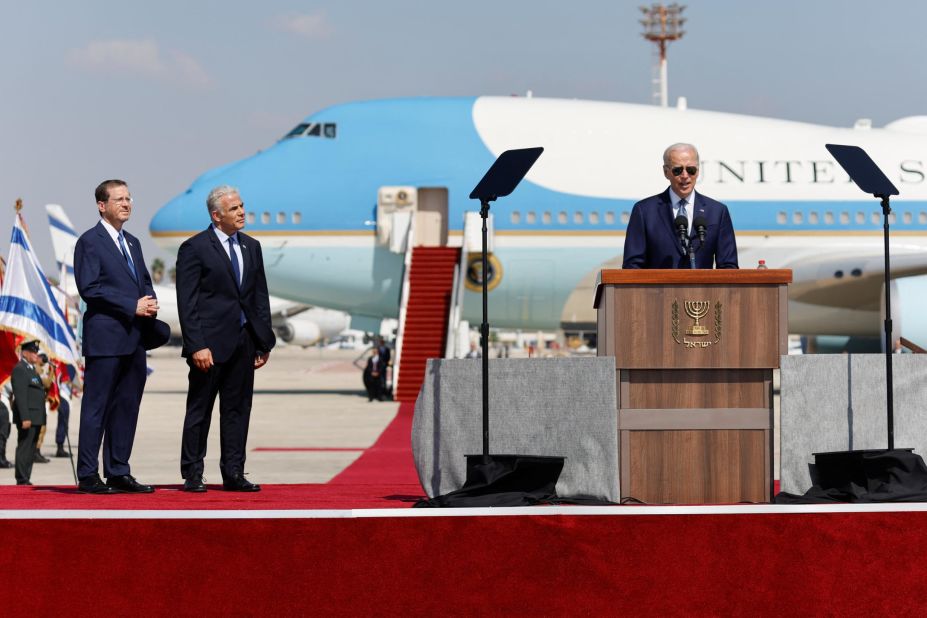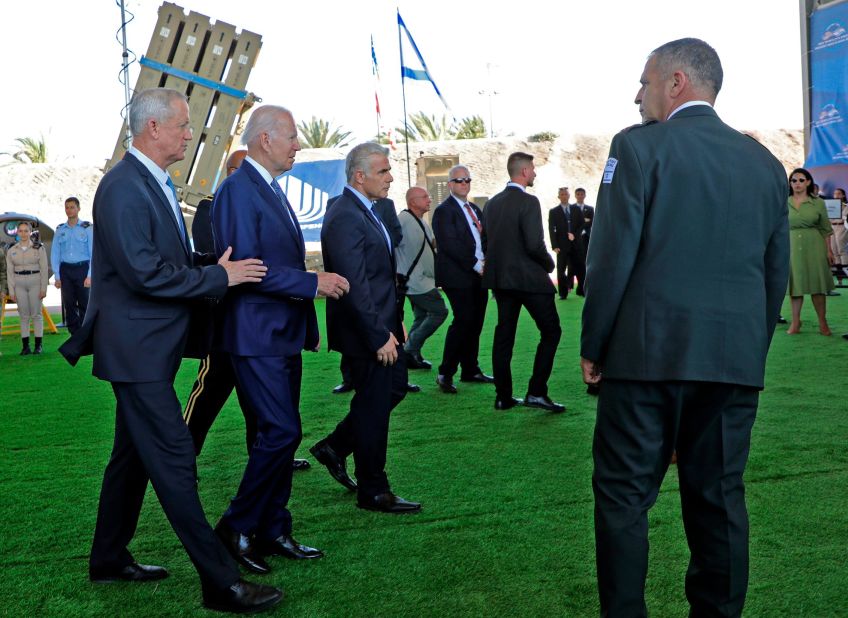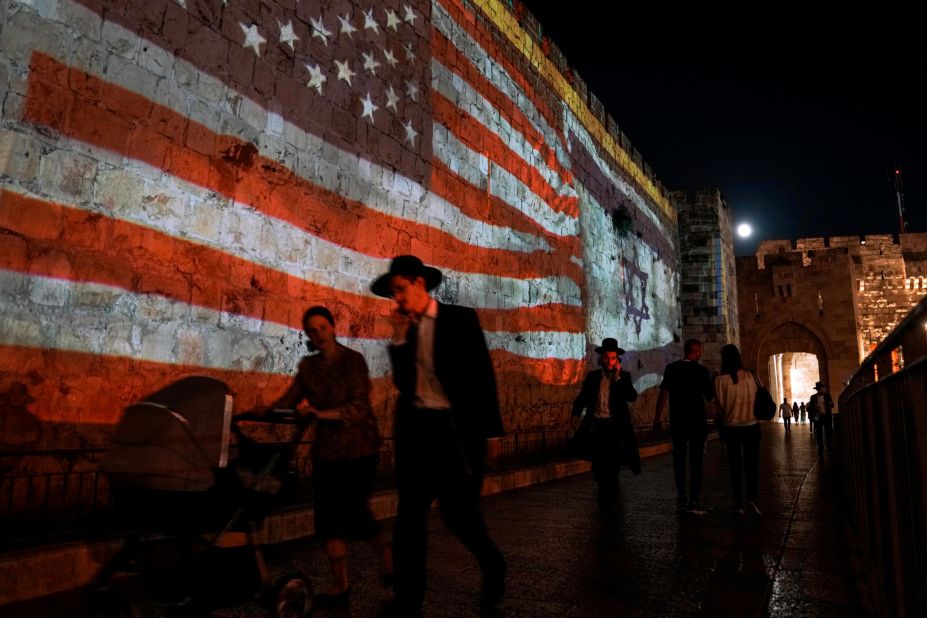 In pictures: Biden's trip to the Middle East
Standing alongside Biden at the news conference, Lapid was dismissive about another nuclear deal as the means to prevent Iran from acquiring a nuclear weapon.
"Words will not stop them, Mr. President. Diplomacy will not stop them. The only thing that will stop Iran is knowing that if they continue to develop their nuclear program, the free world will use force. The only way to stop them is to put a credible military threat on the table," Lapid said.
Biden said in an interview with Israel's Channel 12 News that aired Wednesday that he would use force "as a last resort" to keep Iran from obtaining a nuclear weapon, but did not spell out what that meant.
Iran was a main topic of discussion during Biden and Lapid's bilateral meeting on Thursday, and the two leaders signed a new joint declaration on Thursday aimed at expanding the security relationship between their nations and countering what they described as efforts by Iran to destabilize the region. The President reiterated the US' "ironclad commitment" to Israel's security.
The President expressed support for the Abraham Accords, one of Trump's legacy achievements that normalized relations between Israel and several Arab countries and pursued an expansion of growing Arab-Israeli security and economic ties. He also emphasized the US' support of expanding Israel's integration into the region – a major theme of Biden's four-day trip to the Middle East.
Biden also reiterated his support for a two-state solution to the Israeli-Palestinian conflict during the news conference.
"Israel must remain an independent, democratic Jewish state, the ultimate guarantee and guarantor of security of the Jewish people not only in Israel but the entire world. I believe that to my core," Biden said.
He continued, "And the best way to achieve that remains a two-state solution for two people, both of whom have deep and ancient roots in this land living side-by-side in peace and security. Both states fully respecting the equal rights of their citizens, both people enjoying equal measures of freedom and any more that takes us further from that outcome I believe anything is detrimental to the long-term security of Israel."
The US and Israel on Thursday also launched a new high-level strategic dialogue on technology, which officials say is designed to elevate cooperation between the two nations on pandemic preparedness, climate technology, artificial technology and other trusted technology ecosystems.
The President on Thursday also participated in the first virtual leaders meeting of the "I2U2" group, which also includes Israel, India, and the United Arab Emirates. The focus of Thursday's meeting was food security as well as advancing clean energy, Biden said ahead of the meeting.
The UAE announced it was investing $2 billion in agricultural parks in India to tackle the food security crisis.
"This unique grouping of countries aims to harness the vibrancy of our societies and entrepreneurial spirit to tackle some of the greatest challenges confronting our world, with a particular focus on joint investments and new initiatives in water, energy, transportation, space, health, and food security," a joint statement from the leaders of India, Israel, United Arab Emirates and the United States reads.
Biden met with President Isaac Herzog of Israel at his residence and was set to discuss Herzog's diplomatic efforts to further integrate Israel into the region, officials said.
Herzog presented Biden with the Israeli Presidential Medal of Honor, and Biden said the award was "among the greatest honors of my career."
The President will then meet with former Prime Minister Benjamin Netanyahu. The two leaders have a relationship that spans nearly four decades that began when Biden was a junior senator. All the same, it has not always been smooth sailing between the two men. Netanyahu made no secret of his disregard for former President Barack Obama – the feeling, by all accounts, was mutual – and Biden was badly embarrassed when a visit to Israel as vice president in 2010 coincided with an Israeli government announcement approving plans for new settlement homes.
"They, of course, go back many years and know each other well. And we are clear during this visit that the relationship between the United States and Israel is about the countries, our strategic partnership as two states – not about individual leaders," one official said.
Biden also met with US athletes competing in the Maccabiah Games, an international Jewish and Israeli multi-sport event, and viewed a portion of the opening ceremonies.
This story has been updated with additional developments on Thursday.