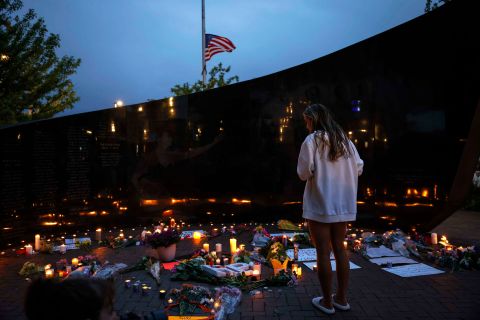 In pictures: 4th of July shooting in Highland Park, Illinois
Updated 11:02 PM EDT, Tue July 5, 2022
A mass shooting at an Independence Day parade Monday in a Chicago suburb left at least seven people dead, wounded dozens more and sparked a manhunt for a gunman who fired on unsuspecting attendees from a rooftop, authorities said.
The shooting in Highland Park, about 25 miles north of Chicago, began shortly after 10 a.m. CT as people enjoyed a sunny Fourth of July parade along Central Avenue.
Firearm evidence was found on the rooftop of a nearby business, police commander Chris O'Neill said. The shooter used a ladder attached to the building on a wall in an alley to access the roof, said Sgt. Chris Covelli of the Lake County Major Crime Task Force.
The gun was a "high-powered rifle" and the attack appeared to be "random" and "intentional," Covelli said.
Highland Park Police Lou Jogmen on Monday evening identified Robert E. Crimo III, 21, as a person of interest.
According to authorities, Crimo was taken into custody near Lake Forest just before 8 p.m. ET. Investigators believe Crimo planned the attack "for several weeks," a spokesperson for Lake County authorities said Tuesday.