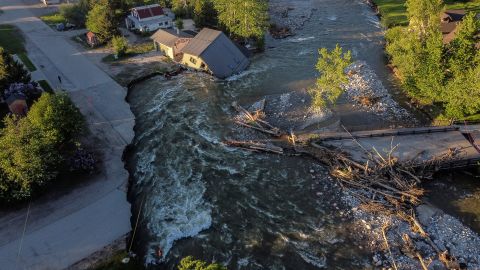 Published 12:17 AM EDT, Fri June 17, 2022
Unprecedented flooding in southern Montana forced Yellowstone National Park to close all of its entrances this week.
Abnormally warm temperatures and torrential rain triggered a wave of snowmelt that produced nearly a foot of water runoff by Monday. The flooding inundated homes, businesses and infrastructure, forcing many families to evacuate. Dozens of people were isolated by the flooding and had to be rescued by helicopter.
The dangerous flooding was just one of several extreme weather events bearing down on communities across the United States, including a blistering heat wave affecting more than 100 million people. Severe storms also knocked out power for hundreds of thousands in the Midwest and Ohio River Valley.
Here are some of the stories that made headlines over the past week, as well as some photos that caught our eye.