June 19, 2022 marks the second annual observance of Juneteenth as a federal holiday. Organizers nationwide are kicking off a week of festivities commemorating the end of slavery in the U.S. and championing the ongoing struggle for equity and justice. Though Juneteenth – June 19th—is newly minted as an official holiday, many African American communities have celebrated the date for generations. Getting the event federally sanctioned took years of hard effort.
In her nineties, civil rights activist Opal Lee hosted an annual 2.5-mile walk to demand Juneteenth's national recognition and also honor the seldom-told history of some 250,000 enslaved in Galveston, Texas who did not learn of their freedom until two and half years after the Emancipation Proclamation.
"We have to heal. You've got to know what happened and you've got to heal from that," Lee told CNN in a 2021 interview.
Today, Opal Lee's goal is a reality and a prime opportunity to continue promoting equality, civil rights and African American advancement.
Here are ways you can celebrate Juneteenth—while supporting organizations striving to create a more just society for all.
Celebrate in person or at home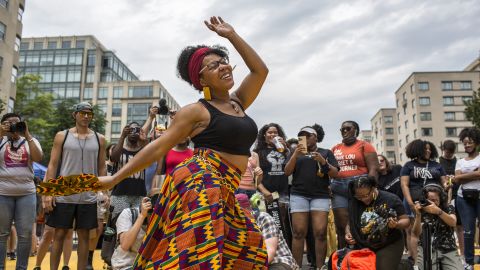 For many, this Juneteenth represents a time to reconnect with loved ones and activities once enjoyed before Covid-19. As communities emerge in celebration of the day, you too can join in the fun either in person or online.
Live from the Hollywood Bowl in Los Angeles at 8PM ET on June 19, CNN will broadcast an inaugural marquee event: Juneteenth: A Global Celebration for Freedom. Produced by Black creators Shawn Gee of Live Nation Urban and Jesse Collins Entertainment, the concert will celebrate Juneteenth and highlight the ongoing fight for equality in the Black community
During CNN's pre-show coverage of the event beginning at 7PM ET, CNN's Don Lemon will honor Black artists and advocates working to rectify inequality. Amid the celebration, the event will also recognize the work that's left to do in the fight against racial injustice.
"We knew it was important to our country and important to our audiences to shed light on the meaning and significance of Juneteenth," says Johnita Due, Senior Vice President and Chief Diversity, Equity and Inclusion officer for CNN. "And not only as an historic event but really as a way to engage and educate people about what still needs to happen for all of us to achieve freedom and justice."
Here are a few other Juneteenth celebrations also launching this week.
Denver, Colorado will host its Juneteenth Music Festival, registering fifty thousand participants annually. The event will begin with a celebratory parade and will offer two days of live entertainment, block parties, and retail shopping from local vendors. Proceeds from the Juneteenth Music Festival will benefit economic empowerment of youth and young adults.
In Washington, DC, music mogul and artist, Pharrell Williams will host his "Something in the Water Festival" on Juneteenth weekend. Held on Independence Avenue, the 3-day festival will include performances by Pharrell, SZA, Anderson Paak and more.
In New York City, the Tribeca Film Festival is hosting its Juneteenth Program to celebrate "Black stories and uplift the voices of Black storytellers." Featured content will include podcasts, music, talk, and films. For those outside New York City, the Tribeca Film Festival will also feature online offerings.
The Juneteenth Foundation will kick off its lineup of events with an inaugural Juneteenth Honors Awards ceremony highlighting "Black excellence, our history, and the achievements of African American luminaries." The foundation will also host a celebrity golf tournament, a freedom festival block party promoting Black businesses, and a virtual career fair. With support of partnering agencies, the foundation will also host a Juneteenth Father's Day reception that will honor Black fathers. The event will take place at the National Museum of African American History and Culture in Washington.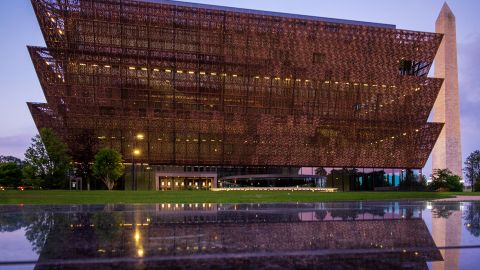 Make history alive
The National Museum of African American History and Culture is hosting live and in-person events offering engaging, educational opportunities that celebrate the dynamic lives of African American ancestors and their civic contributions toward a more equitable future.
"It's important to show that people across history have always been engaged civically to make their lives better, to build a more perfect Union," says Deirdre Cross of the National Museum of African American History and Culture.
"Understanding that legacy of citizenship is especially necessary for people who are living today, not to look back on the past with rose-colored glasses necessarily, but just to see that it is a tradition in this country to look at current conditions and see how they might be made better with an idea of improving the way we live now, providing a blueprint for how to make lives better for future generations."
The theme of this year's celebration is the "Senses of Freedom: The Taste, Sounds, and Experience of an African American Celebration." Events include exploration of cuisine, culture, and civic engagement. A musical performance will be open to the public in-person and online June 19th.
"Please join us however you can digitally or in-person. Join us often," says Cross.
Invest in education equity and justice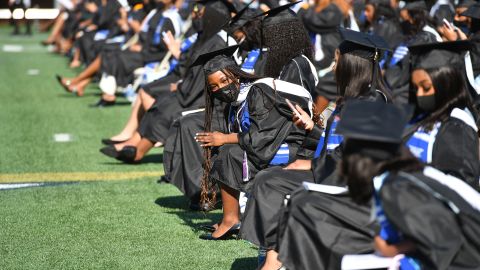 There are many organizations fighting for equity through education and empowerment. With your engagement, these groups can make a larger impact on communities across the country. Here are few ways you too can get involved.
National Urban League is committed to the advancement of African Americans through economic empowerment, equality and social justice. Since 1910 the organization has promoted the advancement of Black Americans through an array of community and national initiatives. Among the causes championed by the organization: education, job training, workforce development, and civic engagement. Included among the organization's signature education initiatives is a mentorship program for African American children and teens. For more on this non-profit's education initiative click here.
Thurgood Marshall College Fund uplifts the educational excellence of Black youth. Named after Supreme Court Associate Justice Thurgood Marshall, the organization provides scholarships, internships, employment, and leadership development. The non-profit claims to be "the nation's largest organization exclusively representing the Black College Community."
100 Black Men of America strives to create meaningful societal change by focusing on the next generation. As an African American-led mentorship organization, the non-profit leverages the power of mentorship to develop youth and young adults as leaders who are capable of creating change in the world around them. The organization's four cornerstone principles include mentoring, education, health/wellness, and economic empowerment.
Disrupt economic injustice
Long-standing injustices and practices have made it hard for African Americans to become business proprietors and homeowners over the years. The U.S. Department of Commerce finds that "minority-owned businesses" are more likely to pay higher interest rates on loans, but many do not even apply for business loans because they are less likely to receive them. This is one factor that creates such a large racial disparity in wealth. The Federal Reserve finds that the "average Black household earns about half as much as the average White household," making home ownership much less attainable for African Americans. According to a recent CNN story, "72% of White Americans are homeowners while only 42% of Black Americans own a home."
Here are some organizations working to dismantle oppressive practices to help African Americans get into business schools, start their own businesses and achieve home ownership.
Criminal justice reform
The Equal Justice Initiative says that mass incarceration is "the civil rights issue of our time." A CNN story in 2021 cited a study from the Sentencing Project showing "Black Americans are incarcerated in state prisons at nearly 5 times the rate of White Americans." Racial disparities and injustices are at the heart of that disproportionate figure. Here are a few organizations leading the way in criminal justice reform.
The Equal Justice Initiative works to end mass incarceration, excessive punishment, and racial inequality. The organization provides legal representation since many of those charged with crimes lack the resources to effectively defend themselves – which can lead to wrongful convictions. EJI is also heavily involved in research of criminal justice reform, prison conditions and public education about racial injustice in America.
The Sentencing Project strives to create a more "fair and effective criminal justice system" and end extreme sentences. The group works with regional partners to invest in community development to prevent youth from becoming part of the adult criminal system while also pushing for alternatives within the juvenile justice system.
The National Institute for Criminal Justice Reform's mission is to "transform the juvenile and criminal justice systems." Through research, training workshops, advocacy and more, NICJR works with government agencies and organizations to reduce incarceration and violence while helping those caught inside the systems find a way out.
CNN's Nicquel Terry Ellis contributed to this report