Editor's Note: Jill Filipovic is a journalist based in New York and author of the book "OK Boomer, Let's Talk: How My Generation Got Left Behind." Follow her on Twitter. The opinions expressed in this commentary are solely her own. View more opinion on CNN.
It's time for Sen. Dianne Feinstein of California to go – and to take several of her US Senate colleagues with her.
That's really the only conclusion one can draw from Rebecca Traister's tour de force article on Feinstein, on the cover of this week's New York Magazine.
Traister details the history of a woman who once was at the forefront of progress – an early supporter of gay rights who pushed her way into the nearly all-male halls of power – but whose political impulses now are to hew to the center.
California's senior senator is a believer in bipartisanship, civility and working across the aisle. But she's not particularly effective at a time when the Senate and other crucial American institutions have ceased to function because politicians on one hyper-partisan side of the aisle have decided to destroy our government from the inside out.
"Her devotion is to the system, in which laws are made, regulations are implemented, and oversight is prized," Traister writes.
Feinstein's cognitive abilities also have been the subject of much speculation, and her conversations with Traister do not instill confidence.
She has had a decades-long career and just a couple of weeks out from her 89th birthday, she is the oldest sitting US senator. (Republican Sen. Chuck Grassley of Iowa is just a few months younger.)
And yet, while her seniority has brought benefits to her state of California, it is not more broadly benefiting a nation that is lurching down a dangerously divisive path and sorely in need of fresh, visionary leadership.
A determination about who should stay and who should go in the Senate shouldn't be made strictly by age, but age is surely one factor.
In addition to Grassley (88), that would include – at the very least – Republican Sen. Jim Inhofe of Oklahoma (87). Sen. Bernie Sanders of Vermont and Republican Minority Leader Mitch McConnell, both 80 years old, presumably are senior enough members of their respective parties that they won't be going anywhere anytime soon.
Laudably, the chamber's other octogenarians – Sens. Richard Shelby of Alabama (age 88) and Patrick Leahy of Vermont (82) – are not seeking reelection this year.
But finally stepping down when one is past 80 is not exactly a generous handing-over of the baton to a new generation. Do the senators in question understand just how imperiled our country is? It's not that old people shouldn't serve. It's just that Congress has a limited number of seats, and in a representative democracy, the representative body should be at least somewhat representative of the country it serves, including in terms of age. We don't need a Senate that is markedly older than the nation. We need lawmakers who understand the urgency of the moment we are in.
Lamentably, Feinstein does not.
She sits in a Senate made all-but-impotent by abuse of the filibuster and, while she has recognized the problem, has not forcefully advocated for abolishing it. Her GOP colleagues have proven themselves to be ever more radical and uncompromising, willing to undermine the very institutions that Feinstein holds dear. She continues, nevertheless, to seek compromise with them, even at the expense of very basic principles and freedoms, from the right to vote to the right to choose.
Over and over, her Republican Senate colleagues have changed the rules of engagement, refusing to allow former President Barack Obama, for example, to appoint a US Supreme Court judge in an election year while swinging the door wide open for former President Donald Trump to appoint a justice who now is in position to cast a vote overturning – or at least gutting – Roe v. Wade.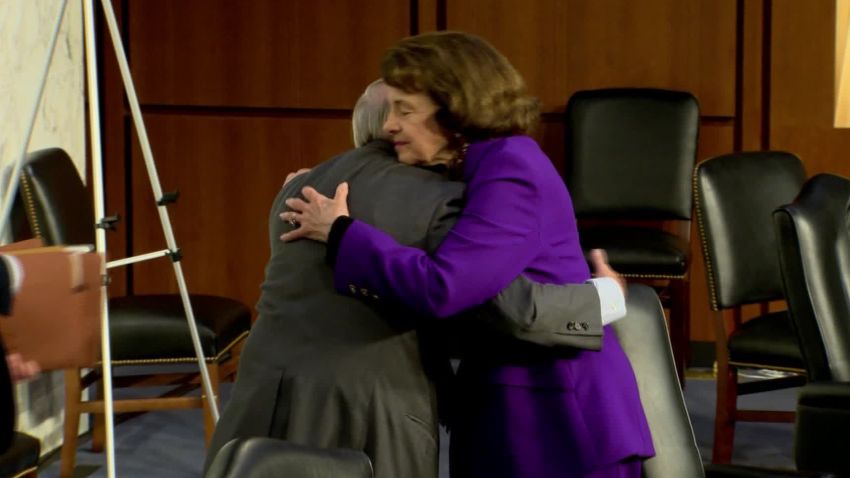 Democrat and Republican senators' maskless hug stirs outrage
Yet Feinstein applauded those confirmation hearings for now Supreme Court Justice Amy Coney Barrett, calling them "one of the best set of hearings that I've participated in." And for good measure, she gave the committee's Republican chairman, Lindsey Graham of South Carolina, a full body hug at the conclusion of those hearings.
Calls for Feinstein to resign do not mean that she's been a bad senator. She has done a great deal of good, from the torture report that shed light on one of the darkest eras of modern American history to her work on gun control.
She broke barriers as a female politician and as a member of the first generation of female senators to be elected in their own right, and in numbers greater than a one-off. She is reportedly an exacting boss – the kind of demanding personality that many have historically found admirable in men and intolerable in women.
Her history, in other words, has been estimable, even as various failures and missteps over the years make her legacy quite mixed. In this, she is not so different from the many storied men of the Senate. And her political future should be assessed in the same terms.
There is an impulse among feminists – including this one – to push back on the many calls for women in positions of power to cede it once they hit a certain age. These demands often do feel as though they are made disproportionately of women, whether the woman in question is Feinstein or former Supreme Court Justice Ruth Bader Ginsburg or Speaker of the House Nancy Pelosi.
Get our free weekly newsletter
Sign up for CNN Opinion's new newsletter.
Women seeking and holding political power is a relatively new phenomenon, one which often raises tremendous ire among those who ostensibly applaud women's progress, but chafe when women don't behave precisely as they wish.
There may well be sexist motives behind some of these demands, but that doesn't mean that each and every one of them is illegitimate. Feinstein is far from the only senator who should be making retirement plans.
But she is a particularly powerful lawmaker. And she belongs to a Democratic Party that isn't just hungry for change – its very survival depends on it.