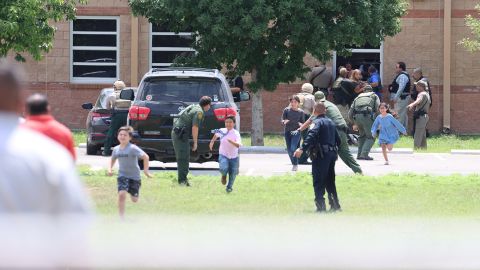 Photos show chaotic scene as Uvalde students escape
Updated 1:26 PM EDT, Fri May 27, 2022
Chilling details are starting to emerge about Tuesday's mass shooting that left 19 students and two teachers dead at an elementary school in Uvalde, Texas.
One of the young survivors told CNN that she and her classmates were watching a movie when the shooter entered her room and shot her teacher and many of her friends. According to officials with the Texas Department of Public Safety, the shooter was in the school for up to an hour and had barricaded himself inside adjoining classrooms.
As all this was taking place, parents had joined dozens of law enforcement officers outside the school, desperate to know if their children were still alive. It was a chaotic scene.
Pete Luna, the general manager of the Uvalde Leader-News, was among those outside, waiting for a positive development. He then saw a group of children who were escaping through windows with the help of law enforcement.
Luna's photos are some of the few that we have seen from that turbulent time while the gunman was still in the school.