Every holiday has its standard, clichéd gifts: There are chocolates for Valentine's Day, socks for Christmas, flowers for Mother's Day and, of course, ties for Father's Day. There's nothing wrong with these presents, but they have the potential to be so much more meaningful and customized. Queue "#Dadjokes" moments on the coffee mug. As Father's Day (along with BBQ season) approaches, Shutterfly is here to help you create a one-of-a-kind, personalized gift for the one-of-a-kind dad, grandpa or father figure in your life.
Shutterfly allows you to take the moments you've captured from the past to the present and use them to create cherished keepsakes for the people you love most. Even the everyday go-to gift ideas (like mugs, cards and calendars) truly stand out, since you're able to add your own photos and text using Shutterfly's intuitive on-site design software. Then there are the more unique and tear jerking gifts, such as customized blankets, wall art, grill aprons, cutting boards, home decor and desk caddies. Whichever you choose, each item is entirely personalized to the recipient for a gift they'll use constantly and never forget.
Until July 30, you can get an extra 5% off your order and receive a free 8-inch-by-8-inch photo book (just pay shipping) when you use CNN-exclusive code CNNDAYS at checkout. Throw those funny photos, late night at the ball field photos, and cherished photos into a quick 8x8 photobook, while also taking a look at some foolproof yet heartfelt Father's Day gift ideas below.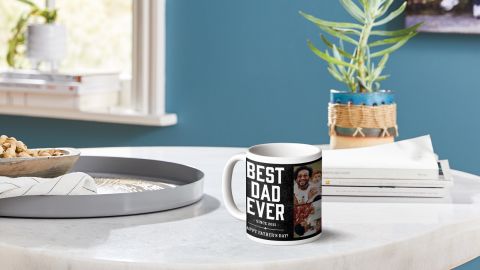 No matter how many mugs he has, a customizable photo mug from Shutterfly will quickly rise to the top of his rotation. Choose from a huge variety of colors, sizes and themes — and if you can't decide on just one photo, opt for a collage design that showcases them all. No matter which mug you choose, they're all temperature-resistant, and most designs can even withstand the dishwasher and the microwave.
Shutterfly's barware collection features countless items to celebrate the beer, wine or liquor enthusiast in your life. That includes stemless collage wine glasses, engraved travel flasks, funny koozies, etched pint glasses, wine stoppers, ceramic photo coasters, custom bottle openers and more — all personalized with your pictures, phrases and inside jokes. (This is the perfect gift idea if he's celebrating his retirement, needs a staple glass to sip his drinks out of while barbecuing this summer season, or if he's just finished renovating his home bar!)
These photo books are sure to be a tearjerker that'll live forever on his desk, coffee table or bookshelf. Choose a design and fill it with your own photos that showcase every chapter of fatherhood, from birth photos to family portraits. While it might seem like an overwhelming project, Shutterfly's beautifully designed templates and intuitive software make it easy to create a keepsake that feels homemade but looks professionally printed.
Show your dad (or dad figure) how much he's loved with a personalized Father's Day card. Even though they showcase your photos, they start at under $1 per card. For most designs, you can even choose the trim and paper, plus you can opt to have the card addressed, stamped and mailed straight from the website. It'll take mere minutes for you, but it'll mean the world to him.