The days are getting longer and the temperatures are rising. For most people, summer vacation isn't quite the vacation it was when they were in school — but you can create your own personal paradise and bring back that liberated, worry-free feeling. Thanks to its Summer Outdoor Collection, Frontgate can help you find your place in the sun, wind down your week in style and create a home you will love to live in.
From bed and bath essentials, outdoor furniture, accessories and holiday decor, The Frontgate Difference is meant to help you create a home you'll love using "inspired designs for life well lived." Many designs are exclusive to Frontgate and created by designers who prioritize beauty, comfort and artistry — and the 10-year frame warranty ensures that furniture meets and exceeds the market's highest standards.
Check out some of the top summer buys below, all of which have been created with your life, your style and your family in mind (and so you can be ready for your next entertaining opportunity this summer). Right now you can save up to $2,000 and get free shipping on any outdoor furniture set.
A lighter version of Frontgate's World's Finest Float™, the Resort Collection Pool Float weighs just 11 pounds, but it still delivers incredible buoyancy, support and comfort. The secret is the closed-cell foam, which can handle up to 350 pounds of weight — and it comes in several trendy colors or stylish patterns that elevate the look of your pool. Pair it with a few Frontgate Resort Collection™ Cabana Stripe Beach Towel to create that classic cabana feel.
Personalize your space with your choice of 40 canopy options, two frame materials and four frame finishes. The Outdoor Market Umbrella isn't just about looks, though; it also provides 9 feet of shade, protects you from skin-damaging UV rays and remains practical all season long, thanks to its dirt- and mildew-resistant design. "The best umbrella for shade!" one reviewer raves. "Love the color [and] quality."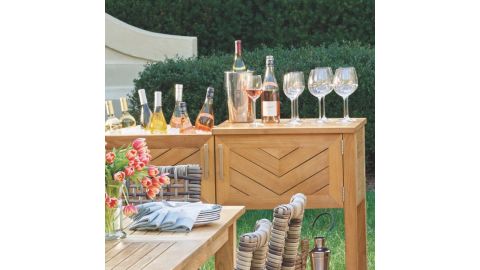 Yes, the Super Chill Wine Cooler looks especially sleek and polished on your outdoor table, but its double-walled stainless steel and gel-based frozen interior keep your wine cold for hours — even in the hot sun. You can get it in three colors, and it currently has a 4.6-star rating from almost 100 reviewers. Pair it with Frontgate's Super Chill Chilling Coasters (also made from double-walled, condensation-free stainless steel) to keep your guests' drinks cold long after they leave the bottle.
Created by noted designer Claude Robin, these Balencia Bronze Chaise Lounges make you feel like you're vacationing in a coastal French resort town. While they're extra comfortable due to their body-hugging curves and adjustable backs, they still evoke elegance with their European-inspired simplicity and timeless weather-defying wicker. No wonder reviewers have called them "beautiful, sturdy and fashionable." (Purchase the matching cushions in your choice of over 15 colors and two fabric options.)
Sip your Sunday coffee as the sun rises or host an outdoor dinner by the pool. This Cafe five-piece dining set will get plenty of use this summer and next, but it stacks, folds and stores with ease when it's not in use. It's made from handwoven, antimicrobial, temperature-resistant resin that comes in your choice of three colors: bronze, dove and white. "This set is beautiful," one reviewer writes. "Simply perfect for my needs."