Editor's Note: Editor's note: Frankie de la Cretaz is an independent journalist whose writing sits at the intersection of sports and gender. They are the co-author of Hail Mary: The Rise and Fall of the National Women's Football League, and their work has been featured in the New York Times, The Atlantic, Sports Illustrated and other publications. Follow them on Twitter at @thefrankiedlc. The opinions expressed in this article are their own. Read more opinion at CNN.
Sports Illustrated this week rolled out its annual swimsuit issue, with this year's edition highlighting body diversity and incorporating buzzwords like "inclusive" and "powerful" to describe the women depicted.
The photo spreads featured Asian American recording artist Yumi Nu, whose pictures generated a backlash from men angered by the fact that she is a plus-sized woman. It also included Kelly Hughes, a model with a visible c-section scar, as well as 74-year-old Maye Musk, mother of business magnate Elon Musk and the oldest cover model to ever grace the magazine.
Also included in the issue is a photo spread featuring five WNBA players: Sue Bird, Nneka Ogwumike, Breanna Stewart, DiDi Richards and Te'a Cooper. It marks the first time athletes from the professional women's basketball league appear in SI's swimsuit issue, a move the magazine called "unprecedented," "history-making" and "radical."
But while in theory their inclusion could be seen as progress, the glam shot aesthetics of the photos – and the WNBA's language promoting the pictures – feels like a step backwards for the league's image and branding.
The WNBA promoted the shoot last week in a tweet which read "we can do both [fire emoji]."
What was meant by "both" wasn't clear, but it's not hard to conclude that they meant that players can be both "athletic" and "feminine" – two things that often are wrongly assumed to be at odds.
The photo seems jarring: All five players in the picture have been glammed up in a way that seems inconsistent with their usual off-the-court self-presentation. That's particularly true for the out queer players in the group, Bird (typically femme-leaning, but unfussy) and Stewart (who favors more of a soft butch aesthetic).
Not only does that framing buy into century-old anxieties around women's gender roles and presentation, but it's a bizarre misstep for a league that has grown, since its inception, in terms of letting their players embrace a more diverse range of gender expressions.
Bird said in a statement posted online by the magazine that posing for the picture allowed the players to put the diversity of the league on full display – and show just how far the WNBA has come in terms of representation.
"We represent a variety of things: of course women, women of color, members of the LGBTQIA2+ community and much more," Bird said of the players' involvement.
US female athletes' fight for equal pay (2021)
"The [swimsuit] issue for so many years has been iconic and has represented a lot for women. Now you are seeing an evolution in what that can mean and what that can look like, and I think the WNBA players being a part of that is what makes it special. There is no better group of women to showcase that evolution."
Other players quoted in the same SI statement suggested that the photo spread afforded them visibility to help advance other causes: Stewart said she hoped to promote the league's social justice initiatives and Ogwumike highlighted the strength of the league's players' union.
Still, it's unsettling to look at the photos of these women – who are generally seen as not conforming to societal expectations and standards around women's beauty – being featured in a magazine issue known for objectifying women. It's hard to view it as "evolution" in any way.
It's also difficult to see how posing in swimwear brings meaningful attention to the initiatives that Stewart and Ogwumike hope to spotlight. Rather than showcasing its progress, the images seem to be a throwback to the league's early, less enlightened days.
When the WNBA began in the late 1990s, its marketing replicated contradictory ideas around how women athletes should look. Players were sometimes photographed in swimsuits or encouraged to wear makeup and dresses. There were league-sanctioned makeup classes for rookies.
And while straight players' families were highlighted, there was rarely ever mention made of the significant others of players whose partners might not be men.
It was a part of a perpetual attempt to appeal to the cisgender, heterosexual male gaze – because, after all, why else would men watch women's sports except to ogle at the athletes on screen? And it tapped into debunked, antiquated and even ludicrous ideas that sports make women masculine and even somehow interfere with their fertility.
Players have taken control of their public images in recent years, thanks in large part to the rise of social media and the ability of athletes to create their own brands and aesthetics through their platforms. The league sometimes seemed to be following the players' lead in allowing them more room for self-expression: The featured player heading into the 2022 WNBA draft, for instance, was Destanni Henderson, whose draft day outfit was a sea foam green suit and matching Yankees hat.
Nevertheless, more often than not it's the conventionally attired, conventionally attractive (read thin, White, feminine) women who get the league's focus, media attention and sponsorship dollars. A study of coverage of the 2020 season showed that White players receive almost twice as much coverage as Black players, despite the fact that the league is 80% Black.
"In [women's basketball], you gottah be the best player, best looking, most marketable, most IG followers, just to sit at the endorsement table," Connecticut Sun player and WNBA MVP Jonquel Jones tweeted earlier this year. "Not to mention me being a black lesbian woman. Lord the seats disappearing from the table as I speak."
Despite the fact that the league sometimes falls short on issues of race and gender inclusivity, SI apparently feels that including WNBA players in its swimsuit issue can only help it appear more inclusive, less emblematic of oppressive and unrealistic beauty standards for women and embracing of values that are relevant to 2022.
But that's nearly impossible: The swimsuit issue is a holdover from an earlier century. It feels oddly archaic alongside Sports Illustrated's often excellent coverage of women and trans athletes (Full disclosure: I have written for the publication).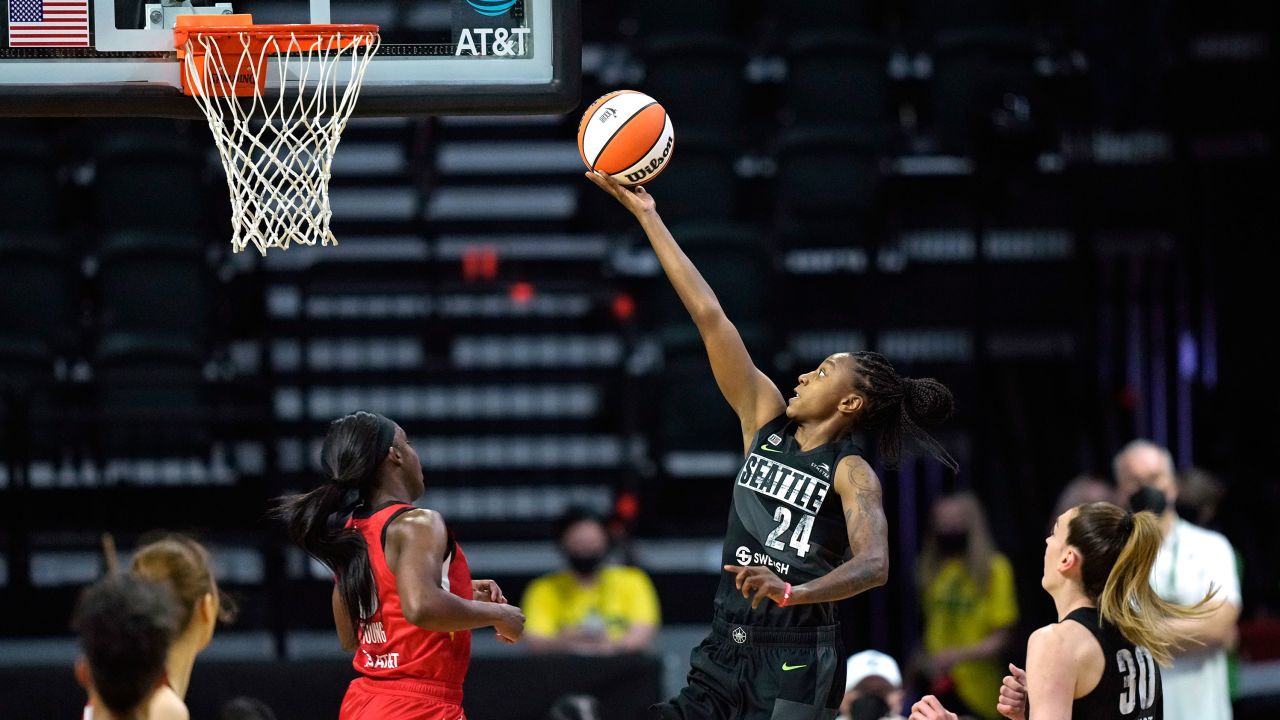 I'm also left to wonder why the WNBA felt it would help its brand to be associated with an antiquated annual tradition that has women's objectification at its roots.
And as long as SI says it is aiming to expand the representation of women on its pages, it should try steering away from the traditional femininity that is often the only aesthetic allowed to be promoted.
"I love Sports Illustrated's attempt to be more inclusive and amplify women in the W," Connecticut Sun player Courtney Williams said on Twitter.
"At the same time though it would of been raw to see a sleek lil sports bra & some shorts swaggin'. There's more than one way to look sexy, and I hope in the future we can tap into that."
The decision to market these athletes as exclusively hyperfeminine – whether made by the magazine or the league – isn't just regressive. In a league that is largely made up of queer women, it sends a message that's outright queerphobic.
Get our free weekly newsletter
Sign up for CNN Opinion's new newsletter.
There are plenty of feminine queer women, but queer womanhood is much more expansive than that. In distancing itself from the potential of an explicitly queer aesthetic, this photo display distances itself from the truth of what the league actually is: a group of elite athletes that includes a lot of queer, Black women.
It's long past time to celebrate and uplift queer, masculine-of-center aesthetics as desirable. The players – with their range of gender expressions – make the league what it is, and they deserve to be uplifted and celebrated and marketed for exactly who they are.