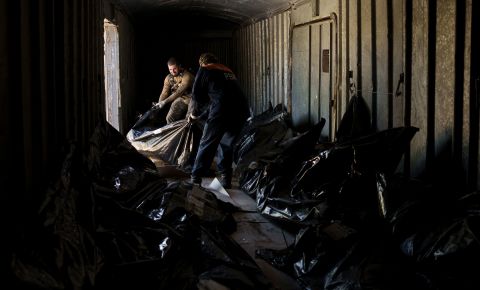 Updated 12:10 PM EDT, Fri May 13, 2022
The war in Ukraine is nearly three months old, and Russia's forces are well short of the minimum objectives set out by President Vladimir Putin. But after weeks of intense bombardment, the Ukrainians' defensive lines in the east are also degraded.
According to CNN's Tim Lister, two battlegrounds are emerging in the country. The Russians are adding combat power to their drive to take the Luhansk and Donetsk regions. The Ukrainians are trying to both hold them back and cut them off.
Few expect a knockout blow by either side in the coming months. A war of attrition looks likely as the weapons supplied by the United States and its allies tilt the balance on the battlefield.
"A war of attrition, combined with the reality that Putin faces a mismatch between his ambitions and Russia's current conventional military capabilities, likely means the next few months could see us moving along a more unpredictable and potentially escalatory trajectory," said Avril Haines, the US director of national intelligence.
Here are some of the stories that made headlines over the past week, as well as some photos that caught our eye.