When it comes to organic food shopping, there are two major barriers for a lot of people: the prices and the hassle. Whole, healthy foods are not only more expensive — they're also difficult to find in your local grocery store. Luckily, Thrive Market is on a mission to make organic groceries accessible to everyone, though this company's impact extends far past your own pantry.
This organic delivery service is hosted 100% online. That way, you can efficiently search over 6,000 whole foods and natural products (including produce, meat, personal care, clean wine and organic pet and baby items) using filters set to your specific diet or standards. Your order then leaves its zero-waste fulfillment centers and is shipped straight to your door, for free, in carbon-neutral packaging.
Obviously, Thrive Market cares about sustainability, but it was actually the first online grocer in the US to be certified by the nonprofit B Lab as a B Corporation, which means it meets standards for exceptional social and environmental performance. Furthermore, every time a shopper signs up for a paid membership (which offers 30% off the best organic groceries and costs $59.95 yearly or $12 monthly), Thrive Market gifts that same membership to a low-income family, veteran or first responder.
Ask yourself the following questions and see how Thrive Market can help you go organic without overpaying.
Who do you shop for?
Whether you're living alone or with a huge family, Thrive Market makes it easy to find the right quantities of the products you need. Single people can shop smaller quantities so food doesn't go to waste, while busy parents can get organic baby food and diapers shipped straight to their doors. Food allergies or preferences? No problem — shop vegan, nut-free, Whole30, low sugar, gluten-free and more, all at the click of a mouse.
How often do you shop for groceries?
This grocery delivery service is designed with flexibility in mind, so you can personalize it to complement your lifestyle. Log on to the app or website to change the frequency of deliveries, or set up auto-ship to save up to 10% and ensure that you never run out of the essentials. You can always skip or pause a delivery, and any order that exceeds $49 automatically ships for free!
What's on your typical shopping list?
No matter what you stock your home with (whether that's meat, sustainable seafood, vegan snacks, clean beauty products or eco-friendly cleaning supplies), Thrive Market has it all — yes, even the obscure brands you love. These 6,000 items are all top-rated, made with high standards and packaged in recyclable containers. If you're short on time, you can also select shopping lists made by Thrive's team of health and wellness experts.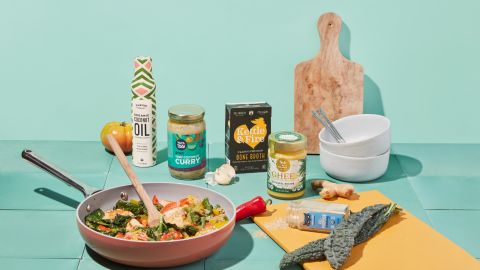 What diets are you interested in?
If someone in your household has a restrictive diet, Thrive Market is the easiest way to shop for the foods and brands that make mealtime infinitely easier and help you reach your goals. Filter grocery results based on your specific lifestyle — including paleo, vegan, Whole30, gluten-free, keto and dozens more.
What values or causes are most important to you?
In addition to specific diets, you can also search by standards like USDA-certified organic, non-GMO, family-owned and fairly traded. All products are ethically sourced, and just by signing up for a paid membership, you're giving someone in need access to healthy food through the Thrive Gives program, which has donated more than $4 million in groceries since it was founded. You can also gift friends and family a new membership or shopping credits, which never expire.
When you sign up today, you can get 40% off your first order and a free gift up to $50 — and with the brand's famous savings guarantee, if you don't rack up at least a membership's worth of savings in a year, you'll get that money back in Thrive Cash. In short, thanks to the Thrive Market movement, it's never been easier to save time, money and the environment while you shop for groceries.