Choose your meat and seafood cuts and have them delivered to your door with Good Chop.
It's about time for a quality meat and seafood subscription service! Actually, Good Chop is just in time for grilling season. Customize your box from a selection of over 45 cuts of beef, poultry, pork and seafood, and it'll land straight on your doorstep. Fire up the grill and get ready for some delicious meals! Good Chop is all about making top-tier American meat and seafood available to everyone - and you can even knock off $100 from your first three boxes!
Good Chop's delivery service makes it easy to shop. It offers USDA Choice & Prime, 100% grass-fed beef, organic chicken, wild-caught seafood, American pork and so much more. A box from Good Chop is convenient and, as you might imagine, delicious.
Did you know that imported meat can actually be labeled "Product of U.S.A." even if cattle are raised abroad, as long as the meat was processed here? Good Chop is different because they exclusively source meat that are born, raised, and harvested in the US. There are no added hormones, no growth promotants, no antibiotics and no preservatives in the meats and seafood that you order from Good Chop.
Why hunt around in the grocery store for quality cuts? It's not necessary to spend time shopping when Good Chop can ship your favorite meats and seafood straight to your door. Its price per meal starts at just $3.74, so you don't need to spend a lot either. Just order online from over 45 options and Good Chop will ship your meats frozen to preserve original freshness. If for some reason you aren't happy with Good Chop's service or products, they offer a 100% Satisfaction Money-back Guarantee.
How Does Good Chop Work?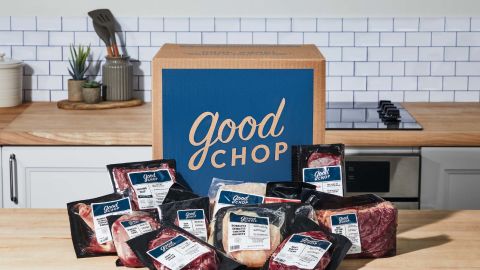 Choose your plan. How much meat do you need? Choose the plan that fits you or your family: the Medium (up to 14 pounds) monthly plan for $99 or the Large (up to 28 pounds) monthly plan for $219.
Select your cuts. Here's the fun part: Customize your box with an ever-changing selection of meat and seafood.
Receive your delivery. Your order is delivered to you in an insulated box, ensuring that your frozen meats are fresh and safe.
Start cooking. When your custom box arrives, grill, sear or broil your way to a mouthwatering meal.
Good Chop's meats and seafood
There are no added hormones or antibiotics in Good Chop's foods — ever. And you can rest assured that Good Chop's meats are sourced from farmers and ranchers who raise animals compassionately.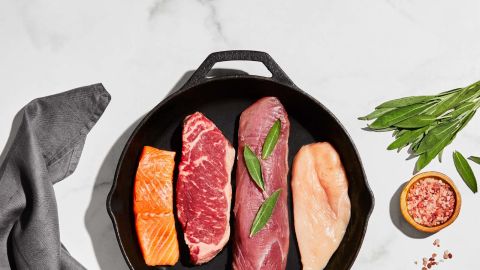 Beef
Good Chop sources American cattle that are born and bred in the US, including Angus breeds that are famous for their marbling, flavor and tenderness. Opt for USDA Prime or 100% grass-fed premium beef. Some options: Angus ribeye steaks, 1-pound T-Bone steaks, thick 1/3-pound burgers, USDA Prime thick-cut ribeye steaks, Tri-tip and more.
Chicken
You can get USDA organic or free-range chicken breasts, thighs, drumsticks and wings, to name just a few. Good Chop sells chicken that was born and bred in the US and fed a 100% vegetarian diet.
Pork
Good Chop's pork comes from pigs that were born and bred domestically and fed a 100% vegetarian diet (aside from milk protein). Thick-cut uncured bacon, St. Louis ribs, bone-in pork ribeyes, boneless pork chops, and more pork options are available.
Seafood
Sustainable seafood is a must at Good Chop. Its MSC-certified cuts are wild-caught on US coasts and never contain antibiotics, additives or coloring. Opt for wild-caught Alaskan sockeye salmon, wild-caught sea scallops, wild-caught Pacific cod and more.