Crocs has something special planned for Nurses Week.
Appreciation for health care workers has skyrocketed since the pandemic; they've been working around the clock, under incredibly stressful conditions. Health care heroes protect our health and go above and beyond for patients every day, and Nurses Week, May 6 through May 12, is a time we can show our appreciation. Crocs is partnering with FIGS on a special giveaway to celebrate these special frontline workers.
The footwear company — a go-to for so many health care workers — is giving away 10,000 pairs of Classic Clogs. And the giveaway is not just shoes! Crocs has partnered with FIGS to give away 10,000 pairs of scrubs as well. Both brands appreciate all the hard work that health care workers put in every single day, and know that comfy clogs and scrubs are workplace staples.
Crocs' support for health care workers goes beyond its supportive footwear. Crocs has donated nearly a million pairs of shoes to those on the Covid-19 front lines since spring of 2020. And it wants to continue giving. Scoring Crocs Classic Clogs and FIGS scrubs for Nurses Week is simple: The giveaway opens May 6 at 12:00 p.m. ET.. Enter by May 12 at 12:00 p.m. ET.. That's it! This giveaway is available to all health care heroes.
Ten thousand pairs of Classic Clogs in black, white and navy blue will be provided to health care workers alongside 10,000 pairs of FIGS scrubs. Crocs are a favorite brand because they're ultralight and comfy, which is especially helpful for folks on their feet at work. Iconic Crocs Comfort™ means each pair is flexible and provides 360-degree comfort. Classic Clogs feature a pivoting heel strap for a more secure fit and ventilation ports for breathability. Crocs are extremely easy to clean, and they're even water-friendly and buoyant. And for those who want a little extra pizazz, Crocs are customizable with Jibbitz™ charms.
Check out the goods that Crocs and FIGS will be giving out for Nurses Week:
Classic black goes with everything. You could say these clogs go from work to play.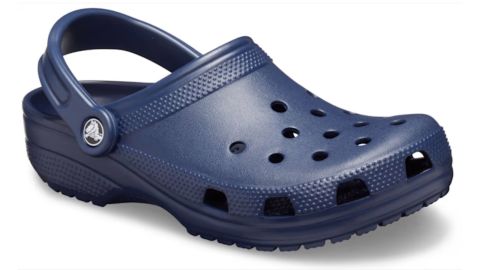 A navy pair is super versatile. You may know that Crocs are durable and comfy, but did you know they have a low carbon footprint? Score!
Go fresh for spring and summer! White isn't a problem with dirt since Crocs wipe down easily.
Starting $38 at FIGS
Crocs is working in collaboration with FIGS to create unique scrubs for the Nurses Week giveaway. The health care apparel brand is beloved for its modern silhouettes, quality materials and comfort.
Health care heroes – it's easy to enter the giveaway and score some new gear. Here's how:
1. Visit the Crocs Giveaway page.
2. Enter your information.
3. You're entered — it's that simple!