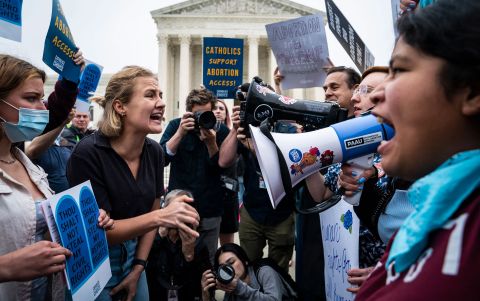 Published 7:47 PM EDT, Thu May 5, 2022
The US Supreme Court may be poised to end the constitutional right to an abortion — a right that American women have had for nearly 50 years.
A draft of a Supreme Court majority opinion, written by Justice Samuel Alito and obtained by Politico, suggests that the court may soon decide to overturn Roe v. Wade, the landmark abortion ruling from 1973. A reversal of Roe would leave abortion policy up to individual states.
The final opinion has not been released, and votes and language can change before opinions are formally released. But if Roe is indeed reversed, it would transform the landscape of women's productive health in the United States.
The news hit like a political lightning bolt when Politico published the draft on Monday night, and supporters of legal abortion rights soon gathered at the Supreme Court building to protest. It was an unprecedented breach of secrecy at the normally secretive high court. Chief Justice John Roberts called the leak an "egregious breach" and launched an investigation into the source of it.
Here are some of the stories that made headlines over the past week, as well as some photos that caught our eye.