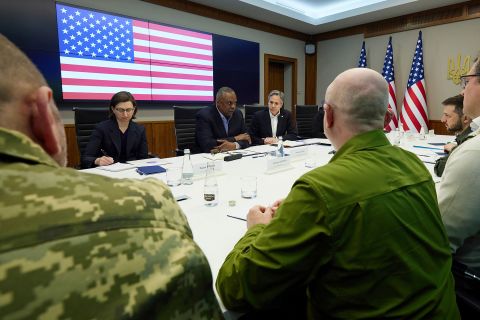 Updated 4:35 AM EDT, Fri April 29, 2022
US Secretary of State Antony Blinken and Defense Secretary Lloyd Austin made an unannounced trip to Kyiv, Ukraine, on Sunday, April 24, where they met Ukrainian President Volodymyr Zelensky and pledged US support in the war.
Blinken and Austin are the highest-level US officials to have traveled to Ukraine since the start of the Russian invasion. They insisted Monday that Russia was failing in its Ukraine incursion, and Austin explicitly said that the United States wants to see Russia's military capabilities weakened.
"We want to see Russia weakened to the degree that it can't do the kinds of things that it has done in invading Ukraine," Austin said at a news conference in Poland.
Blinken told reporters that Russian attempts to "subjugate Ukraine and take its independence" has "failed."
"We don't know how the rest of this war will unfold, but we do know that a sovereign independent Ukraine will be around a lot longer than Vladimir Putin is on the scene," he said.
Here are some of the stories that made headlines over the past week, as well as some photos that caught our eye.