For most people, the idea of an epic RV vacation is a pipe dream for "someday." "Someday, when I retire…" or "Someday, when I have the money to buy an RV…" It turns out, however, that "someday" can happen as soon as this summer. RVshare has partnered with Academy Sports + Outdoors to help you plan the ultimate road trip vacation (with all of the comforts of home) starting today.
If you haven't yet heard of these two companies, here's a quick rundown: RVshare is the internet's largest RV rental marketplace, which offers more than 100,000 different vehicles (both drivables and towables) so you can hit the road in comfort and travel at your own pace. Academy Sports + Outdoors is a popular sports and outdoors retailer known for its prioritization of value, huge assortment and emphasis on creating a fun yet practical experience for all.
Here, the companies have teamed up to turn your motor home adventure dream into a reality — and in just four simple steps.
Step 1: Decide on a destination
First things first: Where do you want to go? RVshare has a huge list of recommended destinations so you can find the perfect fit for your family or group of friends. Go glamping next to a tranquil pond, spend the night in a national park under the stars or have the whole family dip their feet into the sand of the opposite coastline.
Since some rentals offer delivery, you can meet your motorhome at your destination or even have it dropped off in your driveway. This offers a huge opportunity for cost-cutting given the dramatic rise in gas prices across the U.S. Instead of feeling weary of hard-to-predict fuel costs, you can feel at ease with your rental investment, while enjoying the added convenience of having your RV delivered anywhere.
Step 2: Find the perfect RV rental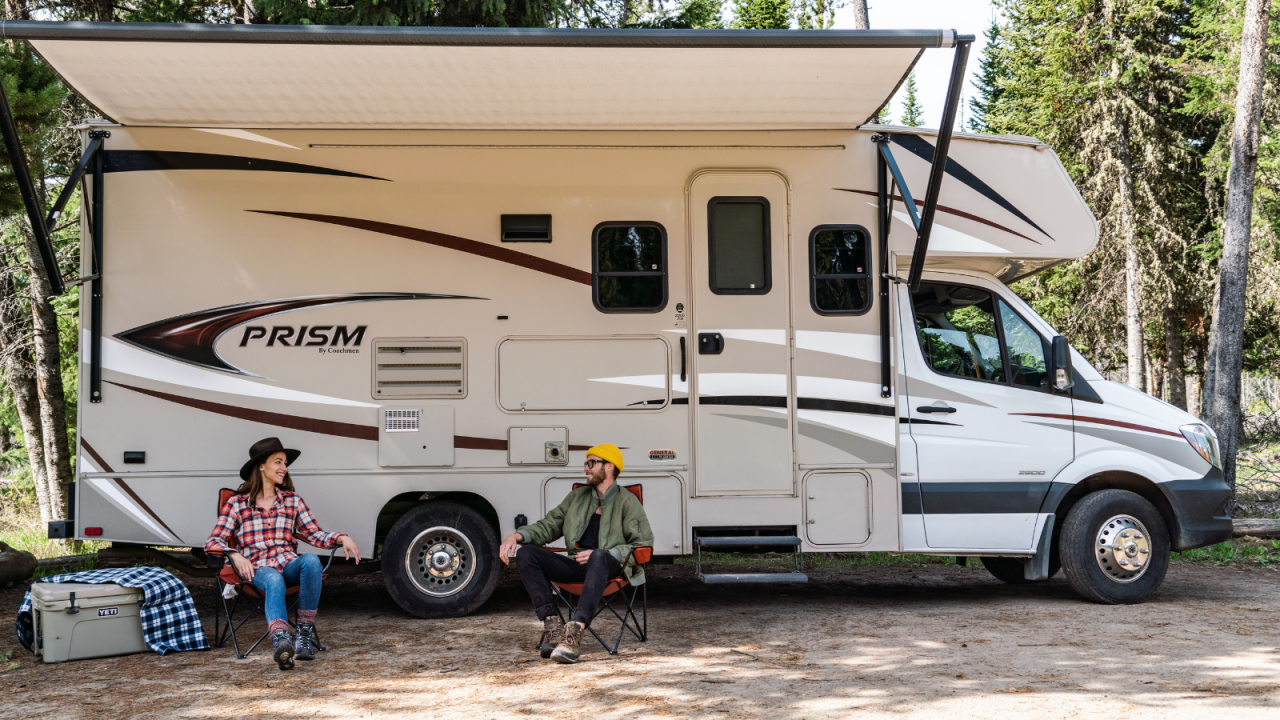 With RVshare, you'll have over 100,000 RV rentals to choose from, and you can narrow them down using size, type, specific features or cost. (Some are available for as low as $100 per day, by the way.) Opt for a towable travel trailer or fifth wheel that attaches to your truck, or a driveable Class C or Class A motor home for a rent-and-go experience. You can even find a pet-friendly RV so your furry friend can become your favorite travel companion, plus don't forget about options for delivery (to cut down on fuel costs)!
Either way, the peer-to-peer marketplace and thousands of 5-star reviews ensure you feel informed while making your decision. Last but definitely worth noting, RVshare offers rental protection and 24-hour roadside assistance (an industry first!) to keep you safe while you're on your adventure.
Step 3: Stock up on all of your outdoor and on-the-road essentials
Now it's time to stock your RV with everything you'll need to ensure a safe, fun, prepared journey. Academy Sports + Outdoors is your go-to spot for all of the equipment you could possibly want to make your vacation perfect. It offers a massive selection of hunting, fishing and camping equipment, not to mention leisure products and outdoor apparel. Plus they are offering CNN readers an exclusive opportunity to save – from May 1st to May 28th, take 5% OFF your order with code CNN05 (exclusions may apply).
With your 5% savings in hand, here are some smart picks to complete your RV rental vacation:
Igloo Latitude 60-Quart Roller Cooler ($44.99; academy.com) 
Keep your food fresh and your drinks cold with this Igloo cooler. Despite its large 60-quart capacity, it's easy to move around, thanks to its telescoping handle and large wheels. It's also built to last with high-quality materials; easy to drain, thanks to its leak-resistant plug; and extra practical due to its four self-draining cup holders. Choose between six different colors that match your family's style.
Crosskix Adults' APX Hybrid Water Shoes ($69.99; academy.com) 
If your ideal outdoor adventure includes any kind of water, these Crosskix hybrid shoes offer the best of both worlds: Their sneaker-like design is stylish, nonslip and protective when you're bodysurfing at the beach, exploring streams or wading into a rocky lake — but the foam construction is comfortable, quick-drying and self-draining for any water activity. Get them in 11 sizes and nine colors.
Spikeball Standard 3-Ball Set ($69.99; academy.com) 
While Spikeball is definitely a great way to keep the kids entertained while you cook or sip wine, it's not just for children. "Bought this as a Christmas gift for hard-to-buy-for brother-in-law," one reviewer writes. "Ages [seven to 43 years] old all had a BLAST playing — for days." It's like a travel-friendly combination of volleyball and four square, and this set comes with everything you need to play. (For camping, after-dark tailgates and evenings at the beach, this Spikebrite accessory illuminates your net to keep the fun going long after the sun sets.)
WeatherRite Pop-Up LED Lantern ($12.99; academy.com) 
Reviewers have said that this WeatherRite lantern is "very compact and well built" for camping but also a great thing to have "during power outages." Its pop-up design seamlessly transitions from a flashlight to a lantern, while its rubberized body is resistant to water and impacts. Finally, it can last for up to 40 hours on the lowest setting, and its adjustable handle is well suited for tiny hands. Get it in six different color options.
Coleman Enamelware 24-Piece Dinnerware Set ($54.99; academy.com) 
You no longer have to decide between dinnerware that's practical and dinnerware that's eco-friendly. This 24-piece set from Coleman is made from crack-resistant, dishwasher-safe, double-fired enamel, so it's durable enough for countless road trips and camping excursions. Each order comes with four plates, bowls, mugs, forks, spoons and knives, and the utensils even have their own roll-up travel pouch.
Coleman PerfectFlow 2-Burner Stove ($74.99, originally $79.99; academy.com) 
Whether you've opted for a camper without a kitchen or you'd just rather cook out under the stars, this Coleman PerfectFlow stove is a must. Its two high-performance burners maintain a consistent temperature using a bulk propane cylinder and an accessory hose (not included), while its aluminum steel cooktop and shielded design resist both rust and wind. "Lightweight and portable," one reviewer writes, while another calls it the "best camp stove" around.
Academy Sports + Outdoors Folding Cookout Table ($149.99; academy.com) 
This brilliantly designed cookout table has earned a near-perfect 4.9-star rating, and it's easy to see why: It offers several feet of eating and prep space, it has two built-in trash receptacles in the center (plus a sloped surface that allows for self-drainage) and it folds up for easy travel and storage. It even has built-in cup holders and paper towel holders. What more could you need for your next crab boil or barbecue?
Step 4: Make memories that will last a lifetime!
That's it! You're ready to load up your loved ones and hit the road. See countless destinations, experience the great outdoors in comfort and spend quality time with your friends or family — all without changing hotels or breaking the bank. With the combination of RVshare and Academy Sports + Outdoors, "someday" starts today.