Cricut machines are a must-have in any crafter's repertoire. These versatile machines can cut hundreds of materials to precise designs and specifications, making it easier than ever to complete your DIY projects. Whether you go for the beginner-friendly Explore 3, the compact Joy or the premium Maker 3, with a Cricut machine you'll upgrade your crafting potential in a major way. Not sure what machine to get? Take a look at this handy chart that explains the differences between Cricut's offerings.
The sky's the limit with Cricut, and it's not just cutting machines on sale. You can score materials, accessories, add-on tools and more as part of the sale, and save while you take your hobby to the next level. Check out our favorite on-sale Cricut picks below.
$429.99 $399.99 at Cricut
Within the ecosystem of Cricut machines, the Maker 3 is the most powerful. Its wide range of capabilities includes cutting over 300 materials with 13 tools that boast premium precision, speed and force. The Maker 3 is also smarter than ever, meaning you can connect to iOS and Android to take your creativity to the next level. If you want to hit the ground running with all the crafting essentials you'll need, consider one of the Maker 3 bundles.
$319.99 $299.99 at Cricut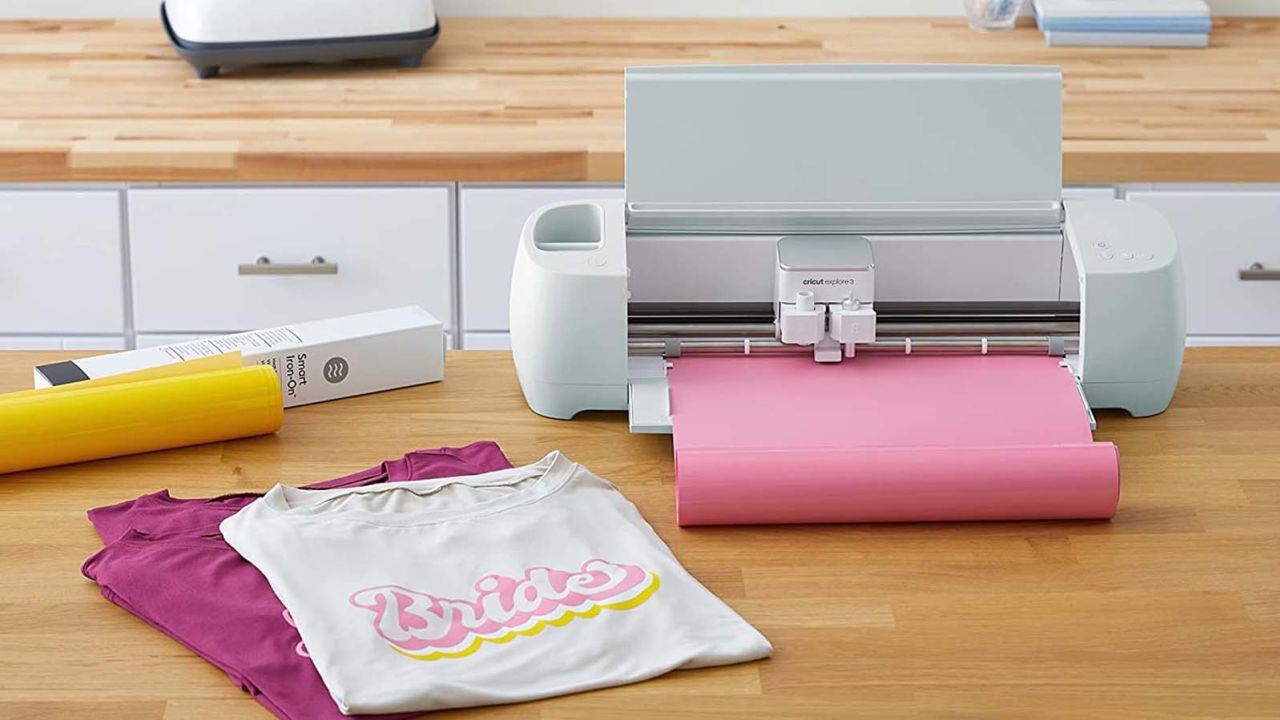 At a lower price point than the Maker 3, the Explore 3 possesses many of the same abilities and features, making it perfect for amateur crafters. The Explore 3 has six tools that can cut and embellish over 100 materials — everything from cardstock to vinyl and cork to fabric. Like the Maker 3, it's also compatible with Cricut's Smart Materials. Make your DIY area complete by bundling your Explore 3 with some essential accessories and materials.
$179.99 $129.99 at Cricut
Achieve maximum creativity in minimal space with the Cricut Joy. This compact machine is easy to set up and use, and completes custom projects in a snap. Equipped with Bluetooth and Smart Materials compatibility, this little machine rivals its larger siblings in functionality — plus it won't take up too much space in your home. Snag a complete setup with a Joy bundle.
$388.89 $269.99 at Cricut
A heat press makes it easy to customize T-shirts, tote bags, pillows, aprons and more with the simple push of a button. Using the Cricut Heat mobile app, you can ensure precise time and temperature settings as you work on your project. A great companion for Cricut cutting machines, the EasyPress is portable, fast and effective — plus it comes with an array of tools and iron-on materials so you can get crafting ASAP.
$8.99 From $3.50 at Cricut
If you've got a cutting machine, you're going to need materials to use it with. Fortunately, a wide selection of vinyl rolls is discounted on Cricut's site right now. Choose from permanent, removable, printable, sampler bundles and more. Cricut's premium vinyl won't tunnel or bubble, ensuring perfect application even on finicky designs.