A version of this story appeared in Pop Life Chronicles, CNN's weekly entertainment newsletter. To get it in your inbox, sign up for free here.
Pardon me while I focus on travel.
I'm heading out of the country for some much-needed rest and relaxation and to celebrate the wedding of a pair of dear friends.
But I would never leave you without some Pop Life, while I pop off to vacay, and the first offering is in line with flying off for an escape.
Three things to watch
'The Flight Attendant' Season 2
Kaley Cuoco has come a long way from "The Big Bang Theory."
Not only is she starring in the critically acclaimed series "The Flight Attendant," but she's also one of the executive producers of the dark comedy.
In the new season, Cuoco gets to play different versions of her character, Cassie Bowden.
The show is streaming on HBO Max, which like CNN is part of Warner Bros. Discovery.
'Russian Doll' Season 2
After three longs years, we are finally getting the return of time traveler Nadia Vulvokov (she prefers the term "time prisoner"), who in season one got caught up in a Groundhog Day death spiral.
Natasha Lyonne is wonderful in the lead role and, like the title suggests, there are layers upon layers here.
Season two is streaming on Netflix.
'The First Lady'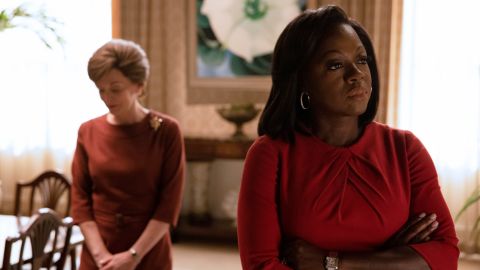 When the poster of Viola Davis as former first lady Michelle Obama in Showtime's "The First Lady" was released, people were shook.
The resemblance was startling, and it stoked excitement for the series.
But the internet giveth and it taketh away.
After the first episode, there were some … feelings about the show.
There are some other heavy hitters as well — Michelle Pfeiffer as Betty Ford and Gillian Anderson as Eleanor Roosevelt. Check it out for yourself and see what all the hoopla is about.
Additional bonus: If you want more real-life Davis, her chat with Oprah Winfrey drops Friday on Netflix.
Two things to listen to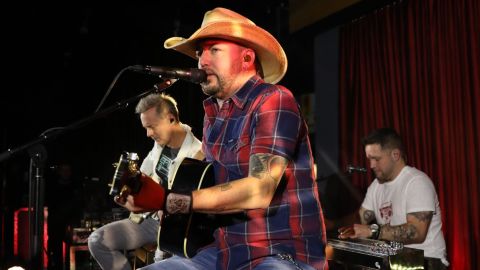 Jason Aldean is paying tribute to his roots in his new double album.
"Macon, Georgia" is the country star's 10th studio album and combines his last album, "Macon," with his new one, "Georgia."
"Where you were raised has such a big influence on who you become and for me it's no different … especially from a music standpoint," Aldean said in a statement on his site. "My little hometown of Macon was heavily instrumental in my musical background. Growing up in an environment that was a crossroads between Country music, Southern rock, blues and R&B, it was just natural to blend different sounds in my own way."
The new project drops Friday.
Jewel winning season six of "The Masked Singer" in December reminded some of her music career.
Now, seven years after her last album, "Picking Up the Pieces," she's back with a new one.
"Freewheelin' Woman" comes as she both has her say and sets some things straight.
"The big misconception, I think, in my career was that I was living in my car for my dream," Jewel told Spin. "That was not the case, I was living in my car because a boss wanted to have sex with me and when I wouldn't, he wouldn't give me my paycheck. It was gritty and nothing about dreams. It was just about the pride of saying, 'I will not have sex with you and if I have to live in my car, so be it.'"
The single mom is now more successful, but no less tough.
Her new album is out now.
One thing to talk about
Harry Styles and Shania Twain performing at Coachella reminded me of how much I love it when pop stars perform with country stars.
Now I know some of you might argue that Twain could also be considered pop, but you can take that up with Nashville.
Crossover genre collaborations are far from new.
In the early 1990s, U2 teamed up with the legendary Johnny Cash to produce "The Wanderer." And some of my more recent favorites, including H.E.R. with Chris Stapleton performing "Hold On" at last year's CMT Music Awards and Stapleton's epic mash of songs with Justin Timberlake at the CMA Awards in 2015, have come to my attention courtesy of awards shows.
I even talked to former Backstreet Boys member Nick Carter recently about his duet with country singer Jimmie Allen for Carter's new song, "Easy."
Good artists love good music, period. And so do I, so I'm living in gratitude for these types of collabs.
Something to sip on
Color me obsessed with Rihanna's baby bump.
But just a reminder that as much as stars are like us, they definitely have some privileges not available to the rest of us.
So while Rihanna has been very deliberate in her fashion choices during her pregnancy (she talked to Vogue about that), the average expectant mother may not want to be belly out as much as the star has been for fear of people touching that bump without invitation. (People, please don't do that.)
Now, if you can afford couture style to show off that bambino, have at it and send me some pictures so I can glory in the beauty of them like I do in following RiRi and her bump.
What did you like about today's newsletter? What did we miss? Pop in to poplife@cnn.com and say hello!