Editor's Note: Nicole Hemmer is an associate research scholar at Columbia University with the Obama Presidency Oral History Project and the author of "Messengers of the Right: Conservative Media and the Transformation of American Politics" and the forthcoming "Partisans: The Conservative Revolutionaries Who Remade American Politics in the 1990s." She cohosts the history podcasts "Past Present" and "This Day in Esoteric Political History." The views expressed in this commentary are those of the author. View more opinion on CNN.
"Women are like teabags. You never know how strong they are until you put them in hot water." So says Gillian Anderson in the new Showtime series "The First Lady," in which she – in her portrayal as Eleanor Roosevelt – regularly speaks in aphorisms, at one point providing her husband Franklin (played by Kiefer Sutherland) with his most quotable line, "We have nothing to fear but fear itself." And near the end of the first episode, she offers a pithy summary of her own position. Pressed by an aide to attend a meeting because it is her job as First Lady, Roosevelt shoots back, "That's not a job. That's my circumstance."
The shifting circumstance of life as First Lady is the thread tying together the three women the series follows: Eleanor Roosevelt, Betty Ford and Michelle Obama. All three chafe at the central contradiction of the role, one that ushers them to the center of national power not through their achievements but through their husbands', offering new avenues of influence while strictly policing how they use that influence.
Yet even as these First Ladies are linked in their struggle to navigate their "circumstance" (aka unpaid labor), the rights and opportunities American women gained in the years between Roosevelt and Obama also fundamentally transformed the First Lady's role. It was transformed from a rare path to power into an anachronistic – and possibly unnecessary – position.
The series is more interested in the continuities than the differences, in part because of its structure. The show constantly bounces from the 1930s to the 1970s to the 2000s (and sometimes even introducing flashbacks to other times, like when it cuts to the 1880s to show the funeral of Eleanor Roosevelt's mother). To provide some cohesiveness to an otherwise fractured approach, the series stresses the ways the women are similar: their ambivalence about the office, their relationships with their mothers and daughters and mother-in-laws. But that approach obscures the radically different contexts in which they were working.
When Roosevelt became First Lady in 1933, women were only just beginning to gain access to leadership roles in national government. A few decades earlier, Julia Lathrop became the first woman to head a federal agency when she was appointed to lead the newly formed Children's Bureau (nearly all leadership roles filled by women would be associated with the bureau due to its connections to children and maternal health). And the same year Roosevelt became First Lady, Frances Perkins became the first woman to become a member of the cabinet when she was sworn in as secretary of labor.
In that environment, Roosevelt was already unusual: She had been a political partner to her husband since he was first elected to the state senate in New York in the 1910 election. "The First Lady" shows her advising her husband, encouraging him to remain in politics after polio left him partially paralyzed and finding spaces for activism even in her early days as First Lady.
Anderson brings some of the steeliness she performed as Margaret Thatcher in "The Crown" – though here it feels more natural, despite the prosthetic teeth and tucked chin meant to amplify her resemblance to Roosevelt. That steeliness was a requirement for Roosevelt, who regularly outpaced her husband as she pressed for issues like civil rights for Black Americans, the protection of refugees and New Deal programs for women.
The first episode also hints at how Roosevelt would transform the office of First Lady, at least during her tenure. Starting during her husband's first term and continuing for decades after her time in the White House, she wrote a syndicated newspaper column six days a week, called "My Day." As First Lady, she held regular press conferences and advised her husband on policy matters. Though she had very little formal institutional power, she transformed the office of the First Lady into one capable of wielding an enormous amount of cultural and political sway in an era where few other platforms allowed that kind of reach.
Roosevelt's activism as First Lady was controversial at the time, and did not become a typical model for those who followed. (Nor did Secretary Frances Perkins; despite her successful tenure, only one other woman, Secretary of Health, Education and Welfare Oveta Culp Hobby, would serve in the cabinet before the 1970s.)
By the time Betty Ford, played by Michelle Pfeiffer in a captivating and nuanced performance, became First Lady, the role had largely reverted to one of hosting and entertaining, with occasional small projects defined by their links to domestic life.
Ford never quite fit into these constraints of the role. The least famous of the three First Ladies in the series, and the only one who escapes caricature, she is introduced dancing by herself in a pink quilted robe, cocktail in hand, real estate brochures littering the floor.
She is in the midst of dreaming of retirement and a more private life just days before her husband is unexpectedly plucked from Congress to become Richard Nixon's vice president after Spiro Agnew's abrupt resignation the same day he pleaded no contest to a charge of federal tax evasion (in return for the dropping of political corruption charges).
But as her husband became vice president and then, just as unexpectedly, President when Nixon himself resigned at the culmination of the Watergate scandal, Ford began expanding the First Lady role in ways that reflected and drew energy from the second-wave feminism.
The show hints at this: In a speech delivered before other congressional wives as her husband was being considered for vice president, she shares – champagne glass at hand – that rumors her husband had sought psychiatric help were in fact meetings he had with her psychiatrist, a shocking admission in an era when mental-health treatment carried a heavy stigma.
Amid a growing movement that proclaimed "the personal is political," Ford's decisions to disclose to the public not only her psychiatric treatment but her addiction to alcohol and pills and her breast cancer diagnosis were not just confessional but political acts. So, too, was her decision to speak out on politics.
She advocated for the Equal Rights Amendment and abortion rights, two issues that were splitting the Republican Party in the 1970s. In that way, she used her role as First Lady, a position established as part of a set of traditional assumptions about women and their work, to promote feminist ideas.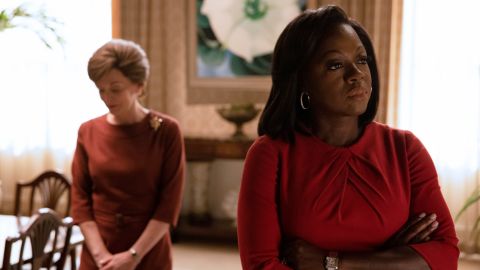 Michelle Obama (played by Viola Davis, a phenomenal actor whose portrayal is an unfortunate lip-pursing imitation) came into office in a very different historical era. Though in the series she is portrayed primarily as a moral compass for her husband, far more interesting are the moments when she is shown in her pre-First Lady career, as a vice president for University of Chicago Hospitals.
Unlike Roosevelt, who builds a career in tandem with her husband, Obama built hers outside the world of politics. Becoming First Lady, then, means not only facing new threats (the show is particularly concerned with the vulnerability of the first Black President) but giving up that career to fit herself into a political role defined by its ties to domestic life.
Those constraints were a function not only of the role of First Lady but of the significant changes in women's opportunities outside that role. Far more women filled the House and the Senate than when Ford was First Lady. Far more women sat on the Supreme Court and in the cabinet. Women's political opportunities seldom ran through their husbands any more. In an earlier era, women primarily entered elected office through widow's succession – women filling the seats of their deceased husbands. Now they ran for office outright.
And while they did not have equal representation (the proportion of women in elected office is still well below their share of the population), their significant presence in office made the First Lady's office, once one of the few places where women could exercise power nationally, feel like a vestigial part of pre-liberation politics.
Get our free weekly newsletter
Sign up for CNN Opinion's newsletter.
The premiere episode of "The First Lady," eager to draw parallels between the women, flattens these historical changes. It wants to show three reluctant women thrust into a circumstance and then finding ways to turn that circumstance to their advantage: as a route to push for policies, as a platform for feminist ideas, as a megaphone to become the moral conscience of the nation. But to really understand the office and its limitations, the show will also need to linger on the contradictions of the First Lady's office – a potentially powerful political perch that is both unpaid and a product of marriage rather than achievement.
Those contradictions accumulated quickly with the rise of second-wave feminism. They were clear during Hillary Clinton's time in office. Her attempt to carve out a significant policymaking role faltered; she ultimately leveraged her position into a successful Senate run, where she gained the experience to twice run for President. But the contradictions are also clear in Jill Biden's time in office: Mocked for her use of the title "Doctor," she has retained her job as a college professor.
In "The First Lady," Roosevelt rejects the notion that the role is actually a job, even though she would be the first to leverage the role for real political influence. The question remains, though, whether it should be a job. While First Ladies have at times used the office to do meaningful work, the idea that presidential spouses are required to spend most of their time as glorified hosts seems increasingly out of touch.
The women in "The First Lady" make the most of their circumstances, but the show is a reminder that they may have been better served by not being forced into those circumstances in the first place.