Whether they're making a bold fashion statement or getting muddy in the backyard, there's no denying — Crocs are everywhere. With an array of designs and endless customizability, Crocs allow you to express your style in serious comfort.
Made from a lightweight closed-cell resin called croslite, Crocs have long been favorites for a variety of lifestyles. And thanks to their ever-expanding offerings, it's easier than ever to customize your Crocs exactly the way you want. Choose slip-on slides for quick trips to the store or classic clogs for a day on the lake. Jibbitz allow you to accessorize your shoes with charms sporting Lisa Frank designs, your favorite Super Mario characters and hundreds of other themes.
Customize your spring look with a pair of shoes that reflects who you are. Right now, you can score solid discounts thanks to a BOGO sale running until April 23 at midnight. It's a great opportunity to stock up for the whole family — simply add a Classic Clog and Classic Sandal to your cart and get 25% off the item of lesser value (depending on which style you choose of each).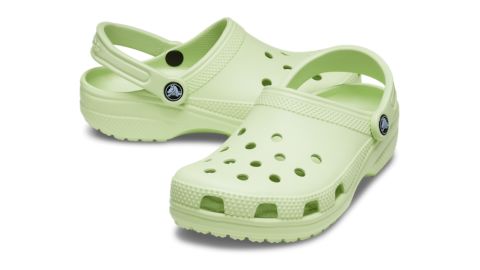 Keep it classic with the original Crocs shoe. Waterproof, lightweight and easy to clean, these shoes are perfect for everyday wear. They're also available in dozens of colors and customizable with Jibbitz charms that match any vibe. Outfitted with a pivoting heel strap and ventilation ports for breathability, these versatile clogs are iconic for a reason. Right now, you can score discounts on dozens of colors and designs, including glitter, marbled, tie-dye, camo and more.
$39.99 From $20 at Crocs
The Classic Sandal is the Classic Clog's beachy cousin of the, ideal for sandy vacation days ahead. Sporting the same comfortable foam cushion as the clog, this shoe has two upper straps that offer a secure fit and allow for personalization with Jibbitz charms. The sandals are also available in a wide array of colors and patterns, so you can match your clogs or go a different route altogether.