Editor's Note: Sign up to get this weekly column as a newsletter. We're looking back at the strongest, smartest opinion takes of the week from CNN and other outlets.
In a 1932 case, US Supreme Court Justice Louis D. Brandeis argued that the state of Oklahoma had the right to regulate companies selling ice, a vital commodity in the days before electric refrigerators were widely adopted.
States must have the power to reshape "our economic practices and institutions to meet changing social and economic needs," he wrote in a dissenting opinion.
Under America's federal system, "a single courageous state may, if its citizens choose, serve as a laboratory" and conduct "social and economic experiments without risk to the rest of the country." Even though he was on the losing side, Brandeis' opinion would be remembered for casting the states as "laboratories of democracy."
Inherent in that view is the possibility some state experiments will go wrong; even wildly wrong, as many believe is happening today amid an intensifying culture war.
Red states are enacting measures restricting what can be taught in schools — with Florida's "don't say gay" law and Virginia's executive order banning the teaching of critical race theory among them — and reducing access to voting in the wake of former President Donald Trump's lies about widespread fraud in the 2020 election. And, last week, Oklahoma, Kentucky and Florida put in place new restrictions on abortion that appear to violate the landmark Supreme Court decision Roe v. Wade.
"In red states, it's open season on women's rights," wrote Jill Filipovic. "Several Democratic-dominated states, on the other hand, are taking proactive steps to ensure abortion access. In Maryland, a new law means that trained medical professionals other than doctors will be able to legally perform abortions in the state."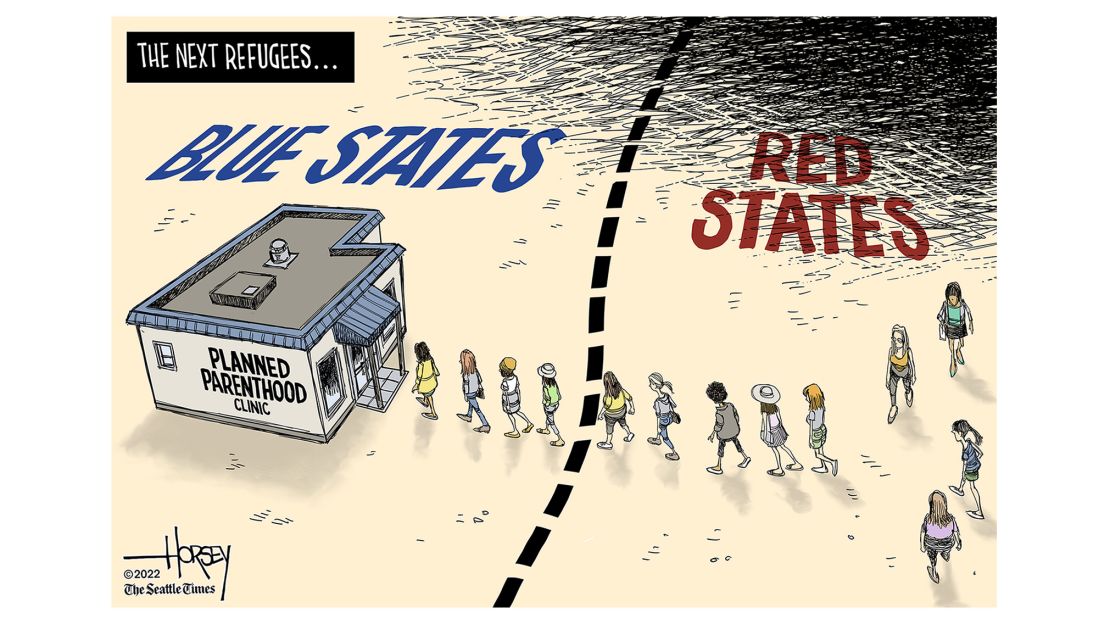 Four years before the Oklahoma ice decision, Justice Brandeis invoked the right to privacy in another dissenting opinion with long-lasting implications. Wiretapping someone's phone without a warrant violates the Fourth Amendment, Brandeis contended. The framers of the Constitution "conferred, as against the government, the right to be let alone — the most comprehensive of rights and the right most valued by civilized men."
The "right to be let alone" became the basis for the Supreme Court's 1973 ruling in favor of abortion rights, which now is under assault.
In the Washington Post, Paul Waldman wrote "when the history of how American women lost their reproductive rights is written, the bill-signing that took place in Oklahoma City on Tuesday should be acknowledged as a key moment when the shrinking window of possibility that the Supreme Court might hold back from overturning Roe v. Wade essentially closed forever." Gov. Kevin Stitt, a Republican, signed a "plainly unconstitutional bill" which outlaws almost all abortions.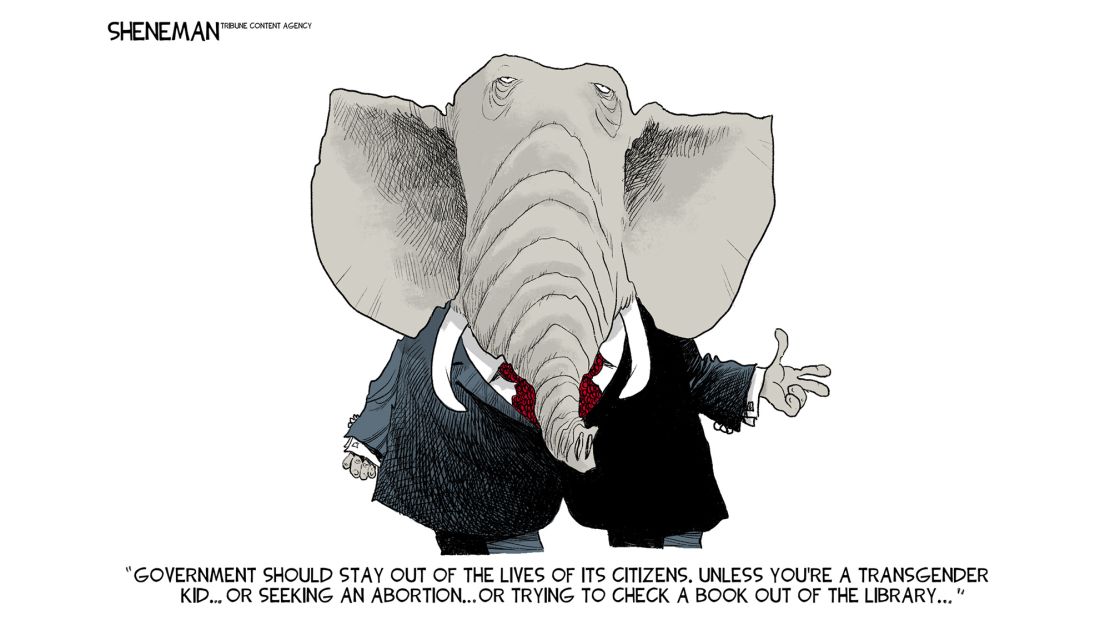 "Faced with upholding or striking down a near-total ban such as Oklahoma's, the court can't take half-steps," Waldman observed. "The justices can't find refuge in debating the number of weeks into a pregnancy restrictions might be allowed, or whether some hoops states make women jump through are acceptable and others aren't. They'll have to decide on the fundamental question: Either women have a right to abortions, or they don't. And the court's conservative majority clearly thinks they don't," he argued.
"The reemergence of the culture war is downright chilling," LZ Granderson wrote in the Los Angeles Times. "Florida Gov. Ron DeSantis may be hogging all the attention for starting the flood of so-called 'Don't Say Gay' bills across the country (we're up to 12 and counting), but don't sleep on the 'don't read gay' effort that's been working in the shadows." Granderson noted "the American Library Assn. tracked 729 book challenges in 2021 and found the 'most targeted books were by or about Black or LGBTQIA+ persons.' "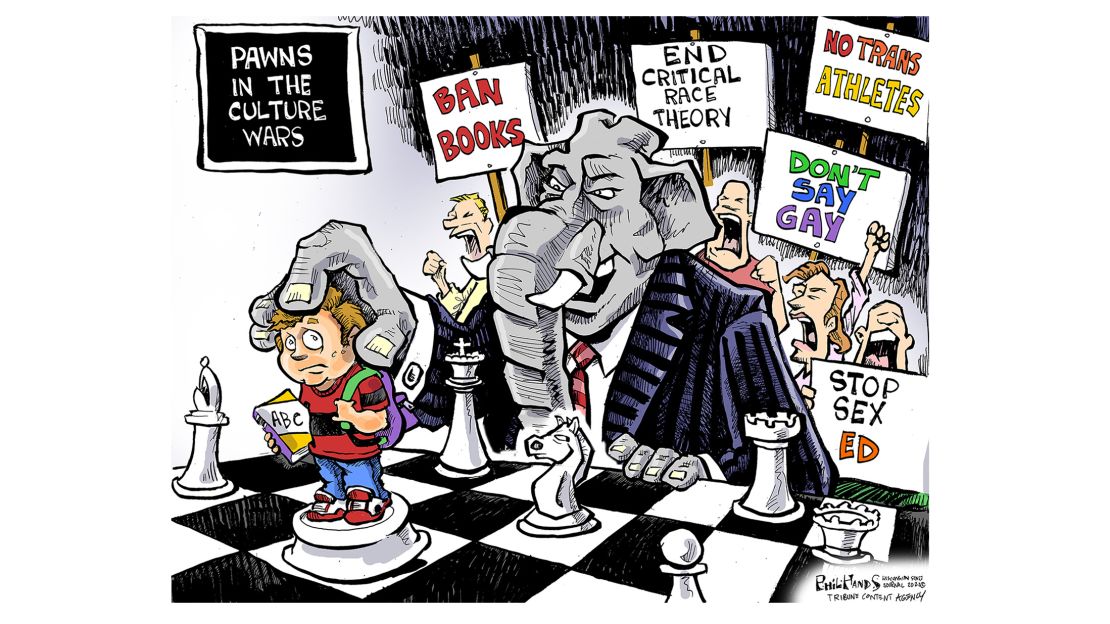 Elon Musk's surprise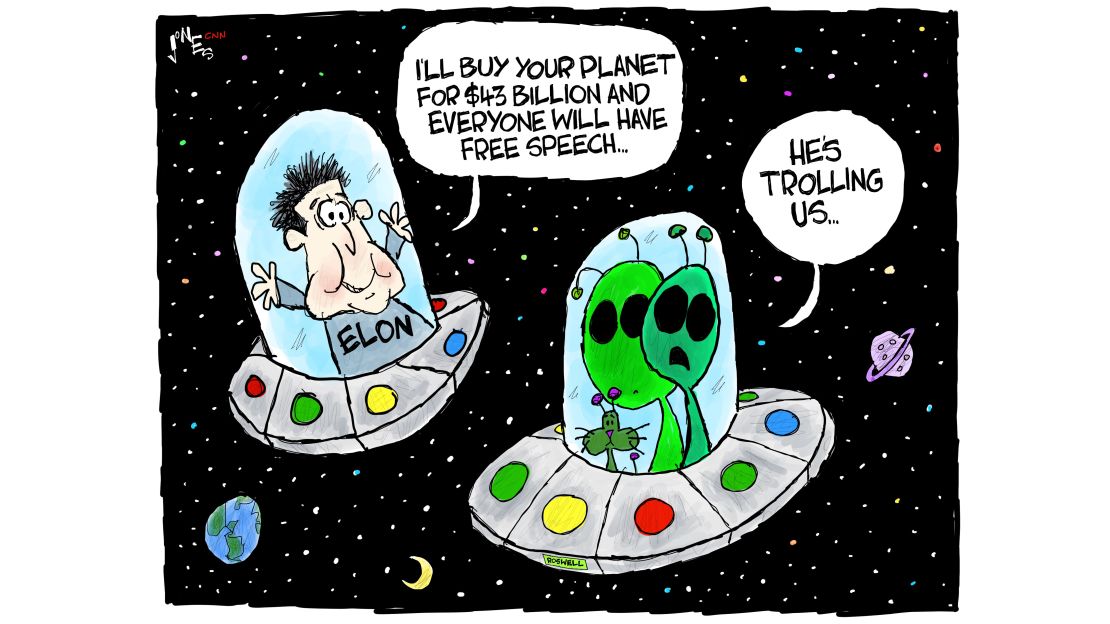 On Tuesday, April 5, Twitter announced that Elon Musk had been appointed to its board after he purchased a 9% stake in the social media company. Last weekend, Musk turned down the post. And on Thursday, he offered to buy the company for $43 billion in a bid to take Twitter private.
"Will Musk actually have the cash and attention span to follow through on his proposed acquisition, and will Twitter say yes? Who knows? The word 'unpredictable' doesn't do justice to this moment," Shira Ovide wrote in her New York Times newsletter.
"But imagine that Musk eventually buys Twitter from the stockholders who own it today. The closest comparison to this might be the 19th-century newspaper barons like William Randolph Hearst, Joseph Pulitzer and the fictional Charles Foster Kane, who used their papers to pursue their personal agendas, sensationalize world events and harass their enemies," wrote Ovide.
In an interview at the TED conference Thursday, Musk expanded on his complaints about the way Twitter moderates posts. He suggested platforms should be evaluated based on this test: "Is someone you don't like allowed to say something you don't like? And if that is the case, then we have free speech."
In the Washington Post, Max Boot wrote Musk, who has 82 million Twitter followers, "engages in online bullying and traffics in hyperbole and outrage, such as comparing Canadian Prime Minister Justin Trudeau to Adolf Hitler for imposing public health regulations … Anyone who thinks the problem with social media is too much content moderation, rather than too little, should not own one of the most powerful platforms online."
Kara Alaimo observed, "What's essential to a functioning democracy is accurate information so that people can make informed decisions about how to cast their ballots and protect their health — not the kinds of potentially deadly disinformation about Covid-19 and elections that have been circulating widely on the platform (and, of course, other social networks, as well)."
"It's also essential for Twitter to take steps against online abuse and harassment, which a report released by Amnesty International in December found is rampant against Twitter users — particularly against women and members of marginalized communities."
Subway shooting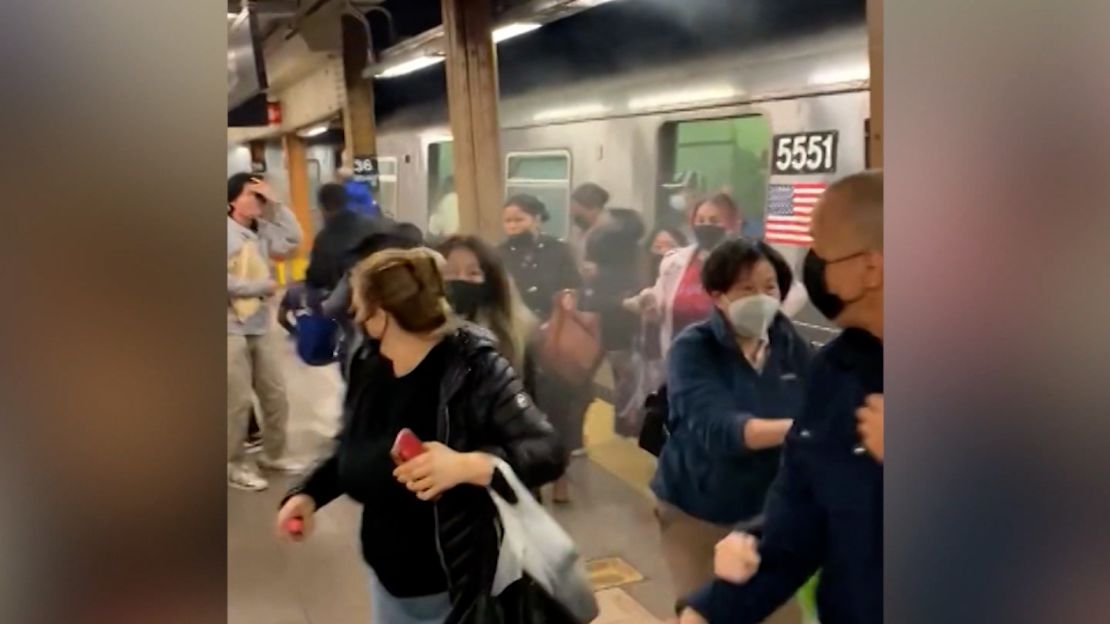 Ten people were shot on a rush-hour train in Brooklyn Tuesday morning, and the images of the resulting panic as riders rushed from the blood-strewn subway car were indelible.
The shooting came nearly 30 years after a gunman opened fire on a Long Island Rail Road train. Among the victims were Dennis McCarthy, who was killed, and his son Kevin, who was injured.
Carolyn McCarthy, a nurse, tried to rebuild her life after her husband's death and son's injury, becoming a passionate advocate for gun safety and eventually winning nine terms in Congress before her retirement in 2015.
"People think the pain goes away; it doesn't heal," said McCarthy, who spoke to CNN Opinion's Stephanie Griffith. "I mean, we certainly go on with our lives. But my son still needs medical care. People I know who have been shot are still under medical care. Everyone you saw lying on that platform — how many of them don't have insurance? How many will be possibly paralyzed? Or have head injuries?"
"I left Congress because I was ill with cancer, but I always felt I would live long enough to see gun violence being dealt with," McCarthy said. "And over the last couple of years, there have been minor wins, but a win is a win. More and more people are realizing we're not taking away your right to own a gun, but, yes, there are restrictions that can save lives."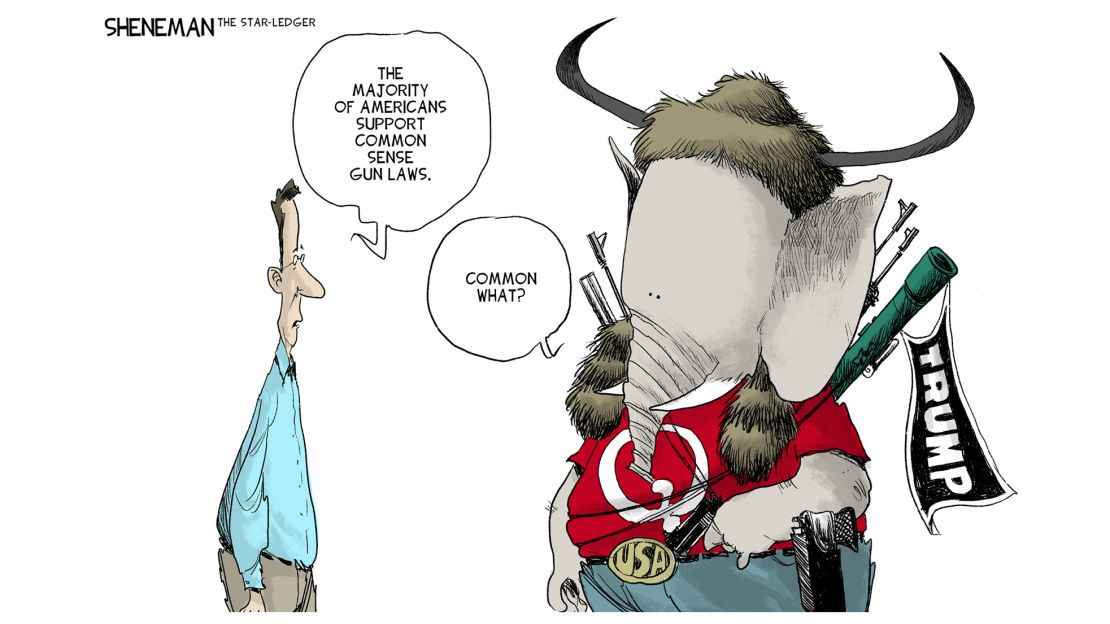 To Paul Callan, who rode to crime scenes as an assistant district attorney in 1980s Brooklyn, last week's subway shooting is a reminder of the vital role law enforcement plays.
"One riding scene has haunted me to this day, and the senseless shooting on Tuesday in Brooklyn brought it back to mind."
"I arrived at a small, dingy takeout restaurant to find an elderly Chinese immigrant, the owner of the restaurant, sprawled out on the floor with a gunshot wound to his head. A plexiglass shield with a small opening was supposed to protect the owner from robbers. Somehow, his murderers got behind the plexiglass. The cops determined there had been only $12.00 in the register, which had been turned over to the robbers, who then proceeded to shoot the old man in the head. The murderers were never caught."
"Social workers and other violence de-escalators cannot protect the public from the kind of deranged criminal who kills a restaurant owner over $12 or one who chooses to detonate a smoke grenade in a crowded subway car before opening fire on helpless passengers for no discernible reason."
Before the subway shooting, Deborah Padgett wrote about a spate of highly publicized crimes. "We have been here before — the horrific scene of a disheveled man experiencing homelessness suddenly attacking a stranger in New York City. Five homeless men in New York and Washington, DC, shot, two killed. Some corners of the media seized upon police descriptions of these incidents — citing the intersection of homelessness, drug use and mental illness to craft morality tales of untethered madness and bedlam on city streets. Public outcries once again converged on the urgent need to do something."
"Having spent decades engaged in research on the needs of persons experiencing homelessness and mental illness, I continue to marvel at how outrage and fear never seem to lead to the political will to make better, more effective social policies…"
"We know that providing stable permanent housing with caring support can set in motion positive life changes. Public monies are better spent on realizing these goals than in activating police departments to use force and coercion to 'manage' homeless people rather than put an end to their ultimate deprivation."
Ukraine's next battle
"What was once one of the most beautiful and thriving capitals in Europe has been transformed over weeks of Russian aggression into an eerie ghost town," Michael Bociurkiw wrote from Kyiv.
Yes, Russian troops have withdrawn from the Kyiv region and refocused on the eastern Ukrainian territories claimed by Russian separatists. But "as long as Moscow has the ability to send deadly long-range cruise missiles anywhere onto Ukrainian territory, no city, town or village can be declared safe," Bociurkiw observed.
Daniel L. Davis, a former US Army Lieutenant Colonel, wrote, "Ukraine inflicted a stunning defeat of Russian President Vladimir Putin's feeble attempt to capture the capital Kyiv in the war's opening round. Now, Russia is preparing to launch a revised second phase in the east, shaping up to be the biggest tank battle in Europe since the Second World War: The Battle of Donbas."
"Putin's primary target … appears less to be the capture of geographic territory in the Donbas than it does the destruction of Ukrainian Armed Forces defending in the east. Militarily, that looks like a far more attainable objective than the initial target of Kyiv. Outside of the urban capital, Ukrainian defenders won't have the protection of buildings to shield them from Russian observation, and Putin's troops will be able to use their mobility to their advantage."
"If Ukraine can store up enough supplies for its mobile tactical reserves and maintains the ability to reverse any Russian penetrations, it will give it a chance to blunt Russia's advance and prevent encirclement. That will also buy time for Ukraine's leaders and give them negotiating leverage with Putin as the casualties pile up for Moscow."
Putin's invasion of Ukraine put Russia's other neighbors, including Finland, on edge. Now that nation's prime minister says it will decide within weeks whether to apply to join NATO, the western alliance Putin has vilified.
"Finland is home to what are said to be the world's happiest people," wrote Marja Heinonen. "We have a high per capita income, stellar educational outcomes and a vaunted health care system. But our sense of contentment was shattered with Putin's Ukraine invasion. Finland and Russia share a 1300-kilometer (830-mile) border."
"As a small country with a Russian goliath for a neighbor, Finland has, out of necessity, always pursued very pragmatic politics. At the heart of Finnish Realpolitik is the idea that, while decidedly a western democracy, we should not provoke Russia unnecessarily. But the atrocities in Ukraine have changed our minds."
For more:
Stanislav Kurcher: How Russians born in the 1990s became Putin's soldiers
Douglas London: Seeing the world through Putin's eyes
Frida Ghitis: What form Putin's revenge against the US could take
Shanghai's hunter-gatherers
China's financial capital of Shanghai remained largely locked down last week as officials tried to stamp out a wave of Covid-19 cases in the city of 25 million people. Among those trapped at home as China struggles to pursue its "zero Covid" policy was a Brazilian couple, Rodrigo Zeidan and Melissa Nogueira, who plan to stay in the city for many years to come. The lockdown turned them into "modern hunter-gatherers from a privileged position in a high-rise building in the Pudong district of Shanghai."
"In the beginning, we would spend half our days procuring food and beverages. Now, it is more like two hours a day. We eat what we can get our hands on, but we are in no danger of running short of essential items such as water, soap, and basic staples."
When restaurants and government food packages didn't prove reliable, they wrote, "We turned to the compound's group chat for support. The community came together to coordinate bulk purchases directly from producers. For each category, there was a group chat: fruits, vegetables, rice, eggs, milk, and so on…
"Sometimes, purchases would come through. Other times, not. Minimum order thresholds varied widely. We placed an order for mangoes and strawberries. They arrived. Beautiful and tasty fruit, but what do you do with 25 pounds of mangoes, 6 pounds of strawberries, and 10 pounds of rice for three people?"
"Out of all the anxiety and frustration, there has been one silver lining. The community banded together. We lent kitchen knives and donated salt; a neighbor dropped ten apples from her purchase of 35 pounds of Golden Delicious. We all contributed to a few households that were running short of basic staples."
Test for Trump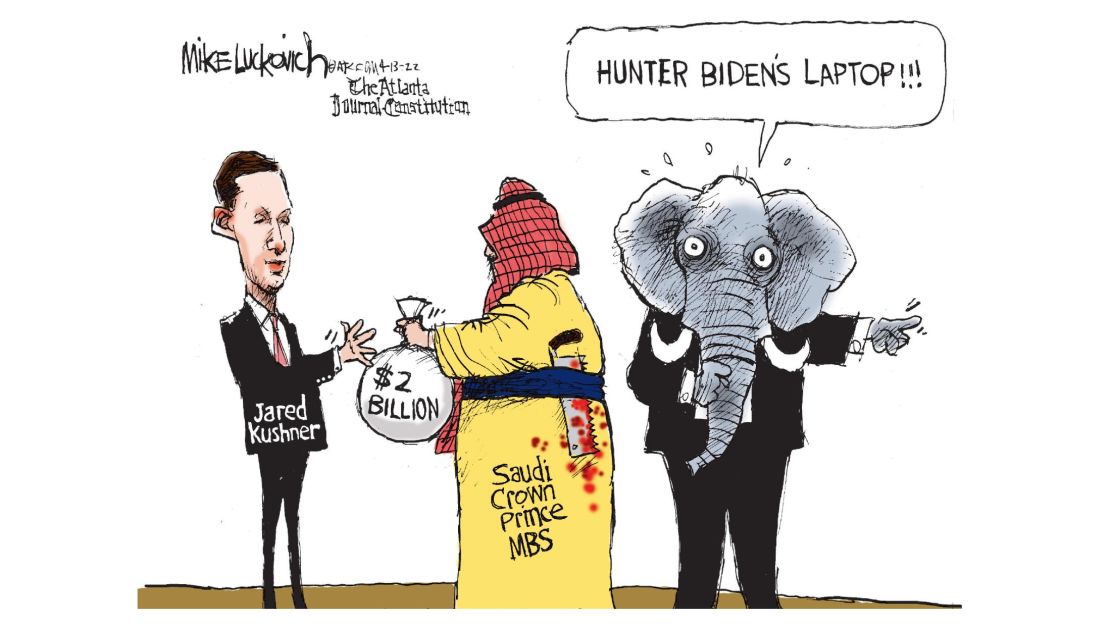 Next month's primaries in Georgia and Pennsylvania will test the power of Donald Trump's endorsements in the Republican Party, given some signs his influence may have peaked. In Georgia, Gov. Brian Kemp is running ahead of Trump's favored candidate David Perdue in the polls. Reporters pointed out that crowds at his rallies are noticeably sparse. And some Republican officials are said to be tiring of Trump's endless complaints about the outcome of the 2020 election.
"A few of the high-profile Republican primary candidates he endorsed … have prompted complaints from allies and longtime supporters, potentially fracturing his base and signaling his waning influence," wrote Michael D'Antonio. "Meanwhile, his drawing power at rallies has fallen to a level he might have previously found embarrassing. It may be time to ask: Is Trump losing his grip on the Republican Party?"
Two days before the 2020 election was called in favor of President Joe Biden, Donald Trump Jr. texted White House chief of staff Mark Meadows: "We have operational control Total leverage. Moral High Ground POTUS must start 2nd term now."
Dean Obeidallah asked, "How was Trump supposed to start a second term when the election hadn't been called — and he was still trailing Joe Biden by 40 electoral votes?!"
"Let's be clear: There was never a credible argument behind the attempt to overturn the 2020 election results," wrote Obeidallah. "It was all a lie to keep Trump in power. Reading some of the contents of Trump Jr.'s text is literally jaw-dropping. He called for firing the FBI Director Christopher Wray and making Trump loyalist Richard Grenell, former acting Director of National Intelligence, interim head of the FBI.
"The text called for politically weaponizing the Department of Justice by calling on Attorney General Bill Barr to appoint a special prosecutor to investigate the 'Biden crime family.' This is not something that should ever happen in our nation — then again, the same can be said of the January 6, 2021, attack on our Capitol and Trump's attempt to overturn the results of the 2020 election."
Don't miss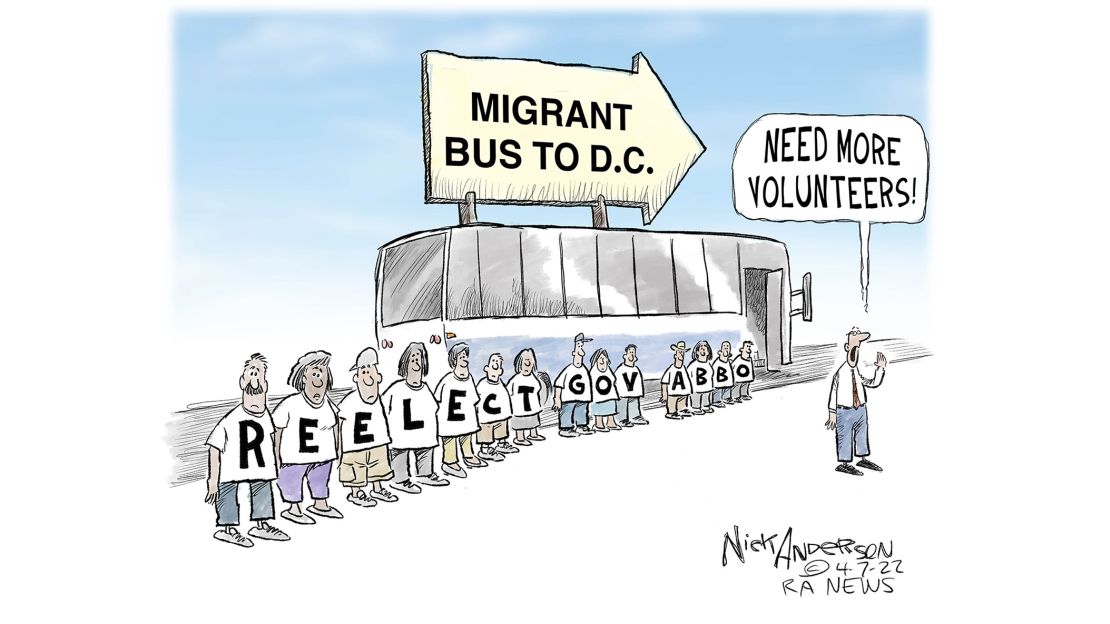 Rob Relyea: There's a drug to protect the most vulnerable from Covid-19. Why is it so hard to get?
Don Lincoln: Should scientists cut ties with Russian colleagues over Ukraine?
Elliot Williams: What Democrats could learn from Mitch McConnell
Premal Dharia: I was a public defender for over a decade. KBJ's empathy is what our highest court needs
Kent Sepkowitz: Air passengers, keep your masks on
Peter Bergen: Slain journalist James Foley's mother is grateful justice prevailed
Danté Stewart: James Baldwin on love, faith and Easter
AND…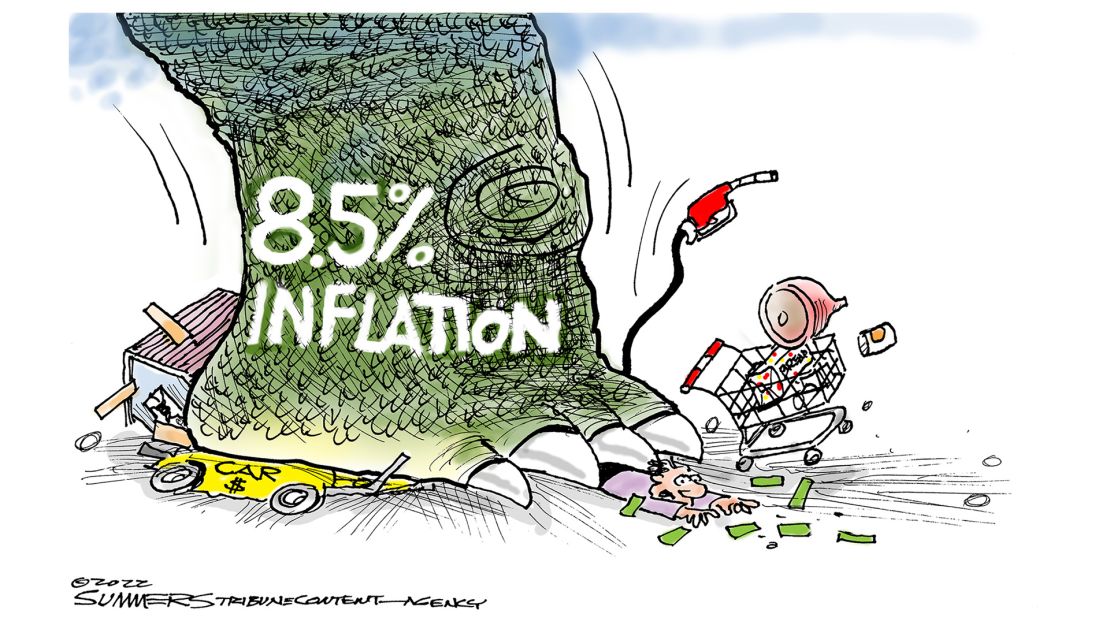 Faith and families
The arrival of Easter and Passover this weekend is a powerful moment for people of two faiths, even for some of those who have drifted away.
David Lucas, a poet and essayist, is a lapsed Catholic who has become a regular at the Passover Seder held by friends.
"Arin and I met 15 years ago, teaching at an independent Catholic high school on Cleveland's east side. Our friendship took root in our mutual struggles as new teachers, our failures and small, celebrated triumphs. Neither of us — Arin, a Jewish atheist, nor I, a Catholic agnostic — ever felt comfortable with the masses, the crossings, the acts of adoration, all the trappings of institutional religion."
"What we valued in our — and each other's — traditions," Lucas wrote, "was the act of gathering around a table, breaking bread and telling stories. That, at least, was a faith we could keep: it brought us to each other's tables again and again, brought Arin and Joe to our doorstep with plates of food when my father died, and us to the Millers' when Grandma Birdie died, at age 96."
"At my first Seder, the recitation of the Haggadah felt like a script for which I'd forgotten my lines. In those early days I mumbled the Hebrew words for fear of mispronouncing them. I felt I had no right to say 'Next year in Jerusalem,' even in English … I can believe in this, at least: the family — all our families — as the center of worship, celebration, consolation."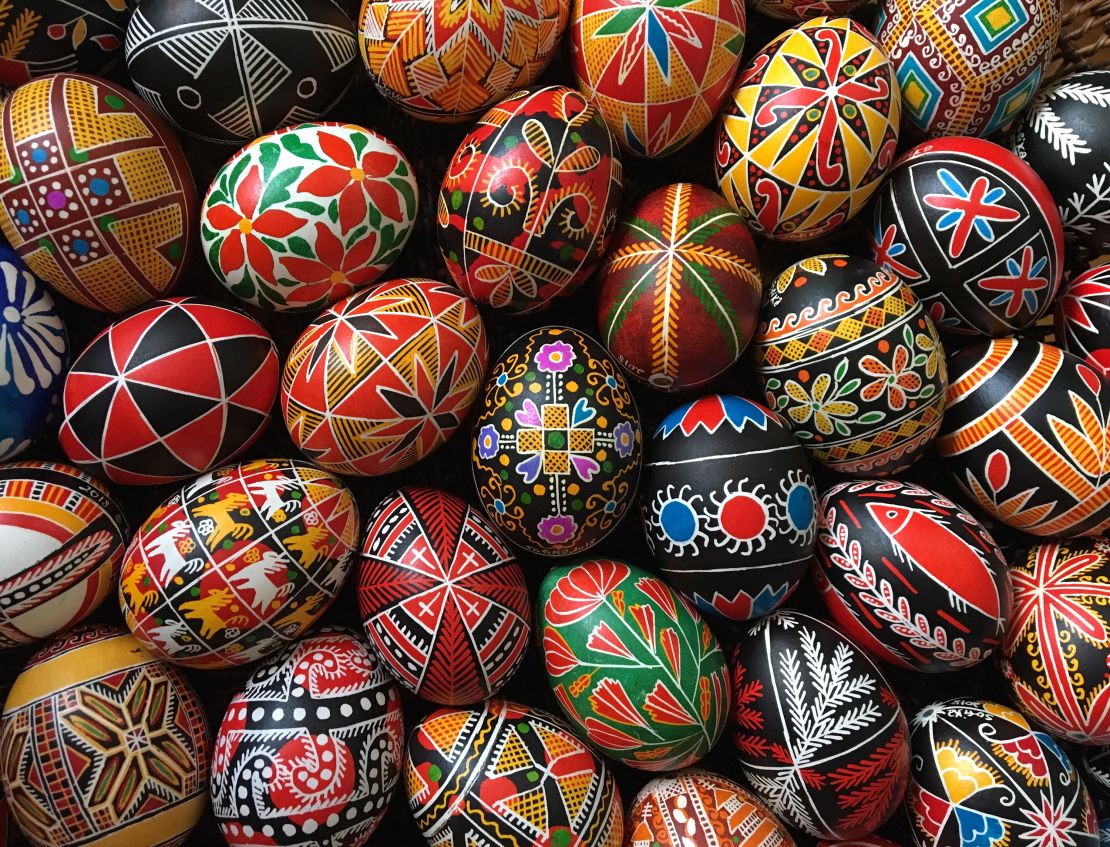 Many families in Ukraine mark spring, the season of rebirth, by making intricately detailed Easter eggs, known as pysanky. Sofika Zielyk, an artist who was born in America to Ukrainian refugees, is curating an exhibit of eggs sent by Ukrainians around the world at the Ukrainian Institute of America in New York City.
Recalling her childhood, Zielyk said, "As I was falling asleep at night, I would watch my mother making pysanky. Everything was dark except the candle flame, which you need in order to create these eggs because you have to melt the wax over the flame."
"It was so mystical and so beautiful. I was about five years old. I asked my mother if I could create a pysanky. I remember sitting on her lap, and she helped me hold the stylus. My first egg had little dots, lines and stars. And that's the way I started."
With Ukraine under attack by Russia, the significance of the artform stands out, she said. "The egg is so fragile and yet the tradition has not left – the tradition was not killed throughout the centuries."
"When the war ends, all the eggs that have been coming from all over the world will be transported to Ukraine. Because the egg is a symbol of rebirth…the pysanky will be buried in the ground in all the cities that have been destroyed so that we can help with the delicate, humble yet extremely powerful task of rebuilding.