The National Weather Service confirmed Wednesday the tornado that injured 23 in Bell County, Texas, was an EF-3 with 165 mph winds.
The EF-3 was one of two tornadoes that struck the county in central Texas Tuesday, the Storm Prediction Center (SPC) said. The tornado's damage path was about eight miles long and about a quarter of a mile wide, Bell County Judge David Blackburn said in a Wednesday afternoon news conference.
In total, 61 homes and two churches were damaged in the tornado's path, Blackburn said during a Wednesday evening news conference.
Another tornado – an EF-1 – touched down in Adair County, Oklahoma, Wednesday morning, downing trees and cutting power, according to county Emergency Manager Ray Sallee.
Sallee told CNN the tornado hit at around 9 a.m. just north of Stilwell in Adair County, which is located approximately 100 miles east of Tulsa, not far from the Arkansas state line. NWS confirmed an EF-1 tornado with an estimated peak wind of 95-105 mph and a path length of 6.5 miles.
"We lost power in about 75-80 percent of our homes and businesses, but most of that power has been restored," Sallee said, adding there were two minor injuries as a result of the storm.
Sallee said multiple structures and homes were damaged and that a gas station was "totally destroyed."
Both tornadoes were part of a the multiday severe weather threat sweeping the country that dominated the central US Wednesday, bringing long-track tornadoes, blizzard conditions and fuel for explosive wildfires.
The threat of tornadoes has been moving eastward, putting more than 30 million people from the Great Lakes to the central Gulf Coast under some threat of severe storms.
As the system pushes across the country, it brings along a trio of threats: damaging winds, strong tornadoes, and large hail.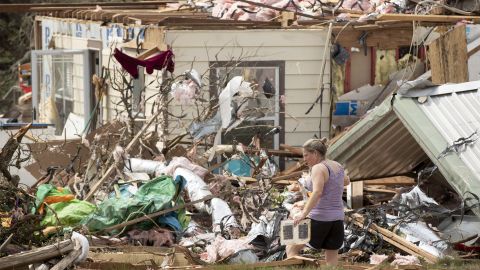 Iowa Gov. Kim Reynolds issued a disaster proclamation Wednesday for seven counties following a day of severe weather. The proclamation allows state resources to be used in response to severe weather that occurred in Cerro Gordo, Hancock, Humboldt, Mitchell, Pocahontas, Winneshiek and Worth counties Tuesday, according to a statement from the governor's office.
The most significant threats are expected across Memphis; Evansville, Indiana; Little Rock, Arkansas; and Owensboro, Kentucky, where more than five million people are under a moderate risk – Level 4 of 5 – for severe weather.
A tornado watch has been issued for central Tennessee; central and western Kentucky; and southern Indiana until 10 p.m. CT,, according to the SPC. The watch includes Nashville, Tennessee, and Louisville, Kentucky. In addition to the tornado threat, wind gusts up to 80 mph are also possible.
A number of tornado watches are in effect for millions of people across the South and parts of the Midwest, according to the SPC.
A tornado watch covering parts of eastern Arkansas; western Tennessee; northern Mississippi; the Missouri Bootheel, and remains in effect until 9 p.m. CT. The latest tornado watch was issued for central Mississippi; northern Louisiana; southeastern Arkansas; and eastern Texas until 10 p.m. CT, as well as southern Illinois and western Kentucky until 9 p.m. CDT.
Overall, severe thunderstorms could impact a large portion of the lower and mid-Mississippi Valley into the Midwest, as well as the lower Ohio Valley, the Storm Prediction Center said.
Elsewhere, parts of Montana, North Dakota and northern Minnesota could see heavy snow Wednesday into Thursday.
"Blizzard conditions are likely with blowing or drifting snow and dangerous low visibility for this area through Thursday," according to the Weather Prediction Center.
"Travel will remain difficult to impossible, and widespread power outages and tree damage are expected," it warns, adding there may be significant impacts to livestock such as cattle, which are in calving season.
The snow is expected to end by Friday morning, followed by extremely cold temperatures.
"Overnight lows will drop into the teens in western North Dakota, and with the strong winds, wind chills will be in the single digits above to below zero, quite chilly for mid April," the Bismarck weather service office said.
On Friday, high temperatures could make it into the 20s, which is about 30 degrees below normal. The region could break low maximum temperature records.
Critical fire conditions also remain pressing Wednesday throughout much of New Mexico, Texas and parts of the central Plains, following destructive wildfires on Tuesday.
Extremely dry air behind the cold front, in addition to strong westerly winds and very dry fuels, will result in active fire weather conditions Wednesday, according to the SPC.
Storm leaves destruction in its wake
At least 23 people were hurt Tuesday after tornadoes touched down in Bell County in central Texas, according to officials. Twelve of those were hospitalized, Blackburn said.
"We did confirm one that is critically injured," Blackburn said.
Callers to 911 Tuesday reported a twister around 5:40 p.m. CT (6:40 p.m. ET), Blackburn said. A tornado crossed the county line from neighboring Williamson County, traveling 7 miles on the ground, he added.
The damages ranged from downed power lines and trees to buildings being flattened, reduced to rubble in many areas, Blackburn said.
"I think it popped up fairly quickly," Blackburn said. "The extent of damage is significant. At least at this time not to have any report of fatalities is in and of itself amazing."
Multiple agencies are coordinating response efforts, Blackburn said. The county's three priorities for the day are continuing to search the affected areas to ensure everyone is accounted for; removing debris; and restoring power to area residents, Blackburn said Wednesday.
"We believe we have accounted for all individuals that were in the path," Blackburn said. "But again, we're going through again to make sure."
First responders from multiple agencies continue to search and clear the affected areas, according to Blackburn, who said he expects the number of damaged structures to grow.
Tuesday brought a double-threat storm system that delivered at least eight tornadoes mainly in Texas and Iowa, as well as heavy snow to other states, including the Dakotas, Montana and Minnesota.
Parts of the Dakotas and Montana were under blizzard warnings, and forecasters warned of treacherous whiteout conditions on the roads.
Heavy snow shut down more than 500 miles of interstate 94 between Montana and North Dakota.
A mountainous area near Pony, Montana, recorded 47 inches of snow in a 24-hour period, according to the National Weather Service. Many other parts of the state were pounded by more than a foot of snow.
In North Dakota, more than a foot of snow was reported in several locations, including Grand Forks and Rockford, according to weather service data.
"We do get blizzards in April, but one of this intensity is quite rare," Jeff Schild, meteorologist for the weather service office in Bismarck, told CNN early Tuesday. "The last one of note for this level of intensity was April 4-7 in 1997."
In contrast to the snowy conditions across the northern Plains, devastating wildfires were seen in New Mexico as a result of extremely critical fire conditions further south.
Five fires were currently burning in New Mexico as of Wednesday afternoon and have scorched more than 13,000 acres. The largest fire, Hermit's Peak, is 6,276 acres and just 10% contained.
CNN's Dave Alsup, Robert Shackelford, Amy Simonson, Jennifer Gray, Steve Almasy and Taylor Ward contributed to this report.